SC Waterproof Connector: Melontel's Version of Quality
Melontel's SC Series is the solution to the modern technological landscape and the ever-changing demands of our customers. The SC Series provides the highest quality optical fiber connections for Telecom, Datacom, and FTTX networks, and its easy push-pull mechanism makes it ideal for single mode, multi mode, and APC applications.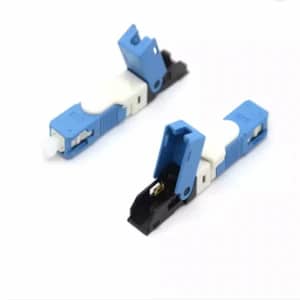 Additionally, we discovered that watertight connectors can cover a lot of ground, and that species can be rather diverse. As a result, we also offer development design to accommodate the bespoke needs of our patrons. We can always find a way to work through our differences.
Our waterproof connectors, available in a broad variety of series ranging from fully plastic bayonet-locking models to metal push-pull models, ensure reliable connections in environments where dust, liquid, and water must be kept out.
Depending on the environment, your systems can be outfitted with a variety of seals. The UTS and UTL series of connectors are two examples of outdoor connectors that are designed to withstand the elements.
Melontel
Your Professional SC Waterproof Connector Manufacturer
What can Melontel offer?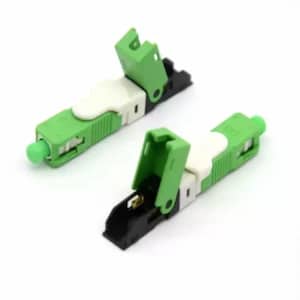 It can be difficult to find the right waterproof wire connectors. But if you keep the following in mind, you'll have less work to do:
Comfort: When assessing waterproof wire connectors, we also prioritized how convenient they are to use. It seems to be the reason that if waterproof wire connectors are pleasant to use, people will be less inclined to reject them. We consider things like thickness, form, and dimensions.
Ease of Use: Most items rated highly on this score since ease of use is a crucial feature of any replacement.
Ergonomics: The ease of use of these devices was best measured by ergonomics. We divided it up into three sections: convenience, style, and profile. We consider it to be one of the sleeker and most fashionable designs in our lineup, and it is reasonably comfortable, too.
Product Quality: This is especially true for the waterproof wire connections, which should be of high quality and survive for a long time so that you don't have to keep replacing them. No one would knowingly purchase anything of poor build quality or short lifespan. A decent product can get them to shell out a bit more money.
SC Waterproof Connector
SC stands for subscriber connector and is a standard-duplex fiber-optic connector with a square molded plastic body and push-pull locking features. SC connectors are typically used in data communication, CATV, and telephony environments.
You can generally use SC and ST connectors with either single-mode or multimode fiber-optic cabling. Coupling receptacles for these connectors come in either panel-mount or free-handing designs. For narrow space installations, you can get 90-degree boot versions instead of straight versions. SC and ST connectors come in both simplex and duplex form.
Features
Protects against dust and moisture for use in dirty factories.
With an IP68 rating, your device is protected from the elements (dust, humidity, and salt mist).
The need for field splicing is drastically cut down by having each access point for the waterproof tethers be a known loss.
You may shave off as much as half an hour of setup time for each network node.
Quality performance is guaranteed by 100% optically tested assemblies.
Designed to accommodate any typical fiber type, both single mode and multimode versions are readily available.
The -40 to +85 °C temperature range makes it suitable for use both indoors and out.
A secure and lasting grip is maintained by a spiral clamping mechanism.
Connection installation is quick and easy because to the guide mechanism's one-handed, hands-free blind insertion.
Application
Intense outside conditions are no match for optical fiber communications.
Integration of Outdoor Communication Devices
Port for Huawei SC fiber optic gear that is resistant to water
FTTx (Fiber to the X) Wiring Engineering for Remote Wireless Base Stations
SC Connector
SC type connectors are snap-in connectors that are inserted into receptacles by pressing inward and clicking into position. This process is also known as "stick and click" and may be seen in use with network switches.
The use of SC connectors is highly recommended for applications that require high-precision communications and are particularly sensitive to return loss. In this regard, one may consider FTTX networks and the transmission of video using radio frequency signals as an illustration.
To top it all off, the new SC connections are guaranteed to perform at the same levels of insertion loss and return loss as their factory-terminated counterparts, reducing installation time and increasing yield. Although SC is widely used, its bulky connector housing and 2.5 mm ferrule make it unsuitable for use in heavily trafficked racks and panels.
SC's diminutive sibling, LC (or Little Connector), was developed as a solution to its bulky predecessor because of the increasing demand for compact designs in fiber-optic routing equipment.
In spite of being a relatively recent development in connector technology, SC connectors are currently seeing widespread deployment. SC connectors are more common because they are less expensive, simpler to install, and more durable than ST connectors. These interconnections typically exist in campus networks, where larger core switches with fiber uplinks connect to more modest closet switches.
The SC fiber connector used in patch cables was developed by NTT and is a standard component of any SC cable. Commonly seen in many homes, these connections connect optical networks. SC fiber optic patch cable is a low-cost option with a high degree of durability; it is a push-and-pull type optical connector with a locking tab at the cable's end. SC to FC, SC fiber optic cable, SC to ST, and SC to LC are some of the more frequent types of SC patch cables.
Mini-SC Waterproof Connectors
Application
Extreme conditions for outdoor fiber optic communications
The SC fiber optic port is a weatherproof connection for outdoor communication devices.
Constructing an off-the-grid wireless base station through fiber-to-the-premises
Features
Provides a low-priced option for internal termination.
Reduced insertion and addition losses.
Attenuation level.
IP67 standards ensure that electronic devices are protected from the elements and corrosion.
The jumper cable is made of materials that are impervious to rain, snow, and sunlight.
Standardization on mechanical performance was established by IEC 61754-4.
Materials that don't break environmental regulations like RoHS and REACH.
Drop Cable, 3.0mm to 5.0mm in Diameter, 2*5mm
SC Waterproof Connector Mini
It is common practice to use SC waterproof connectors while installing FTTH in the field. It can be of IP67 quality while still being compact and simple to set up. Spiral bayonet, layered rubber cushions, and a houseless SC core are just a few of its features. Cable diameters of 3.0–5.0 mm and FTTH drop cables can also be accommodated.
In 3G, 4G, and WiMax Base Station remote radio and Fiber-to-the-antenna applications, fiber connectors, along with the supporting optical cable, are becoming the standard interface provided. in addition to their utility in the manufacturing, aerospace, and military sectors.
Tests for salt mist, vibration, and shock have been successfully completed, and the cable assemblies have been rated as IP68 compliant. You can choose from a wide variety of SCs, which are subdivided into their respective categories based on the connector structures they use.
SC Waterproof Connectors
SC Waterproof Connectors are ideal for use in conditions where moisture could compromise the functionality of the component or product. Consequently, these connectors are best utilized in applications such as electric bikes/scooters, signs, lights, specific sorts of gear, motorboats, and boats.
SMA connector
The SMA connector is a threaded-nut locking form of fiber-optic connection. Connectors of the SMA905 and SMA906 varieties are two examples of this kind.
Military-grade connectors
These connectors are resistant to corrosion, heat, shock, vibration, fungus, and salt-spray, and they meet the requirements of military standard MIL-C-83522 (ST).
Features of the SC Waterproof Connectors
Very efficient sealing performance. In terms of waterproofing, the waterproof connector can achieve IP68 standards.
CE certification, low voltage directive, OOHS directive, etc. are just a few of the international standards that have been met by waterproof connectors. These certifications ensure that waterproof connections are of the highest quality and hold an unassailable position in the market.
Designed specifically for use in a marine environment, waterproof connectors are the pinnacle of craftsmanship and innovation. Customers are not only assured of a practical connection plan thanks to this apparatus, but also of a sense of security and dependability.
Advantages of SC Waterproof Connectors
Waterproof connectors are the best option in settings and applications where water poses a genuine threat to the proper functioning of electronic devices, which is nearly everywhere.
Heat Resistance Performance
These days, you may find waterproof connectors that can withstand temperatures from – 65 degrees Celsius to as high as 200 degrees Celsius.
It is common knowledge that in the presence of resistance, the equipment will produce a great deal of heat under the operating circumstances of the current, which will eventually lead to heating of the equipment.
Contact and ambient temperatures are typically considered together when discussing temperature. For this reason, we will specify the highest permissible operating temperature of the waterproof connector's rated working current, allowing the user to better integrate the actual scenario.
Suitable for Salt Spray Resistant Environments
Although it is impossible to completely rid the workplace of salt and moisture, we can boost the performance of waterproof connectors to reduce the rate at which equipment is eroded by the elements.
As a result, we will put the product through a series of smoke tests to ensure its efficacy. These will involve, among other things, compressing air with a NaCl solution at a predetermined concentration to simulate a smokey setting for the apparatus; in this case, the typical waterproof connector should last for more than 48 hours.
Vibration and Shock Resistance
Waterproof connector performance can also be measured by their ability to withstand vibration and stress. When traveling by air, space, rail, or road, these two values take on added significance.
For the purpose of gauging the durability, electrical contact, and dependability of waterproof connections, these two values are used. In many cases, the impact experiment will specify the acceleration, peak duration, and timing of the impact pulse waveform and electrical connection interruption.
What are the benefits of using waterproof connectors, and when should I use them?
For each of these reasons, waterproof connectors are the way to choose when making a connection that can't be compromised by moisture or air.
Since vehicle turn signals and low-voltage lighting both benefit from being waterproof, waterproof connectors are a versatile choice for many different uses.
Why is SC Connector Better?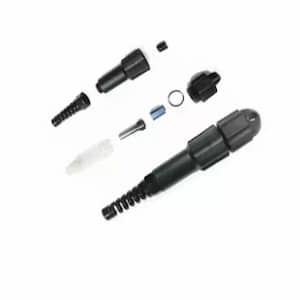 To begin, SC connectors have approximately identical insertion and return losses to those of both optical fiber and copper cable connectors, the two most important factors to consider. They can be used repeatedly, and both connector types have that capability.
And second, most SC connectors at least meet the requirements of the TIA/EIA 568B.3 standard, which requires no more than 0.75 dB of insertion loss for single-mode and multi-mode fiber lines respectively. Single-mode fiber has a minimal return loss of 26 dB, while multi-mode fiber has a return loss of 20 dB.
To put it simply, SC connections are less expensive than LC connectors because they are cheaper to produce. However, LC connectors are anticipated to dominate this market because to their density advantage, and in this case, economies of scale may eventually reduce the price difference between SC and LC devices.
As it spreads into unexplored markets including healthcare, transportation, defense, aerospace, and energy, fiber-optic communication is poised for explosive growth. If you want to minimize losses and prevent EMI and RF interference from penetrating your front panels and enclosures, then you need to carefully choose which connector to use.
When thinking about how much and how quickly fiber communication networks can be deployed, the type of fiber-optic connector you choose is also crucial.