SC Fiber Connector – The Ultimate Guide
For businesses, picking a reliable partner is crucial. After more than 27 years in the field of communication, as manufacturer from China, MELONTEL has the ability to provide high-quality SC Fiber Connector products to customers around the world.
Customized production
Professional R&D design team
Provide competitive solutions
24/7 online support for customers
MELONTEL: Manufacture Quality SC Adapter Fiber Connector Products
After 27 years of experience, MELONTEL has established a firm foothold in the production of communication equipment accessories in China and the world, and provides high-quality, reliable and highly competitive products to customers from all over the world. Today's achievements are inseparable from the hard work of innovation and R&D teams.
At present, MELONTEL is supporting more than 30 agents around the world, developing new markets through high-quality products and good services, so that all customers who cooperate with MELONTEL can get considerable returns through cooperation.
MELONTEL
Your Professional SC Fiber Connector Manufacturer
SC Fiber Connector Data Sheet
The SC fiber connector is one of the most popular among the dozens of fiber connectors available on the market. The SC conector is being sought-after due to its easy-to-install characteristic, affordability, and durability. Also, The SC Fiber-optic connectors provides smooth-flowing data transmission without signal interruption.
Keep reading to know more about the SC connector.
Melontel is a reputable firm and one of China's top producers of communication equipment. It has over 100 specialists applying sophisticated ways to assist in any communication needs.
What's SC Connector for connector?
The SC fiber connector uses many acronyms: Subscriber Connector, Standard Connector, and Square Connector. The last acronym was derived from its look: thick and square.
This is one of the two most frequent devices used to service WANs, LANs, SANs, and FTTX networks. It is also used to service telecom switching offices, cellular base stations, data centers, and test and measurement systems.
Additionally, it is well-known for its low cost and durability. It is also renowned for its ease of installation since it is suitable for passive optical networking and point-to-point networking. An SC connector is also ideal for applications that need high-precision signals and are sensitive to return loss.
Features
SC Fiber-optic connectors have a high packing density and a push-pull structure that prevents fiber end face contact damages. They are also affordable, trouble-free, and durable. Generally, SC connectors use ceramic ferrules to provide accurate placement.
The SC connector provides convenience for its users. It also has the following features:
Consistent performance
Snap-in connector design
Pull-proof
Tunable
Robust and adaptable in
comparison to other connectors
Other features that can be found in the SC connector family are the following:
Connectorized cables
Field mountable connectors
Terminated angled SC
connectors
Pigtails
Angled connectors
Hybrids
Simplex
Duplex
Quad
Attenuators
Tools and consumable kits
LIU and LGX panels
Benefits
SC connectors provide a very reliable connection and optically smooth performance. That is why they are one of the most popular fiber connectors on the market.
Aside from these, here are some of the additional benefits of SC connector:
Easy-to-install connectors and adapters
Decrease assembly time
Reduce training time
Minimize transmission problems
Improves optical contact
aids in the prevention of unintentional disconnects
Maintains optical contact under load
It can be utilized in a variety of applications such as a workspace/desk
Application
Generally, the SC connector is widely used in the industry of communication, and here are some of its applications:
Cable TV
Broadband TV
Media converters
Competitive LEC
FTTX
Inside of optical cabinets
What are the advantages and disadvantages of SC fiber connector?
Advantages
One of the advantages of using an SC Fiber-optic connector is that it is very easy to use. You can also plug it directly with its snap or push-pull mechanism. And the good thing is that pushing or tugging on the cable's jacket will not cause the ferrule to detach. So, you won't have to worry about any signal interruption.
The SC connector is also commonly used in general networks. It is also relatively cheaper than the other connectors. In addition to this, its design allows it to fit comfortably in a densely populated place and avoid encountering compressed strands when you pull it back.
Disadvantages
The disadvantage of thisSC Fiber-optic connector is its body is bigger than the LC fiber connector. So, it will take up more space than its newer relative. They are no longer as compact as the new designs released on the market. It can also be challenging to decouple and recouple the connectors when it's already too crowded.
Is SC better than LC fiber connector?
There is always a need for an uninterrupted data exchange, so the transmitter must be smooth-flowing. Fortunately, SC and LC connectors are made exactly for that purpose. However, in the comparison below, these are the factors you may consider in knowing the better one:
LC vs. SC fiber connector 
Large connector housing
Large 2.5mm ferrule
Push and pull mechanism, which uses a locking tab
Cheaper than LC
Been in the market for over 3 decades
Half the size of an SC connector
1.25 mm ferrule
Push and pull mechanism with latched connector
Density advantage
New in the industry
How to identify the correct fiber optic connector?
There are plenty of fiber optic connectors available in the market, and finding the right one that suits your needs can be a little challenging. This section will give you a list of fiber optic connector identifiers to help you know what to purchase.
1. Connector Standard
The TIA connector intermateability specifications FOCIS-x cover the most common connectors. (TIA-604-x).
2. Design and Style
You have to identify the equipment you will be using and the type of fiber you will choose to know what connector style you should follow.
The mating concept is used for the design wherein the connectors are the plugs with a projecting ferrule that retains and aligns the fibers. An adapter will then be used to connect two connectors and secure the connection.
3. Polish Type
Polished end faces of connectors significantly affect the connector's return loss level or the back reflection. So, it should also be considered in picking the right connector. It is also important to know whether your installation requires the Ultra Physical Connect (UPC) or the Angled Physical Contact (APC).
1. UPC – this single-mode UPC usually comes in color blue. The shape of this is slightly domed and is the most commonly installed single-mode connector.
2. APC – the APC is also known as the Angled Physical Contact or Angled Polished Connector. It is usually identified by the color green. They are most commonly used by service providers or for transmission across very vast distances
4. Color Code
The color-coding of the connectors will vary depending on the manufacturer. However, this list can serve as your basis for picking your connector:
Blue – single-mode fiber
Aqua – 50/125 multimode
Green – single-mode APC
Black – 50/125 multimode
Beige – multimode
Is the SC fiber connector multimode or single-mode?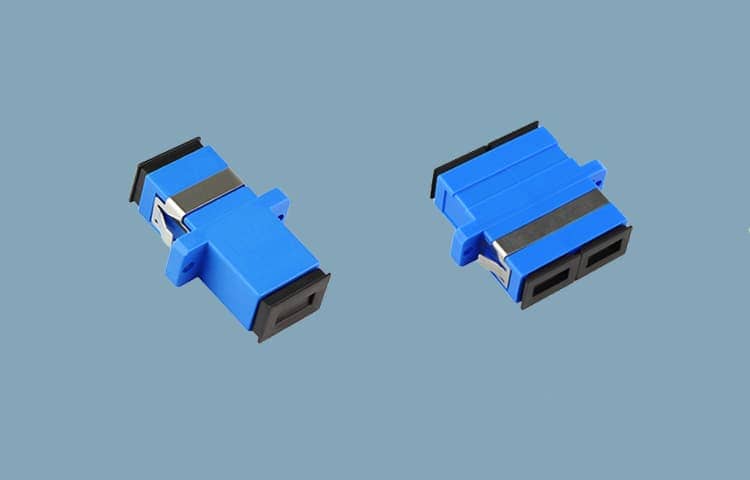 The SC connector is both used in multimode and single-mode. It has been used in single-mode systems due to its superior efficiency. Additionally, it has also been utilized in multimode systems since it was the first connection designated as the TIA-568 standard connector.
What is the difference between a single-mode connector and a multimode?
The single-mode connector usually comes in the colors blue or white. Additionally, it has a ceramic ferrule with a ferrule hole of about 126 microns.
On the other hand, the multimode connector is commonly beige or black in color. Its ferrule may come in either of these three materials: stainless steel, zirconia, or plastic. And its ferrules may have an approximately 127-128 microns.
Can temperatures affect fiber connectors?
No, these connectors are not impacted by weather fluctuations since fiber optics convey light beams down thin strands of glass rather than electrical signals. Rain, frost, and high heat can disrupt traditional electrical signals, but fiber optics will remain unaffected.
Conclusion
The Subscriber Connector, popularly known as the SC fiber connector, is one of the most commonly used devices for optical fiber connection because of its affordability, reliability, and durability.
Certainly, these fiber connectors will provide smooth-flowing data transmission and uninterrupted signals. It can be used as a single-mode connector or a multimode connector.