What's an RJ45 Module Plugin?
Melontel
Your Professional RJ45 Module Manufacturer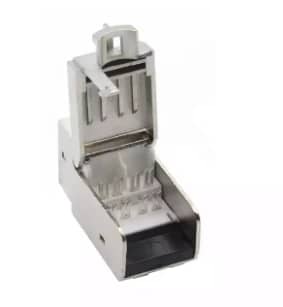 A type of connector used in wiring networks, the RRJ45 module consists of a socket as well as a plug.
The connector is made up of two parts to ensure continuity. The RJ45 module is the most critical component of the connector.
RJ is for Registered Jack, which means "registered Jack". According to the FCC Standards and Regulations RJ is an interface that describes a public telecommunications network.
This interface is also known as RJ11 and RJ45. RJ-45 can be used to build computer networks. It is an 8-bit module Common Name. All RJ-type interfaces have been used in Category 4, Category 5, Category 5e, and Category 5e. This includes the new Category 6-wire.
In the seven-category wiring scheme, non-RJ interfaces are permitted. Siemon TERA seven connectors have been selected as "non-RJ" seven standard industrial interfaces. Standard mode.
TERA connectors can transmit at speeds up to 1.2GHz. This is more than the 600MHz standard transmission bandwidth currently under development.
Network communication is possible using the four most commonly used RJ modular Jacks. Each basic jack can be connected to RJ different structure.
For example, a 6-pin socket can be connected to RJ11 (1 couple), RJ14 (2 partners), or RJ25C (3).
RJ61C (4-pair) and RJ48C can be connected by an 8-pin socket. RJ45S (RJ46S), and RJ47S can be connected via keyed 8-pin sockets. The RJ45 socket (crystalhead), and the RJ45 module plug (crystalhead), are the basic connectors for the integrated wiring system. We will discuss the RJ45 module connector, (crystalhead), in more detail later.
The heart of an RJ45 modular module is a modular jack. Modular plug springs are connected by socket holes or wires with gold plating to their electrical system. The friction between shrapnel and the jack strengthens the electrical contact.
An integrated locking mechanism allows maximum pull strength to the jack body when a modular plug such as an RJ45 is inserted. The RJ45 module's wire block connects the twisted couple via the wire slot. The locking shrapnel is also available to fix RJ45 modules on an information outlet device such as the panel.
What is the main component in the RJ45 plug's RJ45 connector?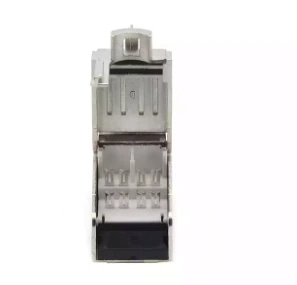 The RJ45 module connector consists of two parts: a socket, and a plug. To ensure electrical continuity, the connector is made up of two pieces. The RJ45 plug module's core is the modular jack.
The modular socket clips connect to their electrical connections via socket holes or gold-plated wires. The friction between the springs, jack and plug increases the electrical contact.
The RJ45 modular plug-jack body features an integrated locking mechanism. This ensures maximum pull force outside of the interface between plug and jack.
The RJ45 module plug module's wiring module connects twisted pairs wires via the "U-shaped" wiring slot. The locking shrapnel can be used to attach the RJ45 modular plug-module module to an information outlet device such as the panel.
RJ45 performance indicators include attenuation and near-end crossingtalk, insertion loss (return loss), and far-end-end-crosstalk. RJ45 technical description.
The contact resistance is 2.5mO, and the insulation resistance is 1000mO.
The plug and socket have a DC1000V (AC700V) electric strength. They can be easily removed and inserted upto 750 times. The contact pin for 8-wires has been coated with gold 509 (inch).
RJ45 is composed of a socket and a plug. These components form the connectors RJ45. They are connected between wires to ensure continuity.
The heart of an RJ45 modular module is a modular jack. Modular socket clips are connected by socket holes or gold-plated wires to their electrical connections. The friction between springs and jack increases the electrical contact when the plug is inserted.
The integrated locking mechanism in the jack body allows for maximum pull strength when the modular plug plugs are inserted. The RJ45 module's wire module connects the twisted couple via the "U"-shaped wiring slot. The locking shrapnel can be used to attach the RJ45 module to an information outlet device such as the panel.
What is the purpose of the RJ45 Modular Plug?
RJ45 module plug (also known as RJ45 Crystalhead or RJ45 Modular Plug) is used to terminate data cable for modification and connection of equipment and patch panels. Good conduction performance is required for the RJ45 crystalhead.
Contact three-pronged wire has a thickness of 50mm and is gold-plated. It meets the Super 5 transmission standard. It is compliant with the T568A/T568B transmission sequence.
It can also be used to prevent unplugging, plugging, loosening, and self-locking. Copper cable wiring uses the RJ45 connector plug plug.
It consists of the socket (RJ45 module) and it forms one complete connector unit. Electric continuity.
What is the classification of RJ45 plugs ?
There are two types RJ45 module plugs, shielded or unshielded. The shielded RJ45 module plug plug is covered with a shielding coating. It looks the same as an unshielded plug.
There is also a shielded RJ45 plug. This shielded RJ45 module plug can be used in conjunction with the RJ45 industrial shielded. RJ45 plugs often come with a nonslip jacket.
This protects the plug from slippage and facilitates inserting and removing. It is available in many colors.
What specifications do you have for the RJ45 plug ?
The common RJ45 plug unshielded modules are 2cm high, 2cm wide, and 3cm thick. The plastic body is flame-resistant and resists high voltage. It can be attached any M series panel bracket or surface mount box. It can be used on standard panels. This process design allows at least 750 repetitions of insertions or removals.
This module can use both the T568A and T568B wiring common labels. This module is most frequently used in integrated wiring systems. It doesn't really matter whether it's Category 3, Category 5, or Category 6, its form is the same.
What is the difference between an RJ11 connector and an RJ45 module plug?
The twisted-pair connector is an electromechanical device which connects the twisted pair with the appropriate mating element, and controls the circuit's ON/OFF.
It is used as an information communication medium for network transmission. Twisted pairs can transmit both analog and digital signals.
Popular are the RJ series of twisted-pair connectors. There are three types of structures available: a four-position, six position, and eight-position one. The RJ11 uses both the first and second structures. These structures are often used in modem transmission.
RJ45 has an eight-bit structure. It is used for terminating voice and data transmissions within wiring systems. RJ11 and RJ45 are different sizes. RJ45 is smaller than RJ11.
How do you connect the RJ45 module plug?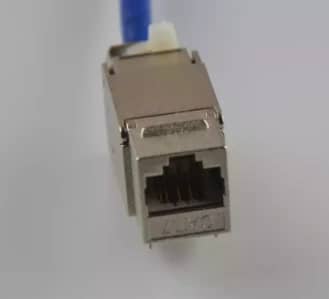 Different manufacturers offer RJ45 modules in different designs. DataGate's dust cover module is the most well-known.
Built-in dust caps series are equipped with a spring-loaded dust cover that retracts and pops open automatically after the jumper plug is inserted.
The spring-loaded door ensures that jumper connectors are always properly inserted.
This ensures that data transmission is not interrupted. Two hands are required to open traditional dust-cap receptacles and insert patch cords. Molex Enterprise Cabling Networks' dust-cap receptacles come with a built-in handle. Simple.
In addition, the "door" wipes the pins every time it is connected/disconnected, which can completely prevent dust and impurities from entering the connector, so that the socket can obtain maximum protection and ensure reliable credit transmission capability.
For maximum density, Molex sockets have dust caps that are 21mm high, 21mm wide, and 26mm thick.
A rectangular panel of standard size can hold six sockets, while a square panel with dustcover can hold four sockets. It is comparable in density to traditional sockets.
An industrial shielding module uses different shielding methods. The outer ring is enclosed by a screw-mosquito structure and is secured to it.
Crosstalk should be considered when the module is connected to the modular plug (RJ45 head). Crosstalk cancellation technology can be used to increase transmission performance for the entire link. Crosstalk cancellation technology works like this: It can create a crosstalk sign of the same magnitude that interference from the plug.
What are the roles of Category 6 and Category 5e connectors in general wiring?
It is often difficult to see subtle differences between Category 6 and Category 5e in the physical structure, which can be hard to spot. The 8-pin configuration is typical for Category 6 connectors. It is however similar to the Category 5e or Category 5e. This is to ensure backward compatibility between the Category 5e/Catego 5e systems.
While we believe connectors are essential, the industry pays less attention to them than cables. This can be explained by the constant updating of wiring standards, whitepapers from manufacturers, and advertising materials. This can be seen in the double-line.
The simplest components of the wiring system are connectors. They don't have fancy bling or high-tech words. The Super Category 5/6 standards are the same. Everybody has an idea of the system performance margin and the performance standard. Few people are aware that connectors such as modules must comply with applicable standards.
The Category 6 module test replaces the Category 5E attenuation and insertion loss. It increases the test for far-end crosstalk, and the test frequency goes up from 1-100MHz (to 1-250MHz) to 1-250MHz.
Different manufacturers have developed their own methods for ensuring that connectors meet the performance standards of Category 6 cabling systems. Category 6 receptacles such as AMP use a 110 module in order to increase the number cable pairs for better NEXT performance. To achieve capacitance compensation on a computer board, a unique patent technology is used. Tri-Balance technology is used in Simon's Category 6 product MAX6.
This is done in order to maximize pair signal balance and pair isolation techniques for linear crosstalk response. It also minimizes mating or unplugging dependencies. To meet the Category 6 cabling performance standards, they developed a crosstalk cancellation technology. The 8-pin plug was further enhanced by this technology which added two contacts. These contacts can be found on the printed board. The front of the plug is hidden. The contacts can reduce near-end crosstalk in the plug's front. Fatigue stress is important when evaluating connectors.
Manufacturers are now calling out some of these problems. Stewart Connectors connectors have a locking pin that secures the cable. The locking pin will not cause damage to the cable or affect the connector's performance.
Two terms can be used to identify the module during the installation, construction and design of a scheme: the information socket and outlet. The number of modules used can be used to indicate how much wiring has been completed. For example, a 1000-point wiring engineering refers to the design and implementation of 1000 modules within a wiring project. From the perspective of supporting applications, it can be broken down into data application modules and voice module modules. When expressing the number information, we are used to seperating optical fiber information points and copper cable information points.
How to connect RJ45 network interface twist pair?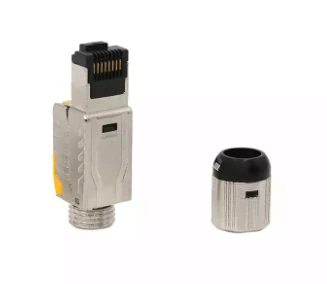 Twisted pairs can transmit for up to 100 meters. Two methods can be used to connect: EIA/TIA 568B and 568A standards.
Place the tail of the crystal head down (that is, the flat side is facing upward) and set the following line sequences: 1 2 3 4 5 6 7. 8
T568A Line Sequence
| 1 | 2 | 3 | 4 | 5 | 6 | 7 | 8 |
| --- | --- | --- | --- | --- | --- | --- | --- |
| Green White | Green | Orange White | Blue Blue White | Blue White | Orange | Brown White | Brown |
T568B line number
| 1 | 2 | 3 | 4 | 5 | 6 | 7 | 8 |
| --- | --- | --- | --- | --- | --- | --- | --- |
| orange white | orange | green And white | Blue | Blue And White | Green | Brown And White | Brown |
A wiring method is used for all aspects of the wiring process. The network connection using RJ45 plugs at the ends of the network is the same regardless of whether it uses the A or B termination method. The sequence of the twisted pair is determined by the pin number on RJ45 header.
To transmit data, the 10M Ethernet network cables use 1, 3, and 6 Cores. To transmit data, the 100M Ethernet network cables use 4, 5, 7, and 8 Cores.
Why are 4-pair (8 cores) twisted-pair cables being used? This allows for greater flexibility and meets the wiring needs of various user equipment without changing the infrastructure. Voice communication can be enabled by one of the paired wires.
These are the 100BASET4 RJ45 twisted pair provisions:
1 and 2 can be used for sending, while 3 or 6 can be used for receiving. 4, 5, 7, 8 and 9 are bidirectional.
Wires 1 and 2 should have twisted pairs. The wires 3 and 6 must be twisted. The wires 4 and 5 need to be twisted. You should twist wires 7 and 8.
Straight line: Both ends are connected according to the T568B sequence standards.
Crossover cable: The T568A sequence is used to connect one end and T568B for the other.