Melontel
Your Professional Rackmount Patch Panel Manufacturer
Rackmount Patch Panel Data Sheet
A rack-mount patch panel is a rack-mounted device that makes it easy to connect the patch cords. The purpose of this device is to organize and managing of the network cabling infrastructure.
The racks used in fiber optic data centers provide a great opportunity for network administrators to deploy new networking technologies, offer new data-center services, and improve operational efficiency. This means that as your needs change, you are usually forced to take an expensive remodeling step on your current infrastructure which can lead to even greater expenses later on. However, you will save lots of money by using rack mount patch panels for future upgrades when demands for capacity increase or when newer technologies require extra wiring space.
Rack-mount patch panels are a great addition to any rack-mount computer system; providing a generic interface for connecting to networking equipment. The most critical components of a rack-mounted system are the availability of flexible and high-bandwidth interconnections. Hence, the need for rack-mounted patch panels that can meet all these requirements by providing good handling, ease of installation, and top-of-rack connectivity.
The benefits of installing rack mount patch panels
Low cost for initial investment. It offers long-term savings as additional equipment can be installed instead of installing new wiring on existing network wiring.
Mobility – patch panels can be easily moved from location to location as needed.
Easy installation and configuration of patch cords. No need for dedicated cabling workstations or dedicated wiring in cabinet walls; patch panels have their own wiring only.
Increased network reliability by simplifying cabling and redundancy.
Ability to add more cables without having to reroute the entire system (instead of running new cable you can simply add a few extra patch cords in the rack) and increase redundancy (in case a cable fails you can have another one running).    This is especially important when multiple systems are installed into a rack (if one fails, the entire system will not fail).
Features to look for when buying a rack mount patch panel include:
Number of ports
Many rack-mount patch panels come from the factory with eight or nine ports. However, the number of ports needed for each location will vary depending on the type of network equipment used; however, most systems require about 10 to 15 ports. For example, if you have a server room with over 50 servers and a network switch that has to be shared by every server in that room, then you will need a patch panel for your servers and switch. A good general rule is to plan on purchasing one patch panel per 25 servers or key pieces of equipment.
Rack mount hardware
The mounting hardware used on these patch panels is a key component in the ease of installation and longevity of the patch panel. The rack mount style should be chosen according to your application and site requirements
Ease of use – can vary from a slide-in rack rail or slide-on to full 19-inch EIA standards.
Mounting space provided by the rack should be considered depending on your network design needs. In general, 5U or 10U are the most popular options due to their reasonable price and ability to fit into many different-sized racks.
Number of modules
For most networks you need to install a patch panel with at least eight ports; however, it can be expanded to 16 ports with the addition of a few more modules. This is recommended if you think you will have more than eight servers or other end devices that require a connection. A good general rule is to plan on adding one extra port for the future expansion of your network.
Number and location of blanking panels
Some racks may not accommodate all patch panels due to the number and location of the blank modules in them; therefore, some planning should be considered prior to purchase and installation.
System connectivity
Some rack-mount patch panels can be used with all types of systems, such as fibre optic hubs, and wireless and traditional Ethernet systems.
Cost
Marketing strategies can vary based on the buyer, however, many patch panels are sold at a reduced rate after a long period of time has passed since their original purchase. When purchasing a new patch panel, you should expect to pay 50% or less of what you originally paid when they were new.
Future-proof design
When looking at patch panels it is important to consider what the future of your network will be like. Therefore, it is important to know whether you will have upgrades in equipment and devices and if the patch panel you are buying today is compatible with those devices. The following should be considered:
Type of port connection
Depending on the system used, patch panels may or may not provide full test and pass capabilities; therefore, each different type of network connection should be analyzed and chosen based on your individual needs.
Number of ports
Each type of patch panel and network system will vary in how many ports they provide. Therefore, it is important to know what your needs are and choose a number that fits your network as opposed to choosing a number based on some general consensus.
Cable management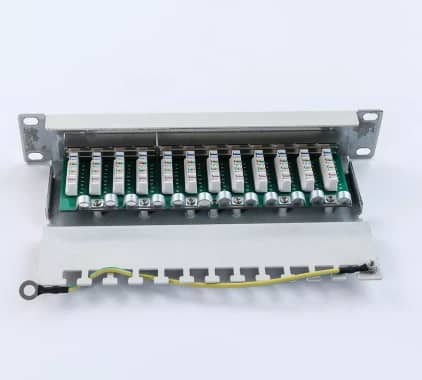 Good cable management is important for a successful installation; however, all patch panels have different methods in cable management for them. Using a patch panel with poor cable management means that it may be very difficult to change cables out and maintain the overall quality of the system you have installed.
Future expansion
Some patch panels offer an easy method of expanding ports by adding additional modules. This can save money by not having to install a whole new patch panel when you need more ports. However, you will have to run extra cables through the system, increasing the difficulty in installation and maintaining quality.
Number of modules
If your current system is large, you may want to consider getting a patch panel that has more than 8 ports so that it can be easily expanded into multiple 24-port sections in case future expansion plans are needed.
Environmental protection
Depending on the conditions that the rack mount patch panel will be installed in, environmental protection of the devices should be considered as well. The following should be considered:
Temperature range
patch panels are usually designed to work in a range of temperatures between 10 °C (50 °F) and 40 °C (104 °F).
 Airflow
Airflow is important in the installation of a rack mount patch panel because some devices can overheat if they are located in an area with little airflow. Some manufacturers have incorporated extra ventilation into their designs, which can be very helpful; however, you should check before buying a patch panel if there is room for it to vent properly in your environment.
Humidity
While humidity is not a consideration for all types of patch panels, if the rack mount patch panel is located in a humid environment it should be considered.
Demands and environmental exposure
For some types of equipment, environmental protection in certain conditions and temperature ranges can be detrimental to operation; therefore, the operating range of a patch panel should be considered when purchasing one.
How does the Rack Mount Patch Panel work?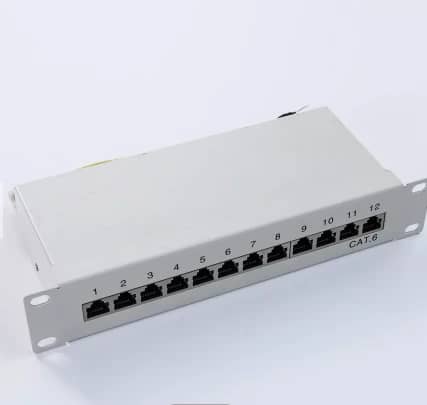 The Rack Mount Patch Panel is a rack-mountable patch panel that's capable of running two sets of fiber optic cables. One set can go in one direction and the other can go in the opposite direction. This allows for easy connections and provides increased cable management. It also saves on space by keeping the patch panel between your racks rather than using a wall mount or the floor mount option which requires more space when compared to this stand-alone device.
The Rack Mount Patch Panel is a small device that can hold up to 12 fiber optic cables. You can even purchase an extra unit if you need more room for more cables or if you want to add to your existing patch panel. The unit is a one-rack space device, is compact, and also simple to use.
The Rack Mount Patch Panel features an internal splitter that's capable of running two sets of cables at the same time. This is perfect for those situations where two rooms are connected or those situations where there are two connections that need to be made between the same locations. The splitter also keeps the connection safe by minimizing the loss of light intensity compared to normal cabling and splicing methods.
What Is a Patch Panel Used For
A patch panel, also known as a punch-down panel or an RJ45-to-coax adapter, is used to terminate cables. It typically includes a 19″ rack mountable frame with jacks at the front and back for connecting cable wires to the copper wire inside the frame. The punch-down block compresses the copper cables if they are not already pigtailed. The next step is crimping the connector head around each cable and placing it into one of the eight diamond-shaped openings on the front of each jack.
Patch panels are the most common way to organize Ethernet cables and keep a network running smoothly, but they can also carry phone lines, coax cables, and other components. A punch-down panel is also referred to as a 110 block because of the 110 opening that it has. These openings are designed to allow a signal to pass through while isolating two wires that might accidentally cross. They have been replaced by RJ45 connections in many cases.
A patch panel is part of a rack system that has many different types of devices mounted and connected together in a number of ways. Patch panels themselves come in various different styles, with the most common being a layer mount type.
The patch panel is typically used in industrial environments where much different electric and electronic devices are used to run an entire facility or building. The control circuit for one device may be routed through other points on the patch panel before it reaches the device itself.
Types of Rack Mount Patch Panel
When you're planning on installing a rack in your space, you need to consider how many patch panels will be interspersed throughout the rack. There are two types of racks and their respective patch panel solutions:
Panel-mounted type
This applies to a vertical solution where the rack itself is mounted horizontally on the wall with an incline. The patch panels are mounted above the top of the horizontal wall mount.
Framed type
This is much like it sounds and involves mounting a horizontal frame onto which you will install your rack head, such as from IPC or Amphenol. The patch panels are mounted below the frame.
There are two types of patch panel racks: horizontal mount and vertical mount. They can be racked vertically or horizontally, depending on your configuration needs. On a vertical panel-mount rack, the patch panels are typically mounted to the front of the rack panel. On a horizontal framed type, patch panels are mounted directly to the rack head itself.
Picking a Patch Panel Rack
There is a wide range of considerations to take when choosing between these two types of racks and their respective patch panels:
Interference
Positioning the inside connector cables into the unit can be very difficult in some situations. Horizontal framed racks have better accessibility for inside connector cable placement.
The framed type is known for having interference, particularly with horizontal or over-the-horizon topology wiring styles. Horizontally mounted patch panels are more prone to interference issues than vertical ones because they are mounted lower on the rack panel.
Vertical panel
mount racks do offer an in-unit keyhole mounting system to help with overall cable management.
Wire Management
The panel-mounted type offers the advantage of being able to run the cables directly into the rack and organize them into a cross-bar configuration before they hit the patch panels. A full wall of patch panels can be mounted horizontally, giving you excellent management options.