Milwaukee Punch Down Tool: The Things You Have to Know
MELONTEL – Your professional Punch Down Tool factory and supplier in China Can deliver directly to Milwaukee. As one of the leading Chinese communication equipment manufacturers, MELONTEL is going to tell you about the definitions, applications, specifications and benefits, etc. Continue reading to learn more.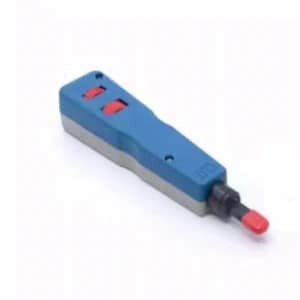 Melontel
Your Professional Punch Down Tool Manufacturer
Punch Down Tool Data Sheet
What is a Punch Down Tool?
In the telecommunications and networking industries, technicians frequently utilize a small hand tool known as a punch down tool, punchdown tool, IDC tool, or krone tool.
This is used to put wire into insulation-displacement connectors on punch down blocks, patch panels, keystone modules, and surface mount boxes.
The most common sort of punch down tool is the impact variety, which consists of a handle with a spring mechanism within and a replaceable slotted blade. A wire is inserted into a slotted post on a punch block before the punch down tool is used, and then the tool is forced down on top of the wire and over the post.
As soon as the necessary force is applied, the blade is pushed into the slot, cutting the insulation and securing the wire at the same time by use of an internal spring. The blade of the tool is not responsible for slicing through the insulation of the wires; rather, the contact post's groove has sharp edges that do the job.
Hence, a sharp edge on the punch down tool blade is used to trap the wire to be cut against the plastic punch block, allowing the extra wire to be sniped off in the same motion as creating the connection. The tool blade may need to be resharpened or replaced after prolonged usage of the cutoff function. If you need to run a wire through a slotted post and connect it to another slotted post, you can use a tool with a dull blade.
Remember that there are other cheaper punch down tools with fixed blades and no impact mechanism that are suitable for occasional usage. Making secure connections with these low-priced instruments takes more effort and can lead to muscle fatigue if you need to do so frequently.
The blades on 66, 110, BIX, and krone blocks vary to accommodate their respective connector types. Almost all 66 and 110 interchangeable blades have two cutting edges. Some of the blades merely have a hole to put the wire into, while others have a hole to insert the wire and a trimmer to remove any excess wire at the post where the wiring will stop. Other blades are double-sided, with a 66- and 110-degree cutting edge.
For Krone blades, cutting the wire with a pair of scissors is an additional step.
Milwaukee Punch Down Tool
The new punchdown gadget from Milwaukee boasts, allegedly, the highest level of visibility in its class. Without a doubt, the built-in LED light, a feature still lacking in the majority of punch down tools, is a major contributor to this assertion.
Because of this, a purely mechanical device becomes electrical and requires a battery. When you're not cradling a flashlight in your teeth, functioning in less-than-ideal illumination circumstances really improves.
If you have jacks that are inconveniently located, the Milwaukee Punchdown has you covered. This instrument has a shorter, dual-purpose 66/110 blade for daisy-chaining panels together and severing connections. The included extended 110-millimeter blade makes it easier to reach and navigate tight patch panels.
The one drawback here is that you'll have to find a safe place to keep the spare blade because it doesn't fold up and fit on board.
Hence, you can tell that Milwaukee put great effort to make the ergonomics as good as possible. The Milwaukee Punch Down doesn't feel like it's going anywhere, despite the lack of rubber overmolding. Accessing the settings and the light switch requires no more than the use of one hand.
Milwaukee's Punchdown Tool may be purchased for approximately $80 and runs on two AA batteries. Sure, you can get a cheaper punchdown, but then you'd be missing out on all the great features that make this one so special.
The style of this justifies the premium price tag that puts it in the same ballpark as high-end devices from Fluke and Greenlee.
Milwaukee Knockout Tool
Making holes is a time-consuming process, but the M18 FORCE LOGIC 6 Ton Knockout Tool 1/2′′-4′′ Kit streamlines the process with fewer stages, allowing you to work faster while experiencing less fatigue.
Therefore, this knockout punch is made to be the best instrument for striking through mild steel. It's strong enough to bore through 14-gauge mild steel at a diameter of 4 inches. In addition, it's 40% lighter than competing 6T knockouts. The right angle shape of the electrical knockout tool allows for optimal clearance in confined locations.
The Quick Connect Alignment System facilitates fast, repetitive punching through simple setup without the burden of a heavy tool. The machine works with all of our MILWAUKEE® EXACT punches and dies. Both mild and stainless steel can be punched using the knockout dies. The slug removal ports are strategically placed, the cross hairs are bright red, and the alignment is precise. EXACT punches have a textured gripping surface that speeds up the threading process.
With the cordless 6-ton knockout tool, punching has never been easier.
Milwaukee Low Voltage Tools
M18 LED Lantern/Flood Light (Model 2363)
This has an excellent illumination and spread.
You can adjust the beam angle from 180 degrees to 360 degrees with the turn of a collar, and the three different brightness levels (low, medium, and high) combined with the large battery pack provide for extremely long run durations.
Seeing as how this is a TRUEVIEW light, the color rendering is essentially identical to that of sunshine.
M18 FUEL Deep Cut Band Saw (Model 2729)
The Portaband is superior to a grinder because it produces less sparks and poses less of a fire risk, and to a reciprocating saw because it swiftly consumes expensive blades.
Because it takes standard-sized blades (44-7/8′′), you can use any brand with this saw. We have found that the MK Morse 811 blades are the best for our needs, and they can cut through a lot of metal before they need to be replaced assuming the material is not particularly sturdy.
The unit's "rafter hook" and tool-free adjustable shoe are two distinguishing characteristics that set it apart from other Portabands. Making precise cuts in thick metal (up to 5 inches by 5 inches) is a breeze, and you won't have to worry about a spark storm in the workshop either.
M18 FUEL 2763 1/2″ High Torque Brushless Impact Wrench (Model 2763)
One of the strongest impact wrenches available, the M18 FUEL model.
A lot of you have already bought it because of the reviews we've written. It's perfect for high-torque tasks and standard auto maintenance. There are two unique velocities and intensities to the hit. Mode 1 has a modest amount of torque and should only be used on small fasteners or while running a nut or bolt down. In most cases, you'll want to go with Mode 2, which provides extreme torque.
We tested it on two different Honda crank bolts with 95% of impacts unable to dislodge them and the M18 FUEL had no trouble removing them before the advent of Skidmore testing to prove torque.
To a veteran mechanic, that little movie would be enough to demonstrate their true strength.
M18 Radio/Charger (Model 2792)
Every workshop or warehouse requires radios and charging stations, so why not get them in one convenient package?
That's what Milwaukee did with this model; they fixed all the problems that plague similar products and made it the best radio money can buy.
Static and interference from charging is a common concern with portable radios. Sometimes you'll have crystal-clear audio, and then as soon as you put a battery in the charger, the static will start. This radio has a charging port built right in, so you won't have to worry about that.
You won't experience any static if you charge a battery on the device's back, but be aware that having another charger nearby will still produce interference.
Sound levels and quality are superb generally. You can get through the entire day on just one high-capacity pack, and if you need additional power, you can always plug it in, continuing the music & also charging the pack on the rear.
Compact Brushless 1/2 " Drill/Driver (Model 2701)
Concrete, brick, and stone are too hard for this tool, but it performs admirably on metal and wood.
There have been no issues with the keyless ratcheting chuck backing off of bits or becoming loose during usage, suggesting that the chuck is made of high-quality metal. A bigger drill is preferable when working with tough materials. However, in 95% of cases, this one will be enough.
The major perk is that they are light and powerful, weighing in at around 4 pounds while still packing as much punch as their larger counterparts.
Punchdown Tool with Extended Blade
With the punchdown tool, you'll have unmatched access and visibility. With the world's first extended reach 110 blade and an integrated LED light, terminating cables in tight patch panels is a breeze.
There are AA batteries, an extended 110-millimeter punchdown blade, and the Punchdown Tool in this set.
Best in class access, visibility, integrated LED light, extended reach punchdown blade, ergonomically optimized design; this is a punchdown tool.
Impacting Punchdown Tool
This punchdown tool has the following features:
Knife with two sharp edges
An Impact With a Spring Loading
Storage for blades at both the high and low ends of the handle
Consistent with other common blade sizes
MILWAUKEE Punchdown Tool
The Punch Down Tool works with both 110 and 88 punch down types, and it's portable and easy to store.
The blade is constructed of high-quality steel, has sharp wear, strips wire precisely, and is gentle on the wire's core. Wires can be stripped with ease as users rotate the tool and punch down the keystone jack on their RJ45 Ethernet module, all thanks to the convenient finger loop.
Cables with a diameter of 5.0 mm to 6.2 mm can be stripped with this tool. An optional manual punch down tool for keystone jacks is available for use with the easy stripper.
You may use our safe and convenient punch down tool to terminate wires at modular connectors.
Facts about Punchdown Tool
You can use the Punch Down Tool to quickly and easily join two wires together. High-quality steel was used in its construction, and it's built to survive for decades. The Punch Down Tool is a handy item to have about the house, the office, or the garage.
If you own an iPhone, iPad, or iPod touch, you should definitely pick up a Punch Down Tool. It's as easy as punching down the connector on one end of the cable and plugging in the other end to the gadget.
If you're having trouble with your electronics, download Punch Down Tool, a powerful and user-friendly program. It's the best tool for troubleshooting and repairing your electronic gadgets thanks to its extensive set of functions. Fixing your broken smartphone, laptop, tablet, or other electronic device is a breeze with the help of Punch Down Tool.
Moreover, anyone who frequently fixes or replaces electronics should have a Samsung Punch Down Tool on hand. This simple tool enables dismantling most electronic equipment as easy as removing screws. Both a Phillips head and a conventional screwdriver slot are included in the Samsung Punch Down Tool, making it useful for a wide variety of repair tasks around the house or in the workshop.
On the other hand, the Sony Punch Down Tool is a one-of-a-kind device that eliminates the need for a screwdriver while punching down cables. The tool's ergonomic shape and integrated punch make it a breeze to use with. You can use the Punch Down Tool to replace or repair cables in your TV, computer, or other electronic device.
You can link two PCs to a network by using Windows' Punch Down Tool. The Punch Down Tool establishes a connection between two computers using their respective virtual network adapters.
In many situations, removing screws or other fasteners will necessitate the use of the HP Punch Down Tool. The HP Punch Down Tool's punch is made of hardened steel, so you may use it to drive screws and other fasteners into any material. Because of its ergonomically designed handle, the HP Punch Down Tool is a breeze to wield.
Any competent electrician will need to have access to a Punch Down Tool. Its purpose is to join and separate electrical wires in partitions such as walls, ceilings, and floors. The Punch Down Tool is built to last and can take any beating you can dish out.
Best punch down tool brands
1. Wera
2. Stanley
3. Bosch
4. DeWalt
5. Milwaukee
Final Thoughts
Some tools, like punch down tools, have a very narrow but precise use.
Milwaukee aced it with its well-thought-out design, which is not only functional but also spares users the unpleasant aftertaste of using a flashlight.