What is the LC Fiber Connector? Here Is The Ultimate Guide
MELONTEL Passed the TUV certification several years ago. After more than 27 years in the field of communication, as manufacturer from China, MELONTEL has the ability to provide high-quality LC Fiber Connector to customers all over the world.
Customized production
Professional R&D design team
Provide competitive solutions
24/7 online support for customers
MELONTEL: Manufacture Quality Products For The World
In the past 27 years, MELONTEL has been providing quality products and services to customers around the world. During this period, the company's engineering team and R&D team played a vital role.
Only because MELONTEL is convinced that truly good products can be recognized by the market. At present, more than 30 agents all over the world have chosen to cooperate with MELONTEL, and have obtained great rewards from it.
MELONTEL
Your Professional LC Fiber Connector Manufacturer
LC Fiber Connector Data Sheet
This article will serve as your primer to learn more about the LC Fiber Connector.
What Is The LC Fiber Connector?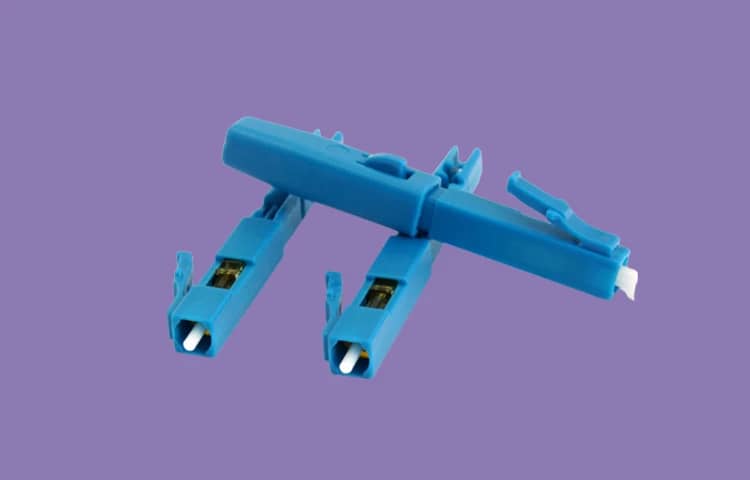 The LC fiber connector meaning is it's a small form factor connector.
It is designed to join LC fibers where disconnections or connections are required.
Lucent Technologies was the first to develop the LC connectors, hence the name LC. 
In addition, they also stand for "local connectors" and "little connectors."
These connectors use traditional components of standard connectors but with 1.2-millimeter ceramic ferrules.
Features
These connectors have unique features because they have many applications and depend on the manufacturer's preferences. 
Here are some general features you can find in LC connectors:
Small Form Factor
They are half the regular connectors' dimensions, such as ST, FC, and SC connectors.
Their fool-proof and compact design allow them to be particularly useful when multiple connections need to be accommodated (for high-density applications) in small spaces.
Low Insertion Loss Performance
These connectors have a six-position tuning feature to reach low insertion loss performance by improving the fiber cores' alignment.
Available in Two Types
LC connectors in multipiece or single piece type can be supplied as preassemble multipiece or one-piece connectors.
These preassembled connectors can fasten the assembly time for onsite installation.
Meanwhile, multipiece connectors are ideal for factory assemblies.
With Detachable Side Clips
The standard LC connectors have detachable side release clips, making it easier to adjust to the field's quick polarity changes.
They are mainly used via air ducts or indoor applications and can avoid pulling out and twisting fibers during installation.
Main Applications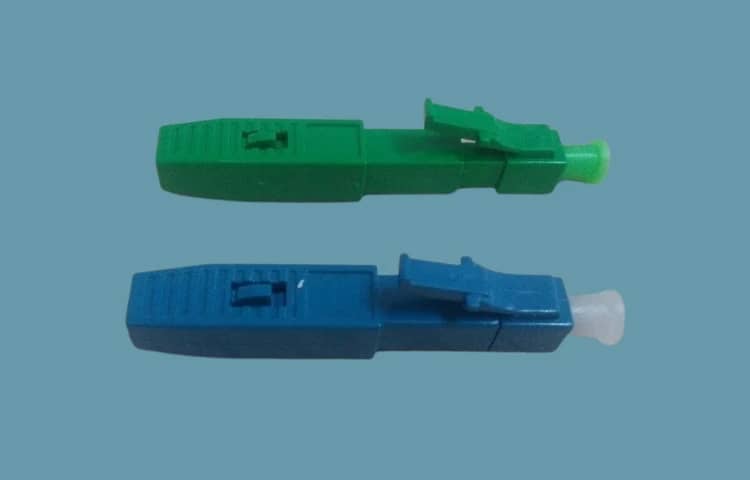 LC connectors are found in many areas for connections and terminations, especially SFP transceivers for gigabit transmissions. One example is that the Cisco SFP interface's transceivers are purely LC connectors. 
The following are LC's other applications:
The building or house distribution
Data processing networks
Fiber to home
Local area networks
Telecommunication networks
Television cables
Fiber to desktop
Device terminations
What Are The Types Of Fiber Connectors?
Fiber optic connectors are chosen based on fiber types, and they come in multimode and single-mode fiber connectors.
SC Fiber Connectors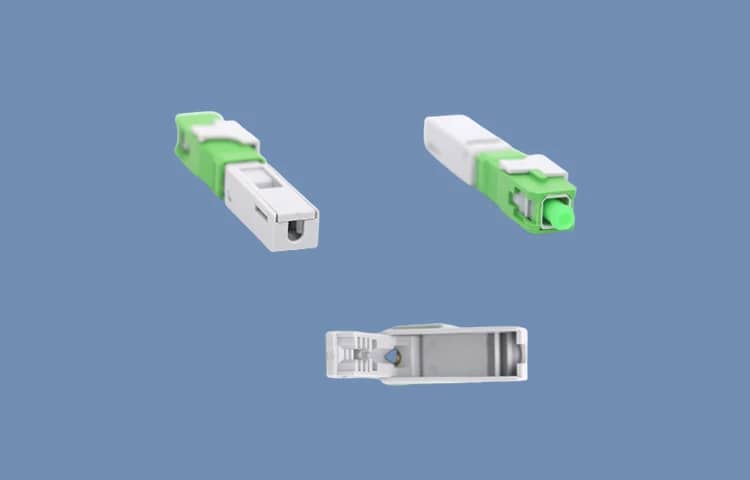 Standard connectors (SCs) are 2.5-millimeter snap-in connectors.
They were the first chosen connectors for the TIA-568 standard.
Also, they are snap-in connectors that latch with a push and pull motion.
SC connectors are larger than LC connectors and can be used with fiber optic extenders.
They are popular fiber optic connectors because of their durability, simple installation, and low cost for passive and point-to-point optical networking.
ST Fiber Connectors
ST connectors are 2.5-millimeter AT&T™-designed connectors. They have a long cylinder ferrule for holding the fiber and a bayonet mount. Although some are plastic or metals, most ferrules are ceramic. 
When utilized in fiber patch cables, an ST connector provides close to unlimited bandwidth at high speeds over long and short distances. Lastly, these cables are great for connections in fiber patch panels, media converters, switches, routers, hubs, and more.
LC Fiber Connectors
Lucent connectors are small connectors with a 1.25 mm ferrule. It's half the size of an ST or SC connector. Generally, they feature a clip design and are often used because their small footprint makes them great for high-density installations. 
In addition, small form-factorable pluggable fiber optic extenders and modules usually require these connectors. 
What Are The Advantages And Disadvantages Of A LC Fiber Connector?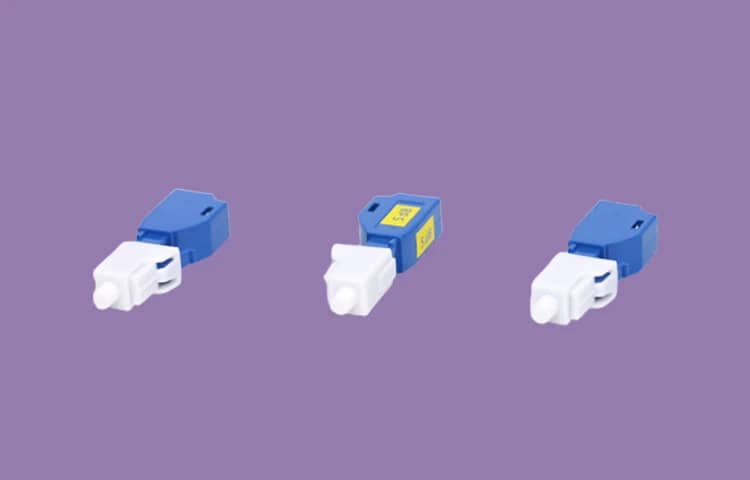 Advantages
There are many reasons why the LC is the most preferred connector for efficient networks, from its appearance to its performance.
LC connectors are SC connectors' mini size. It borrows split-sleeve construction and a ceramic ferrule from SC connectors. 
Their push and latch design provides pull-proof stability in system rack mounts. The performance and design of LC connectors address the need for low insertion and high-density loss. 
The LC connector's ferrule size is 1.25 millimeters. It is half the size of SC connector ferrules which is 2.5 millimeters. Another interesting feature is that the LC's ferrule can be rotated or tuned using a special tool after being assembled, which is advantageous for performance.
They can reduce the cost of the system as they are half the size of traditional SC connectors. Therefore, doubling the fiber density in outlets and shelves
The LC connector's polarized feature helps maintain the receiving and transmittance of directions and ensures high repeatability.
These connectors have an anti-snag latch that can enhance durability and reduce the rearrangement work caused by cross-connections.
They save time for installation because installing mountable field connectors is unnecessary.
An LC fiber connector can maintain optical contact under loads and help avoid sudden disconnections.
Disadvantages
1. The connector's SFF design makes it difficult to grasp as it's too small and usually in densely populated applications. However, several LC extractions tools exist to solve this. Also, it would be practical to order extraction tools before ordering this connector type.
2. LC connectors are hard to splice, and there is fiber's loss of light due to scattering. They have limited physical cable arc, so bending them too much can cause breakage.
3. The connectors are compact and small cables, making them highly susceptible to damage and cuts during construction or installation. Also, they can provide high data transmission capabilities. So, after choosing them as your means of transmission, it's best to address their survivability, backup, and restoration. 
Is LC Better Than SC Fiber Connector?
The two most common fiber connectors are LC and SC when it comes to fiber installation. But which one is better for your applications? Before deciding, let's review these two connectors in detail.
LC vs SC Fiber Connector
Lifetime
LC fiber connectors are relatively novel connectors, while SC connectors are widely used globally.
However, LC fiber connectors are following them.
The return and insert loss capabilities are similar for both connectors. Also, both of them have a design that allows durable connections and great speed.
Magnitude
Magnitude is one of the basic differences between SC and LC connectors.
LC connectors have a 1.25-millimeter ferrule, while SC connector ferrules have a size of 2.5 millimeters.
Because of LC's smaller size, they are commonly used in data centers and offices that are clustered fiber optic cables.
Behavior
LCs have a latched style locking, while SCs come with a push and pull lock system.
The former one is the innovative style, making them highly in demand.
What Are LC/PC Fiber Connectors?
LC/PC fiber connectors were developed to meet the needs of easier use and smaller fiber optic connectors. These reduce the space needed on panels by 50% compared to PC/SC connectors. 
Additionally, LC/PC connectors are packed with a strain relief boot for 900-micrometer tubing and a dust cap. These connectors have 1.25-millimeter ceramic ferrule, spring-loaded, and 0.1 dB typical insertion loss. 
Is The LC Fiber Connector Single-mode Or Multimode?
These connectors use a 1.25-millimeter ferrule, which is ST's half size.
Otherwise, this is the standard ceramic ferrule connector that can easily be removed using adhesives. 
Also, it provides great performance, making them favorable for single-mode.
However, it's also the best choice of connector for multimode transceivers for higher and gigabit speeds, including fiber channels and Ethernet.
Use The LC Fiber Connector To Your Advantage
By now, you should possess valuable knowledge of what an LC connector is and how to use it to your advantage.
You can go forward equipped with a solid knowledge of just what the LC connector is and why it is so important.