Getting to Know Your Fiber Optic Terminal Box
MELONTEL Passed the TUV certification years ago. After more than 27 years in the field of communication, as manufacturer from China, MELONTEL has the ability to provide high-quality products (Fiber Optic Terminal Box) to customers around the world.
Customized production
Professional R&D design team
Provide competitive solutions
24/7 online support for customers
MELONTEL: Manufacture Fiber Optic Terminal Box For Global Customers
By 2022, MELONTEL has been providing quality products and services to customers around the world for more than 27 years. During this period, the company's engineering team and R&D team played a vital role.
Only because MELONTEL is convinced that truly good Fiber Optic Terminal Box can be recognized by the market. At present, more than 30 agents all over the world have chosen to cooperate with MELONTEL, and have obtained great rewards from it.
MELONTEL
Your Professional Fiber Optic Terminal Box Manufacturer
Fiber Optic Terminal Box Data Sheet
For the efficiency of connections and networks in the communication industry, a fiber optic terminal box is absolutely necessary.
These devices allow optical cables to branch out and connect to the indoor circuits because you cannot directly connect optical cables to the twisted indoor network cables. 
Melontel is a reliable and trusted company and consists of trained experts and professionals, ensuring that you've got everything you need for communications. They're one of the leading manufacturers in communications that utilize innovative techniques. 
What Is a Fiber Optic Terminal Box?
Also known as a fiber optic wall box, this device is mainly used for branch splicing and straight-through welding of outdoor and indoor fiber optic cables. Fiber optic termination boxes can also fix fiber optic cable terminals to store fiber pigtails and joint protection properly. 
A fiber optic box splits optical cables into single optical fibers or connectors, connecting the optical cable to the pigtail. When an optical cable terminates at the user's end, its assembly occurs in the terminal box, while the optical cable's pigtail and core are welded inside the terminal box. 
Features
The primary components of a fiber optic box are the shell, internals, and the fiber optical joint protective element. Its internals consist of the set fiber disc, supporting frame, and fixing device. These features allow efficient cable-fixing and welding while guaranteeing optical fiber's machinery protection. 
Inside fiber optic termination boxes, there is insulation between cable terminal box shells and cable metal components, providing space between the remaining fiber storage and cable terminal. Additionally, these devices allow flexible installations because of their good accessibility, making them time-efficient and cost-saving. 
What is the use of a fiber termination box?
The primary function of a fiber optic wall box is to provide the following:
Fusion splicing of optical fibers
Fusion splicing of the pigtail and the optical fiber
Optical connector's handover
Fiber optic termination boxes also provide environmental and mechanical protection for the optical fiber components, allowing maintained inspection to ensure that the optical fiber management has the highest standards.
Other functions of the terminal box include:
Fixing Function
A fiber optic box allows mechanical fixation of the optical cable's reinforcing core and outer sheath after entering the rack.
It also provides installation of the protection components of ground wires, end protection processing, and optical fiber protection and grouping. 
Splicing Function
After fusion splicing of optical fibers, the remaining optical fiber is coiled and stored while the spliced joint is kept protected and secure. 
Storage Function
Fiber optic boxes provide ample space for storing cross-connected optical cables, arranging them orderly. The space is essential inside to allow the wiring to easily adjust and meet the standard requirements of minimum bending. 
Structure
As mentioned earlier, fiber optic boxes comprise three major parts – shell, internal component, and the optical fiber connector protector. Describing each part will help you understand better how these terminal boxes work.
Shell
Comprising the outermost covering, the shell should provide easy access and installation. It should comprise a lead-out device to allow the optical cable's metal components to have high-voltage protective grounding.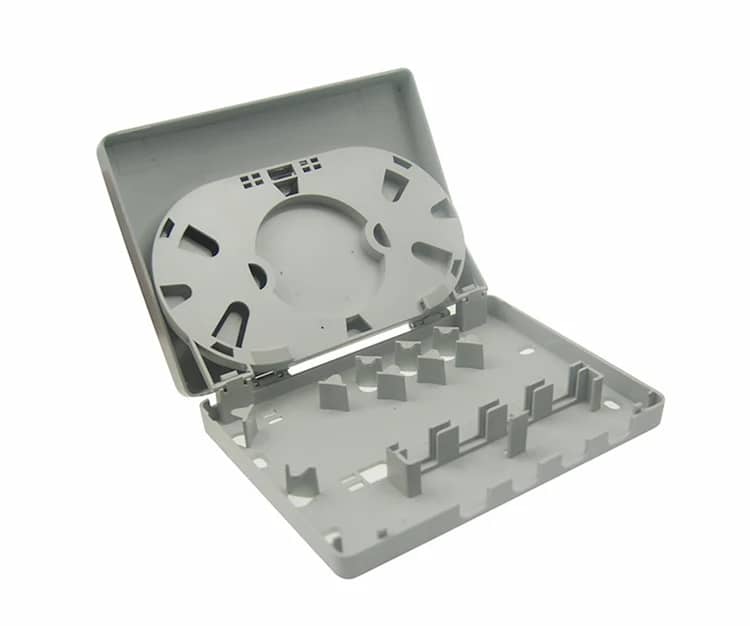 Internal Components
Below are the important parts of the internal component of a fiber optic box:
1. Support Frame: the internal structure's main body to provide support and stability
2. Fiber Collection Tray: allow the proper assembly of optical fiber connectors and the remaining fibers. It should be noted that the remaining fibers' length should be at least 1.6m with the radius of curvature not less than 37.5mm. 
3. Fixing Device: the fixation of the optical cable sheath, optical cable strengthening member, and the wiring pigtail.
Optical Fiber Connector Protector
An optical fiber connector's protector can be heat-shrinkable protective tubes or clips. 
What are fiber optic boxes for?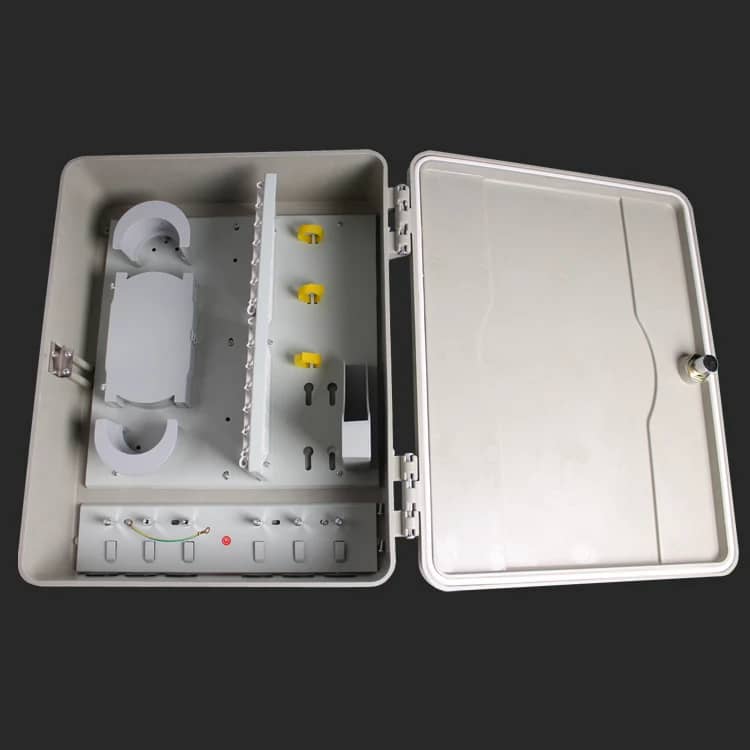 Fiber termination boxes are mainly used in the following applications:
Agricultural telephone network systems
Telephones
Image and data transmission systems
Indoor cable through branch connection and force access
CATV cable televisions
A fiber optic wall box is also used for the termination connection and distribution of different fiber optic systems. Additionally, you can use this device for joint fiber pigtails, protect fiber optic splices, and allow connectivity sharing with individual customers. 
Properties
The following are important material properties you should look for:
The material used to fabricate the boxes should be anti-corrosive
Physical and chemical properties should offer stability
Several materials should be compatible with the wiring pigtail sheath, cable sheath, etc
All materials used should be non-toxic, causing no side effects to human health
The fiber connection box should complete all parts without voids, cracks, and other defects
For the electrical property, the insulation resistance between the optical cable joint boxes and metal components should be at least 2*104MΩ with a test voltage of 500V. Meanwhile, for the mechanical properties, they should undergo the following tests:
Tension
The terminal box with the optical cable should withstand at least 500N of axial tension, and the wiring pigtail should withstand at least 5N. 
Flattening and Torsion
All features on the sides of the fiber optic box should withstand at least 200N of vertical static pressure and the given torsion angle. 
What are types of fiber optic Terminal Box?
These terminal boxes can be classified according to their connection method: straight-through or branched. 
Straight through
There is only a single hole on the box's exterior when you have a straight-through terminal box. With this, it only allows a single connection to the receiving line. 
Branched
On the other hand, a terminal box with several holes for connecting to the receiving line is a branched terminal box. 
What is the difference between indoor and outdoor fiber termination boxes? 
An indoor fiber termination box mainly stores terminating and extending fibers and connecting splicing fibers. It also provides enough room for the fusion of terminated and ultra-long fibers. The indoor fiber termination box also serves as the transition between the horizontal and riser cable, providing more flexibility to operators during cable management. 
On the other hand, an outdoor fiber termination box has environmentally-sealed enclosures to allow fiber distribution to FTTx networks. It's also used in termination, fiber splicing, and cable management. 
Are fiber optic distribution boxes and fiber optic terminal boxes the same?
The actual distribution frame is the same. These two devices mainly differ in the number of their interfaces and their environmental uses. 
Fiber optical terminal boxes are mainly used for wall-mounted or desktop applications, and they commonly have two ports. On the other hand, fiber optic distribution boxes have at least 4 ports and are mainly used for outdoor, indoor, and corridor environments. 
How do cables connect to fiber optic termination boxes?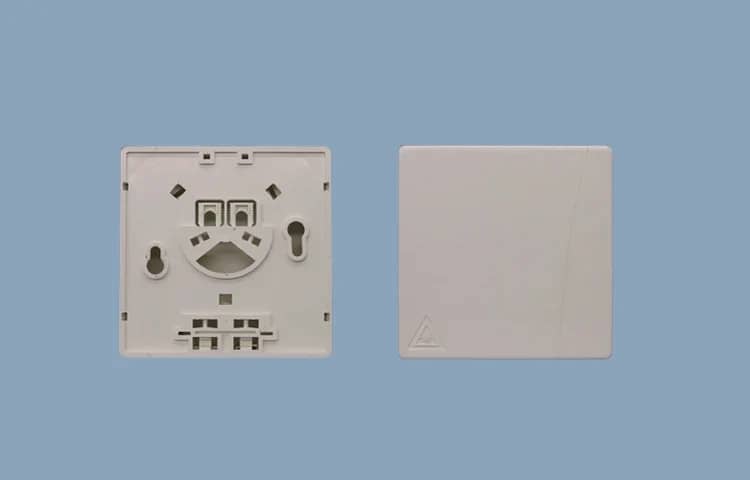 The step-by-step connection of cables and fiber optic termination boxes is listed below:
1. The outdoor optical fiber cables are connected to the optic terminal boxes to allow the fusion of the optical fiber and the pigtail, leading to the jumper. 
2. The optical fiber jumper is then connected to an optical transceiver, converting the optical signal into electrical signals
3. Fiber optic transceivers lead to electric signals, with the transmission medium twisted in pairs. You can now connect the twisted pair to the network equipment's RJ-45 port. 
Takeaway
A fiber optic terminal box is an indispensable device for proper connections in communications. It offers a reliable and flexible manner for properly protecting and distributing several fiber links. Thanks to terminal boxes, cable management in FTTH becomes more convenient and time-efficient.