Brief Introduction to Fiber Optic Splicing Tray
MELONTEL Passed the TUV certification years ago. After more than 27 years in the field of communication, as manufacturer from China, MELONTEL has the ability to provide high quality Fiber Optic Splicing Tray to customers around the world.
Customized production
Professional R&D design team
Provide competitive solutions
24/7 online support for customers
MELONTEL: Manufacture Quality Fiber Optic Splicing Tray For Global Customers
MELONTEL has been providing quality Fiber Optic Splicing Tray to customers around the world for more than 27 years. During this period, the company's engineering team and R&D team played a vital role.
Only because MELONTEL is convinced that truly good products can be recognized by the market. At present, more than 30 agents all over the world have chosen to cooperate with MELONTEL, and have obtained great rewards from it.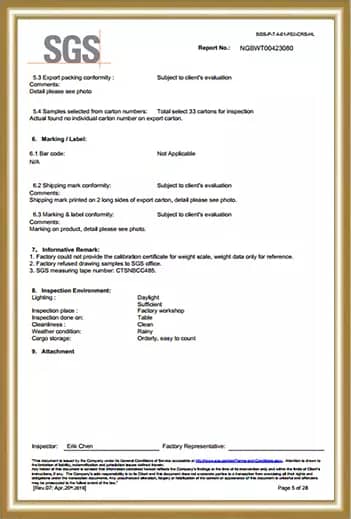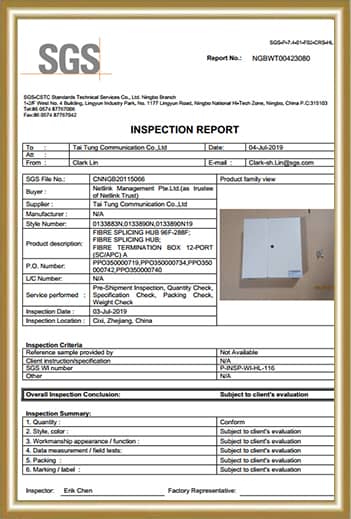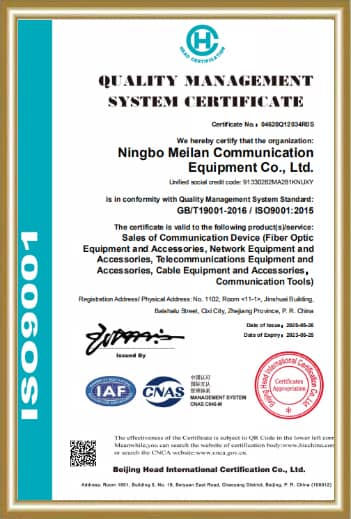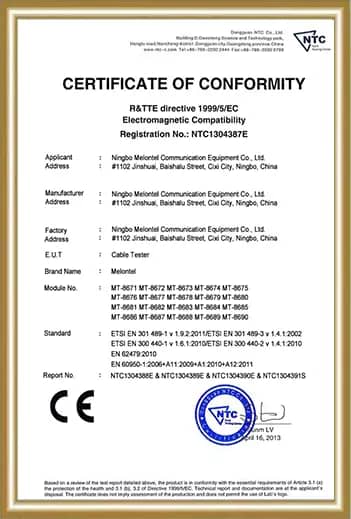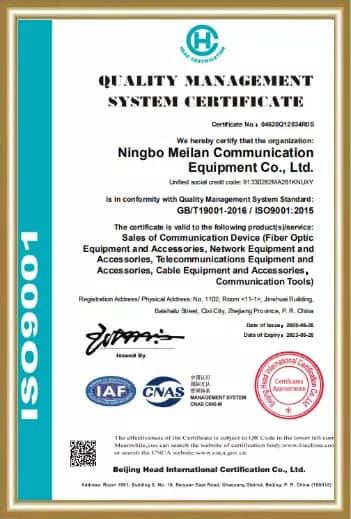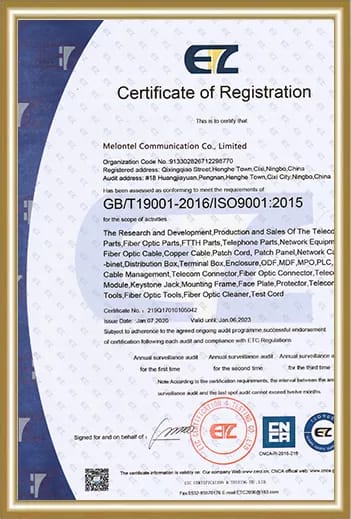 MELONTEL
Your Professional Fiber Optic Splicing Tray Manufacturer
Fiber Optic Splicing Tray Data Sheet
A fiber optic splicing tray is used to keep fiber cables and splices organized and prevent them from being damaged or lost. Splice enclosure or splice organizer are other names for it.
We at Melontel, one of the most advanced and leading communication equipment manufacturers in China, are here to tell you all about splicing trays here in this article. Continue reading to learn more.
What Is a Fiber Optic Splicing Tray?
Fiber splice trays keep fiber cables and splice organized and prevent them from being damaged or lost. Splice enclosure or splice organizer are other names for it.
This gadget has no technological functionality and is designed simply. It also has a relatively modest cost that most people can afford.
Their value for fiber protection is substantial, and the abilities required to use a fiber splicing tray are not as straightforward as you may believe.
The outer jacket of the receiving cable is removed before it is brought to the splicing facility. Then the fibers are wrapped entirely around the tray and spliced together.
Several holders are offered for various sorts of splices. The fibers are spliced onto the receiving cable if it is an intermediate point and onto pigtails, if it is a termination point. Before being fed out, they are also completely coiled around the tray.
Features
Provides the longest-lasting fiber protection for splicing applications
Sleeves in single and multi-fiber varieties
Stainless steel tempered for longevity
Tapered and polished edge reinforcement rods
Ta-NWT-001380 Telcordia standard exceeded
Sae ams-dtl-23053/5 class 2 outer tube
Eva heat adhesive tube inside
Strength member with the full length for overall fiber support
Tight dimensional tolerances.
Thermal bonding assembly
Resistant to fungi
Compliant with RoHS
Pre-shrunk ends to facilitate fiber fitting
Accuracy and timely shrinkage
Structure
The structure of a fiber splice tray consists of:
Clear cover
Splice tray
Velcro dots
Ribbon fiber grommet sleeve
PVC tube
Fusion splice holder
Mechanical splice holder
Applications
Fiber splice trays are often installed in the center of a route where cables are connected or at the termination & patch panel sites at the ends of cable lines.
Splices can also be placed in a Fiber Fusion Splice Tray , subsequently placed within a splice closure or a patch panel box for premise applications for OSP (outside plant) installations.
They are frequently included in patch panels for indoor applications to facilitate the connection to the fibers.
In Fiber Optic Splice Closure
Fiber optic splice closures are common in today's fiber-optic networks for outdoor and harsh environment applications.
It generally has one or more Fiber Fusion Splice Trays to hold fiber optic splices and protect them. These are used in various fiber optic splice closures may be of various designs and fiber counts.
A 96-fiber horizontal fiber splice closure, for example, features two input ports and two output ports, with 96 fiber splices available. Four standard 24-fiber splice trays are packed together within the fiber optic closure.
The accompanying illustration shows a 24-fiber splice closure with five entrances that accommodate up to 24 fiber splices in two 12-fiber splice trays. Normally, the two fiber splice trays have a different design from those above and are appropriate for vertical fiber splice closures.
In Fiber Distribution Box
Service providers' fiber-optic connections must normally be linked to fiber cables placed near end customers in FTTx installations. Fiber optic network installers use fiber optic splicing to connect the feed cable to end-users.
Individual fibers are frequently distributed to individual end customers using a fiber distribution box in FTTx deployments. As indicated in the illustration, a fiber splice tray is commonly used in fiber distribution boxes to handle and safeguard fiber splices.
In Fiber Enclosure
In the data centers and server rooms, fiber splice trays are also highly common. Splicing fiber optic cables using fiber pigtails in data centers is typically avoided since it takes up less space and provides better network performance than other fiber optic termination techniques.
Fiber splice trays are typically used in fiber enclosures to offer fiber splices a safe and manageable setting.
For example, the Fiber Fusion Splice Tray used in the FS.COM FHD fiber enclosure is illustrated in the accompanying image.
The front panel features four 24-fiber adapters, making it a 96-fiber enclosure. This fiber enclosure can accommodate four 24-fiber splice trays, giving it the capacity to accommodate 96 fiber optic splices.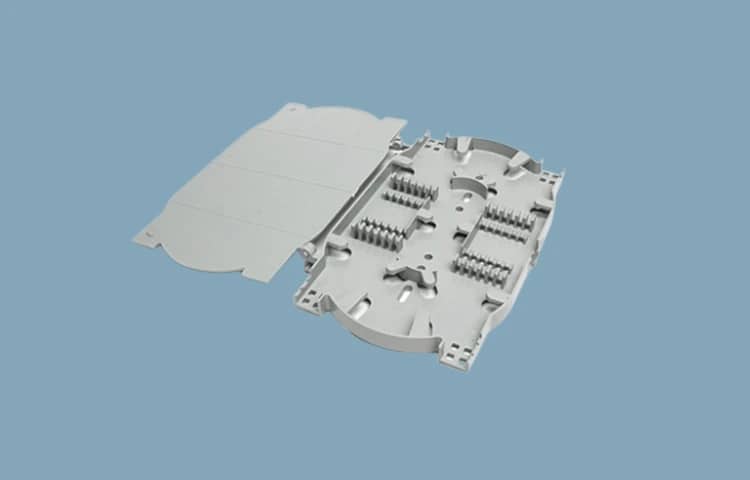 Precautions
A fiber optic splicing tray should usually match the type of splice applied. Splice trays built for mechanical splices are typically incompatible with bare fiber or heat-shrink fusion splices.
Although you can buy splice holding chips to make them function, this is not the best solution. Splice trays can accommodate up to 12 splices, and many splice trays can be used to make a greater number of fiber optic strands.
The splice tray includes space for fiber splices and extra fibers to be mounted. Fiber loose tubes are inserted into the splice tray and fastened on one end. Individual fibers are uncovered and spliced within the splice tray when the loose tube comes to a halt at the splice tray end.
When installing the splices within the tray, be extremely careful. The minimum fiber bending radius should always be followed. A splice tray with fusion splices installed inside is seen in the image below.
Naked fibers without protective tubes should never be exposed outside of a splice box. While routing bare fibers to another splice tray when splicing a big optic cable with more than 12 strands of fiber, suitable buffer tube splitters should be utilized.
What is the Fiber Optic Splicing Tray Installation Process?
Step 1:
Spiral transportation or fiber furcation tubes can transfer fibers into the splice tray, which can then be secured using cable ties.
Step 2:
Splice fibers according to local custom.
Step 3:
Place the spliced fibers in the sleeve holders in the color-coded order.
Step 4:
Coil the slack fiber slack into the tray with care (coil 1).
Step 5:
Coil the incoming fiber slack into the tray with care (coil 2).
Is corning 24 fiber splice tray better?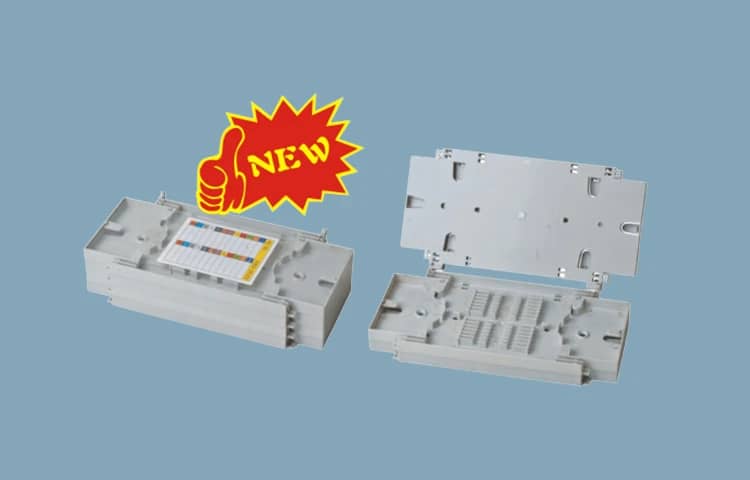 Corning splice trays are made using tried-and-true designs and fiber organization technologies to provide the best possible mechanical and fusion splicing protection. The trays are designed to work with loose-tube and tight-buffered cable types and may be used indoors or outdoors.
Why do you need to splice?
Individual fusion or mechanical splices are held and protected by the splicing trays. Splice trays include mechanical splices, Corning, bare fusion splices, AMP, heat-shrink fusion splices, etc.
How many splices can be in a standard splice tray?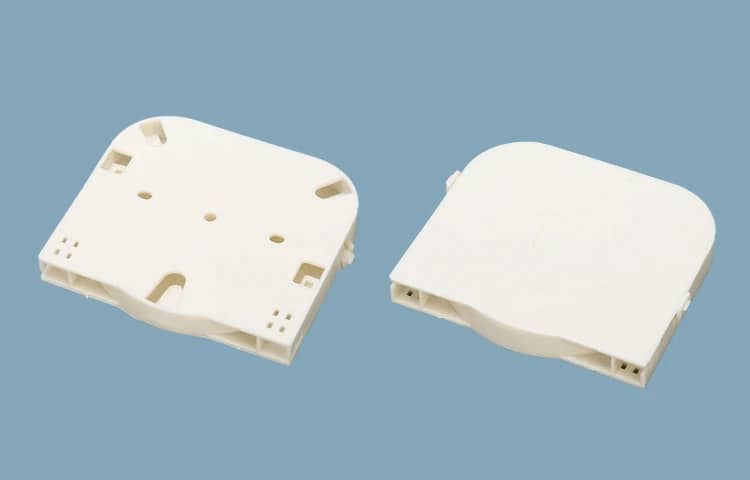 Standard splice trays can store up to 12 splices, and several splice trays can be used in tandem for a greater number of fiber optic cables. There is space in the splice tray for attaching fiber splices and surplus fibers.
Conclusion
Remember that differently designed splice trays have varied fiber capacity and may be purchased at a low cost.
Fiber optic splicing trays are, without a doubt, the most budget-friendly equipment for protecting fiber splices. This straightforward design eliminates several issues that arise during the installation of fiber-optic lines.