2022 The Ultimate of Fiber Optic Splicing Enclosure Guide
MELONTEL Passed the TUV certification years ago. After more than 27 years in the field of communication, as manufacturer from China, MELONTEL has the ability to provide high-quality products-Fiber Optic Splicing Enclosure- to customers around the world.
Customized production
Professional R&D design team
Provide competitive solutions
24/7 online support for customers
MELONTEL: Manufacture Quality Products For Global Customers
By 2022, MELONTEL has been providing quality products and services to customers around the world for more than 27 years. During this period, the company's engineering team and R&D team played a vital role.
Only because MELONTEL is convinced that truly good products can be recognized by the market. At present, more than 30 agents all over the world have chosen to cooperate with MELONTEL, and have obtained great rewards from it.
MELONTEL
Your Professional Fiber Optic Splicing Enclosure Manufacturer
Fiber Optic Splicing Enclosure Data Sheet
With the continued need for increased bandwidth, telecom service providers have begun to extend optical fiber deeper into the network and closer to subscriber homes. But how can you safeguard these cables? That is when a fiber optic splicing enclosure comes into play.
This article will explain what it is, its variations, and how it may help you.
Melontel Communication is a renowned manufacturer of communication equipment. In fact, this organization employs over 100 people and utilizes dozens of innovative processes. Moreover, they are well-known for offering the greatest products and services to you as their consumer.
What Is A Fiber Optic Splice Enclosure?
Fiber optic splicing enclosures secure fiber optic splices and stripped fiber optic cable from their surroundings, and both are available for interior and exterior applications. In fact, weatherproof and waterproof seals are typically used in outdoor fiber optic splice enclosures.
The fiber optic splice closures and fiber trays inside will safeguard the spliced fiber and the outdoor fiber cables' joint portions. With this in mind, the metallic strength members should be firmly grounded.
Also, the cable jackets, or sheaths, terminate at the cable ties of the splice enclosure. Hence, the tube brackets support optical fiber tubes, individual tight-buffered fibers, and pigtails as they go to the splicing trays.
Additionally, you should note that individual fiber splice closures must never be left out of a splice tray. This is because splice trays hold fusion splices or mechanical fiber optic cable splices.
Fiber Optic Splice Enclosure Key Features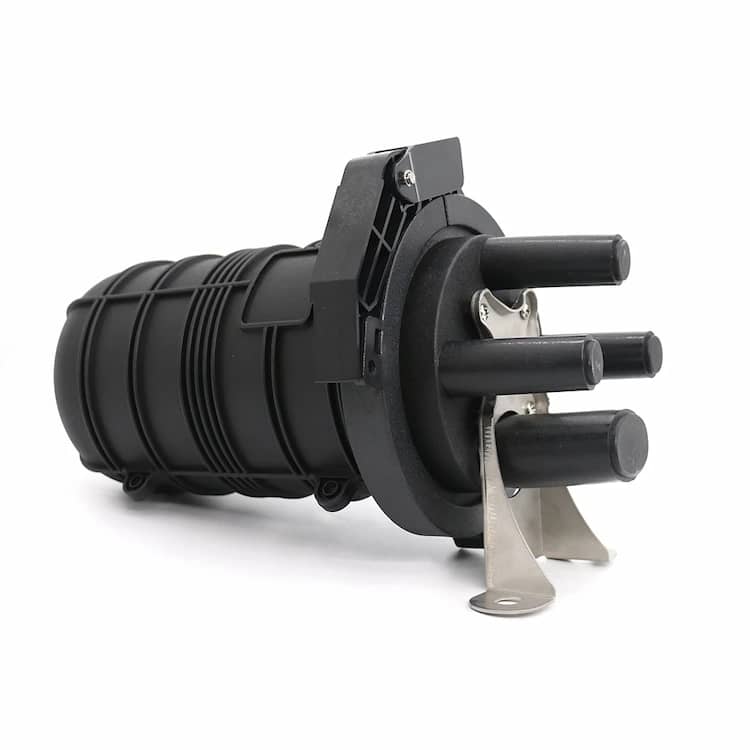 Fiber splice closures consist of a high-tensile, industrial-grade polyethylene with a dependable moisture barrier. In addition, they are tailored to withstand material deterioration caused by natural environmental conditions such as UV radiation. Aside from these, here are some other features of fiber splice enclosures:
Waterproof
Reusable fiber optic splice closure
Aerial and direct buried applications.
Ideal for both standard and ribbon fiber
More than 40mm of fiber-bending radius
Dependable and perfect sealing processes
Complete set of accessories for easy operation
Easy-install overlapping structure in the splicing tray
Aging-resistant imported stainless steel high tensile construction plastic out-faster
What are the types of optical fiber splicing Enclosure?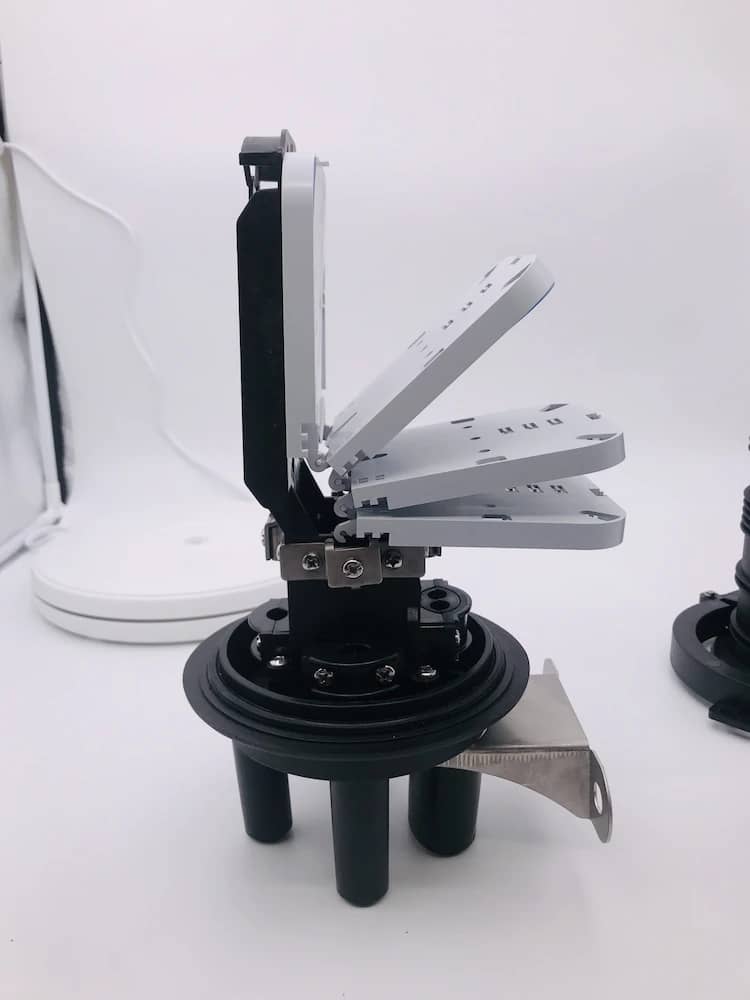 Several types of fiber optic splicing enclosures are available on the market for consumers to select from to safeguard their networks. Namely, these are horizontal, vertical, and hybrid. In fact, both kinds of closures could have a wide range of trays and capacities, yet they share materials such as strong polymers and protective factors (i.e., pull-and-shrink tubing, gel seals, or gaskets)
Horizontal Fiber Optic Enclosure
The horizontal design is, in fact, the most popular, most likely due to its versatility. This sort of box has a relatively flat or cylindrical form. It can be hung from the sky or buried beneath. A horizontal closure can have a variety of capacities, some of which are significantly higher than others.
Furthermore, horizontal Outside Plant Enclosures often include one or more fiber splice trays to offer room and protection for fiber optic splices. These trays used in various fiber optic splice closures may have varying designs and fiber counts. The most frequent flat fiber splice closure fiber numbers are 12 and 24 fibers.
Vertical Fiber Optic Enclosure
This design has a domed form and is meant to be used as an underground fiber splice enclosure, while many of them may also be used above ground. These closures, too, come in various designs and capacities, including high-capacity variants and variations in the number of trays.
Vertical fiber optic splice closures come in various types and designs to meet the expanding network demands.
To satisfy the complicated demands of today's fiber-optic networks, high-capacity variants and variations in the number of splicing trays are also available. The number of inlet/outlet ports on the dome fiber optic closure varies depending on the application.
However, dome fiber optic splice closure necessitates high-level sealing and waterproof technologies due to its subsurface usage. Furthermore, keeping insects and dirt out is critical for subterranean closures.
Hybrid Fiber Optic Enclosure
The hybrid fiber enclosure is the most adaptable of the Fiber Optic Splice Enclosure since it can secure network fiber regardless of weather, temperature, or location.
This adaptability enables placement on a wall, aerial, or cell. A small form also enables pedestal installation and below-grade applications.
In addition, given the range of possible mounting places for the hybrid Fiber Optic Splice Enclosure, it is constructed to IP68 standards and can tolerate dust, dirt, sand, and water.
What are the benefits of Fiber Optic Splice Enclosures?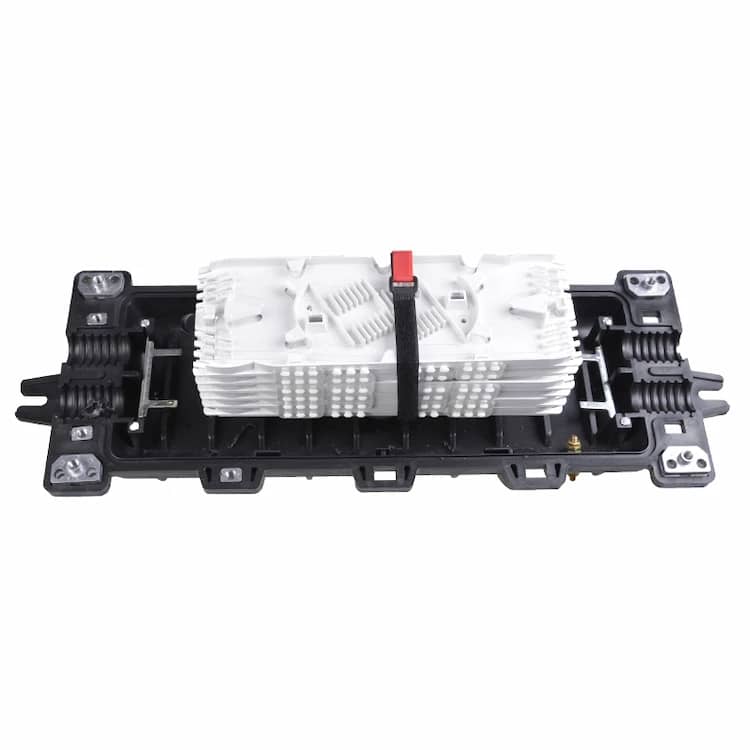 Fiber optic splicing enclosures are very useful for deploying new fiber optics that require a connection swap. Assume your data center uses network cables with ST connectors, but a new switch requires an LC coupler.
So, instead of removing cables from the underfloor or overhead conveyors and replacing them with new LC connections, just the cable with ST connectors from the Outside Plant Enclosures to the switch needs to be replaced.
This cuts installation time in half, but it also lessens the danger of network outage because you aren't removing and replacing massive quantities of cable.
How do fiber enclosures work?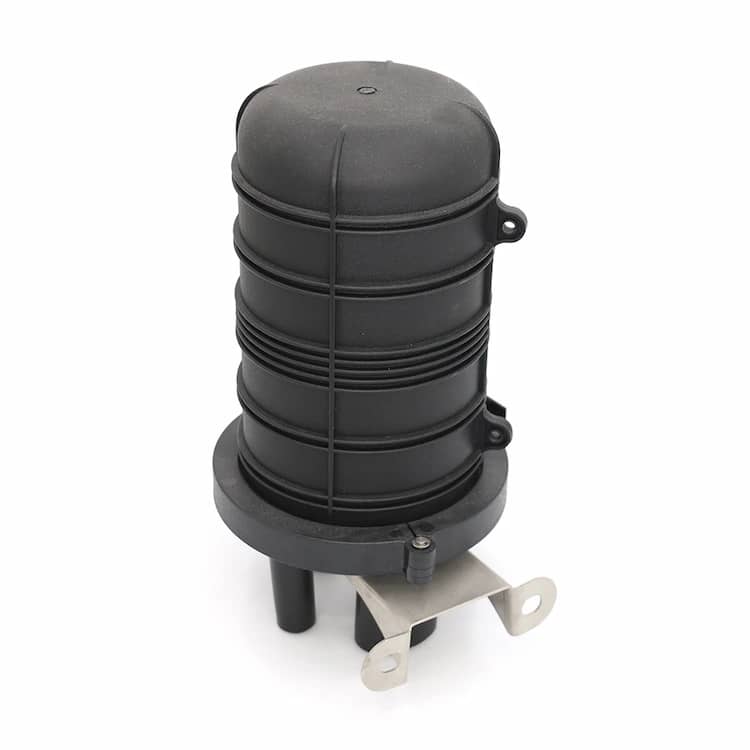 Fiber Optic Splice Enclosures, also known as "patch panels," are often found at the top of a rack.
A big cable bundle will be routed beneath the floor or in overhead conveyance and will link into the rear of the Fiber Optic Splice Enclosure. Couplers are located within the fiber Optic Splice Enclosure.
These couplers allow cable connections to connect. In fact, this is the most important part of the fiber Splice Enclosures.
This enables for a quick change out with the use of a short jumper. Alternatively, a patch cable can be routed to the fiber Splice Enclosures from the device.
What should you consider when buying fiber optic splicing enclosures?
The optical network topology is frequently complicated, and the optical access component, in particular, has distinct needs to function well. A dependable fiber optic splice closure will eliminate a slew of problems. As a result, there are various considerations to consider while purchasing one. They are as follows:
Accessory and Hardware
Compatibility with Cable
Grounding and bonding
Management of Cables
Port Counts for Cables
Splice Varieties
System of Termination
What is the role of fiber splice trays in splicing enclosures?
Individual fiber optic splices are often held and protected by a fiber splice tray. Fiber optic splices are classified into fusion splices and mechanical splices.
The fiber splice trays used for fusion and mechanical splices are not the same. It is recommended to utilize specific fiber splice trays for various fiber splices. Another essential feature of a fiber splice tray is the number of fibers it can contain.
The fiber optic splice closure is a component utilized in today's fiber-optic network for outdoor applications and hostile environments.
It often includes one or more fiber splice trays, which offer room and protection for fiber optic splices. Fiber splice trays used in various Fiber Optic Splicing Enclosures may range in design and fiber count.
Takeaway
Fiber optic splice closure is also utilized for aerial, strand-mount FTTH "tap" sites where drop cables are spliced to distribution cables and underground applications. It is typically used with outside fiber optic cables to allow room for splicing the outdoor fiber optic cables together.
It is classified into three types: horizontal, vertical, and hybrid.
Because of its adaptability, the horizontal fiber splice enclosure is the most popular. Vertical fiber splice enclosures are utilized for underground fiber splice enclosures.
The hybrid fiber splice enclosure, on the other hand, is suited for harsher environments due to its adaptability.
Indeed, as part of a structured cabling system, fiber enclosures play an important role in good cable management, reducing installation time, making moves, additions, and alterations easier, and lowering the risk of failure.