2022 The Ultimate of Fiber Optic Splicing Closure Guide
MELONTEL Passed the TUV certification several years ago. After more than 27 years in the field of communication, as manufacturer from China, MELONTEL has the ability to manufacturer high-quality products to customers around the world.
Customized production
Professional R&D design team
Provide competitive solutions
24/7 online support for customers
MELONTEL: Manufacture Fiber Optic Splicing Closure For Global Customers
MELONTEL has been providing quality products and services to customers around the world for more than 27 years. During this period, the company's engineering team and R&D team played a vital role.
Only because MELONTEL is convinced that truly good products can be recognized by the market. At present, more than 30 agents all over the world have chosen to cooperate with MELONTEL, and have obtained great rewards from it.
MELONTEL
Your Professional Manufacturer
Fiber Optic Splicing Closure Data Sheet
A fiber optic splicing closure is utilized in fiber-optic networks. Splicing fibers together is a regular aspect of the setup and should be stored safely. 
These little enclosures, also known as fiber optic splice closures, provide a haven for the spliced portions, keeping them safe from harm. Melontel, one of China's top communication equipment manufacturers, tells you all you need to know about the basics of these closures.
What is fiber optic splicing closure?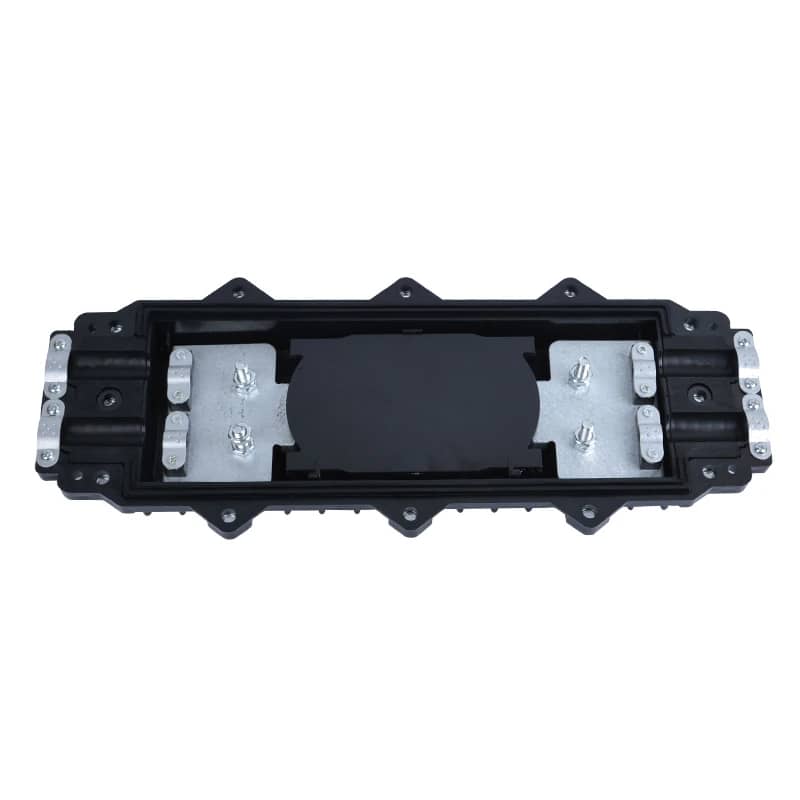 Fiber optic closures, or fiber optic splice closures, are devices used to give space and protection to fiber optic cables that have been spliced together. 
The fiber optic closure safely joins and stores optical fibers in either the outside plant or inside structures. It can protect the fiber joint and the fiber cables because it has great mechanical strength and a robust exterior shell, which guarantees the hostile environment does not harm the joints.
What are the types?
What matters is that your network's connectivity is protected, regardless of its size, nature, or configuration. Several types of fiber optic closures are available on the market for consumers to select from to safeguard their networks.
Horizontal type Fiber Optic Closure
The most common type of Fiber Optic splicing closure found in aerial mounts or buried underground is a horizontal Fiber Optic Splice Closure, which is comparable to a flat or cylindrical casing.
One or more fiber splice trays are frequently included in horizontal fiber optic closures to offer space and protection for fiber optic splices.
A fiber splice tray used in various optical fiber splicing closures can come in a variety of shapes and sizes, as well as different fiber counts. The most common fiber numbers for flat splice closures are 12 and 24 fibers. Horizontal fiber optic splice closures are available in both waterproof and dustproof versions.
Vertical type fiber optic splicing closure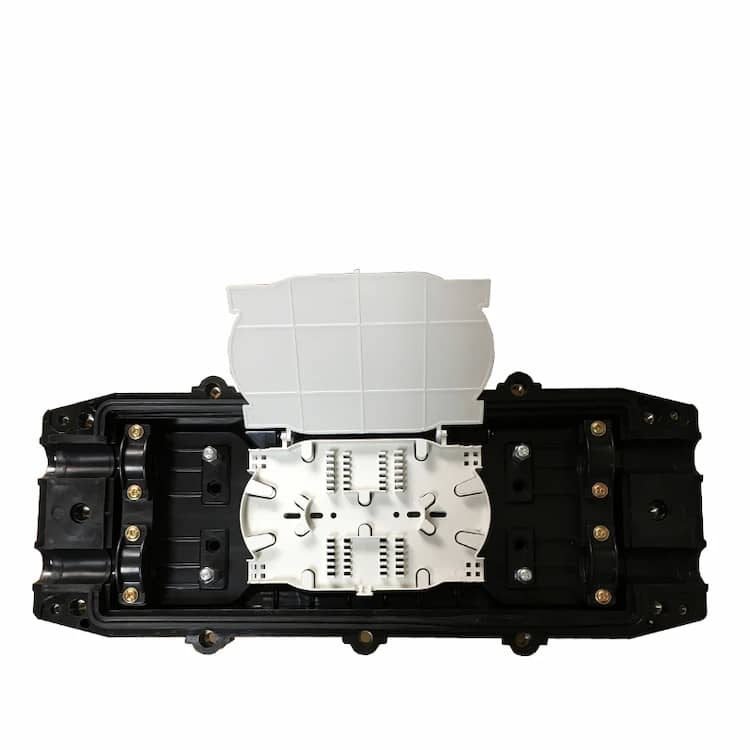 Because vertical Fiber Optic Splicing Closure resembles a dome, it is also known as a fiber dome closure. The dome form allows it to be easily buried in many applications, while you may also use it above ground.
Vertical fiber optic splice closures come in various types and designs to meet the expanding network demands. To satisfy the complicated demands of today's fiber-optic networks, high-capacity variants and variations in the number of splicing trays are also available. 
Due to its subsurface usage, fiber dome closure necessitates high-level sealing and waterproof technologies. Furthermore, keeping insects and dirt out is critical for subterranean Fiber Splice Closures.
Hybrid type Fiber Optic Splice Closure
The hybrid Fiber Optic enclosure is the most adaptable of the enclosures since it can secure network fiber regardless of weather, temperature, or location, enabling placement on a wall, aerial, or cell. A small form also enables pedestal installation and below-grade applications. 
Another advantage of the hybrid Fiber Optic enclosure is its adaptability, with grommets to accommodate a 48 count feeder cable (72 counts maximum) and 12 flat or round drop fibers. The device is groundable and may be pressurized if necessary.
Factors To Consider in Fiber Optic Splicing Closure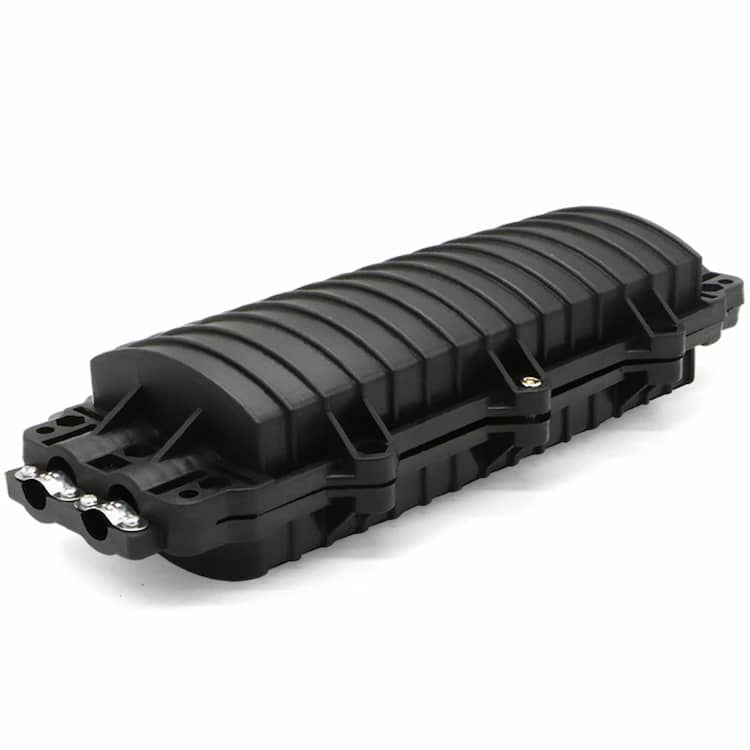 Cable Compatibility
A good Fiber Optic Splice Closure can accept any fiber optic cable stated in the tender paperwork. It is important to ensure cable compatibility before selecting a suitable closure type. 
The design of the fiber optic coupler varies depending on the application. As a result, the fiber optic antenna couplings will be designed differently than those utilized in underground applications.
Number of Cable Ports
Cable entry capacity is another name for the cable port. Its fiber jacket's port count displays its capacity to handle many cables. Any number of ports available for terminating the cable in a fiber optic coupler is the cable entrance capacity. 
The number of ports available during the shutdown is determined by network bandwidth and the number of cables. Smaller ports are typically utilized for manifold and drop cables to decrease the physical size of high-capacity closures.
Termination System
Before choosing a joint type, you should develop the cable termination system to guarantee sufficient mechanical strength between the cable and the joint to ensure its long-term functioning. 
The materials used to manufacture fiber optics are easily vulnerable to thermal expansion and contraction. So, the materials used for optical fiber couplings should be able to limit or eliminate the effects of relative motion between the cable components.
Splice Types Fiber Optic Splice Closure
If the wires are not correctly linked, the splice trays in the splice shield cannot accept enough cables. Ribbons or mechanical seals are often greater in size, reducing the capacity of the closing trays. 
Correct splice setup minimizes installation issues and increases efficiency. As a result, the types of splices should be considered while selecting a fastener for fiber optic splices.
Bonding and Welding
For the network's deployment and operation to be safe, you must ensure the conductive parts' proper connection and grounding.
Equipment and Accessories
The fiber optic antenna may need to be hung from the communicator cable, depending on your network setup. You can also fasten them to the pole. 
Along with the closures, extra hardware is necessary for both scenarios. Fixing and fastening equipment or accessories should be durable enough to endure wear and tear and climatic conditions.
Cable Management
In fiber optic cable installations, it's critical to keep the bend radius minimal. Ignoring this element may have an impact on the link's performance.
Consider a fiber optic closing that can handle cables when making your decision. Fittings that are simple to install might reduce the amount of tension or damage caused by handling.
What are the key features?
Fiber Optic Splice Closures Key Features include being made of Stainless steel to increase aging resistance to the box, manufactured with high tensile construction plastic. 
It should have an easy-to-install overlap structure in a splicing tray and be suitable for regular and ribbon fiber. Additionally, it should be leakproof, flawlessly sealed, reusable, and have exceptional dependability.
What are the factors important in an OSP installation?
Listed below are some important factors you need to keep in mind in an OSP installation:
Installation method (Aerial, Underground, etc.)
Splice Count
Appropriate Fiber Optic
Splicing Closure and application to the splice tray
Reusability
Grommet usage
Durability (Weather resistance, leak-proofing, etc.)
What are the two main closure types?
FAST connector fiber optics eliminate any polishing process, reducing the installation time and making it more convenient. These connectors also allow easy optical fiber preparation and termination.
Overall, they are more widely used nowadays because of good assembly, quality management, and time reduction.
These field assembly connectors have excellent accuracy and workability in installing and disconnecting fiber connectors. Their structure enables low return loss, thanks to its angle splice technology.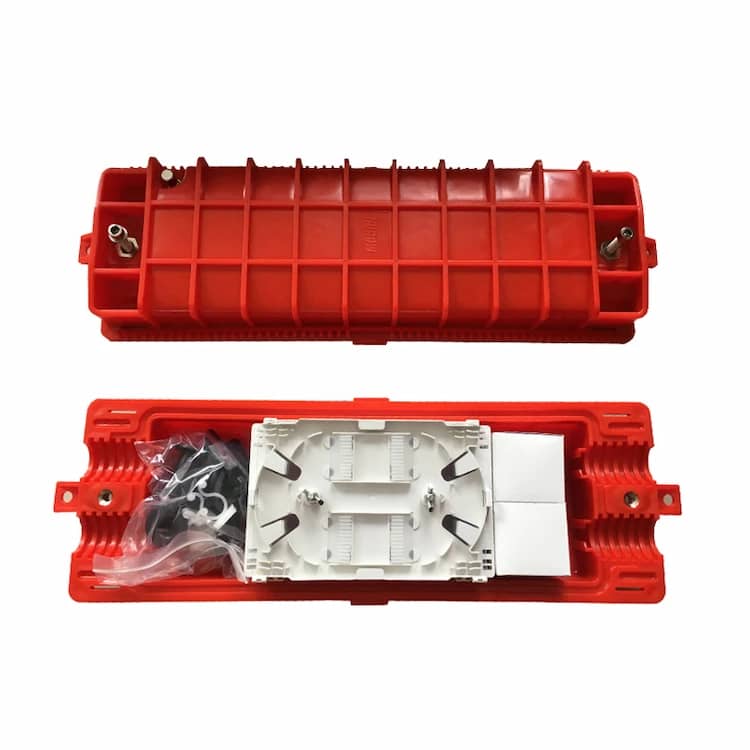 Horizontal type Fiber Optic Closure
The horizontal design is the most popular, most likely due to its versatility. The form of this sort of box is flat or cylindrical. It can be buried underground or erected from the air. 
A horizontal closure can have a variety of capacities, some of which are significantly higher than others. You can find several splice trays in a regular, normal-capacity closure, each with its capacity for the number of cables it can handle. 
Higher-capacity closures, on the other hand, can hold a lot more. The most common tray capacities are 12 and 24. Though designs and proportions may differ, most horizontal boxes adhere to the same guidelines.
Vertical type Fiber Optic Splice Closure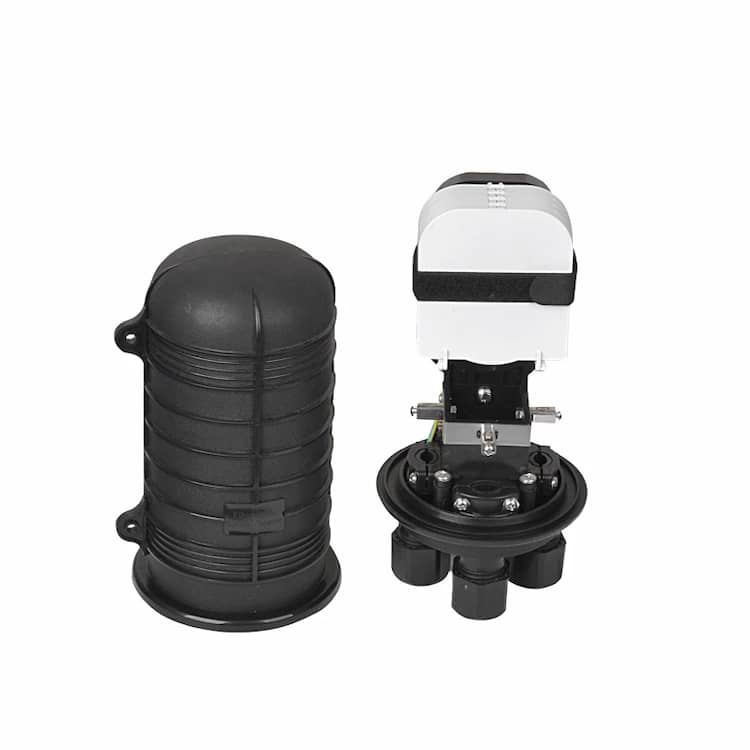 Vertical designs are dome-shaped and are suited for use underground and in the air. These closures come in various shapes and capacities, including high-capacity variants and trays with variable numbers of trays. 
They might also vary in the number of input and output ports provided to match the cable capacity. Reentry may or may not be necessary, depending on where the closure is placed. However, certain boxes are intended to be easier to reenter than others.
The vertical designs must, once again, provide weather protection. Waterproof technologies and seals are particularly significant. 
These are frequently utilized underground, where the hazards are more widespread, and the cabling is at risk. For subterranean Fiber Splice Closures, keeping insects and debris out is very crucial.
Conclusion
Of course, fiber optic closures are utilized in fiber-optic networks. Splicing fibers together is a regular aspect of the setup and should be stored safely. Fiber optic closures meet this need. 
These little enclosures, also known as fiber optic splice closures, provide a haven for the spliced portions, keeping them safe from harm. 
Pressure, severe temperatures, insects, and dampness are some of the threats to the fibers. Any of these can cause harm to the fiber cables if they come into touch with them.