The Ultimate Guide Of Fiber Optic PLC Splitter
MELONTEL Passed the TUV certification years ago. After more than 27 years in the field of communication, as manufacturer from China, MELONTEL has the ability to provide high-quality products to customers around the world.
Customized production
Professional R&D design team
Provide competitive solutions
24/7 online support for customers
MELONTEL: Manufacture Quality Products For Global Customers
By 2022, MELONTEL has been providing quality products and services to customers around the world for more than 27 years. During this period, the company's engineering team and R&D team played a vital role.
Only because MELONTEL is convinced that truly good products can be recognized by the market. At present, more than 30 agents all over the world have chosen to cooperate with MELONTEL, and have obtained great rewards from it.
MELONTEL
Your Professional Fiber Optic PLC Splitter Manufacturer
Fiber Optic PLC Splitter Data Sheet
Fiber optics is a technology that allows information to be sent over great distances, and fiber optic PLC splitters have been implemented into its technology as technology.
It divides an incoming light beam into two or more beams (or vice versa), and you will learn more about them in this article.
Melontel, one of China's major communication equipment manufacturers, employs hundreds of modern techniques, making them a trustworthy source regarding fiber optics.
What Is a Fiber Optic PLC Splitter?
A Planar Lightwave Circuit Splitter, or a PLC Splitter, is a type of power splitter with an integrated quartz baseplate.
Single Mode PLC 1N and 2N fiber splitters divide optical signals equally from one or two inputs to several outputs. Also, it may be reversed to merge multiple signals into a single fiber or two fibers.
These are passive optical devices with several inputs and output terminals that are used to link the main distribution frame (MDF) and the terminal units, as well as to branch the optical inputs in PON (EPON, GPON, BPON, FTTX, and others).
Fiber optic PLC splitters are a budget-friendly and reliable light distribution device. PLC splitters have an up to 1×64 splitting ratio, which is higher than FBT splitters.
Features
Wavelength of Broadband Operation
Minimal insertion loss
Low PDL
Minimalistic design
Good channel-to-channel synchronization
High Stability and Durability
Telcordia approved GR-1209-Core and  GR-1221-core Reliability Test
Compliance with the RoHS Directive
Applications
A splitter fiber optic is versatile and useful, but in what cases can it serve its purpose? Here are a few scenarios in which you can utilize its functions:
Enterprise/Premise Networks
Connections between a LAN or WAN networks
Panels for Patching
Termination of Equipment
Applications for FTTx
Repair/Replacement in the Field
Test Leads for Equipment
Benefits
Reliable
Low insertion loss, polarization-dependent loss, back reflection, uniformity, and a long service life.
Durable
Light loss is not wavelength sensitive, and it could fulfill the transmission requirements of many wavelengths. The loss is unaffected by the wavelength of the transmitted light and can accommodate a wide range of wavelengths.
Compact
Because of its small size, it may be put immediately in various transfer boxes and takes up very little room. Its compact build and modest size allow it to be fitted directly in various existing transfer boxes without needing a specific design, allowing for a large amount of installation space.
Superior Wire Rod Quality 
Excellent PVC wire with high strength and tenacity distributes the signal evenly and offers a homogeneous light dispersion.
Straightforward Connection
A bare PLC splitter may be readily put in a fiber splitter distribution box for space savings.
Classification
Splitter fiber optics are categorized based on the PLC splitter chip used. Generally, 1xN and 2xN PLC splitters are available, including 1×4 PLC, 1x8PLC, 1×16 PLC, 2×32 PLC, 2×64 PLC, and so on.
Users can decide between various input and output quantities based on cable length or subscriber conditions.
A splitter fiber optic may also be separated into several units to meet clients' needs in a variety of situations, such as compact PLC splitters for use in terminal panels and large rack-mounted PLC splitters for use in racks.
How many types of Fiber Optic PLC Splitter are there?
In PON networks, two PLC splitters are commonly used: the FBT coupler splitter and the PLC splitter. That said, below are the five most common types of PLC splitters:
Blockless type Fiber Optic PLC Splitter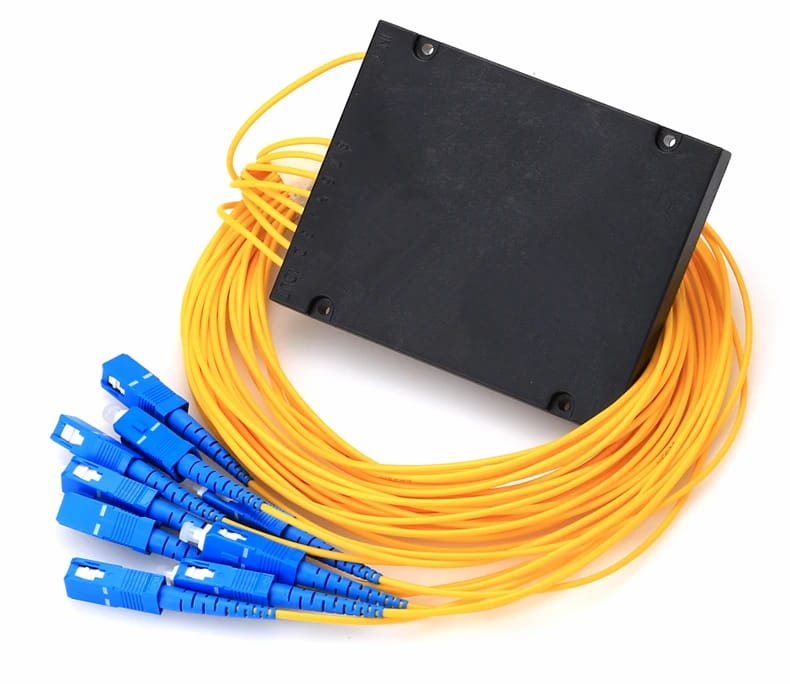 Even though the blockless PLC splitter looks comparable to the bare fiber splitter, it has a more compact stainless steel tube packaging, providing better fiber protection.
A blockless PLC splitter is mostly used for various connections above distribution units or network cabinets and does not require fiber optic fusion during installation.
Bare type Fiber Optic PLC Splitter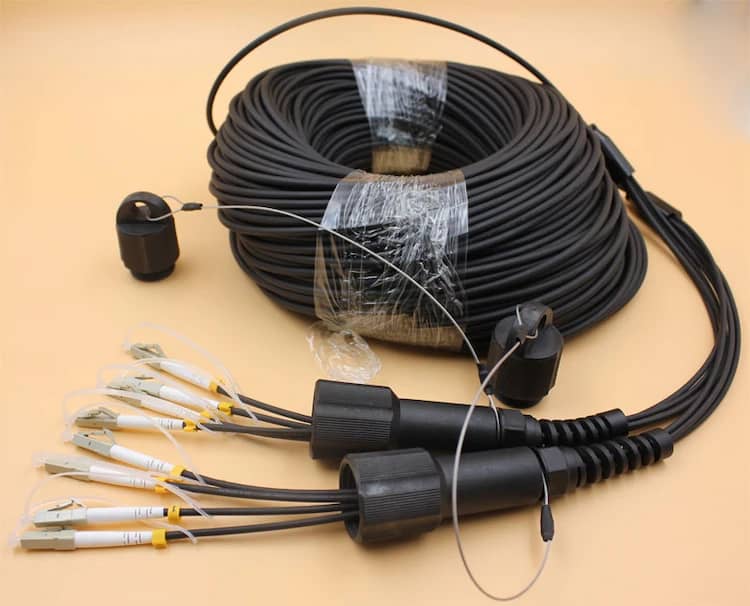 Because the bare fiber splitter does not have a connector at the bare fiber ends, it necessitates a comprehensive set of safeguards in the handling container and on the device.
Because of its small size, it fits readily into conventional splitter boxes.
The bare fiber splitter occupies less space while also lowering installation expenses. It is mostly used for FTTH, PON, LAN, CATV, testing equipment, etc.
ABS Module type Fiber Optic PLC Splitter
The ABS splitter is housed in a plastic ABS shell that provides enough protection for internal optical systems and connections.
An ABS splitter is simple and small, and it can be tailored to various installation circumstances and requirements.
It is commonly used with outdoor fiber distribution boxes for PON, FTTH, FTTX, and GOPN networks.
Rack-Mount type Fiber Optic PLC Splitter
Splitters are available in two rack mount sizes: 1U and 2U, with 1U rack-mount splitters being the most prevalent.
The 1U 19″ rack-mount splitter type uses a 19-inch rack unit standard, and a PLC splitter is installed in the rack unit, providing excellent optical efficiency and easy network installation.
A rack-mount splitter is popularly used in EPON, GPON, FTTX, FTTH, and other high-density cabling environments.
LGX Cassette type Fiber Optic PLC Splitter
An LGX PLC splitter is housed in a tough metal box.
It may be utilized alone or quickly fitted in a typical fiber optic patch panel or fiber optic chassis during deployment without needing archival splicing or specialized employees.
The conventional LGX metal box shell offers a plug-and-play method for network connection, removing risk during installation.
What is PLC splitter loss calculation?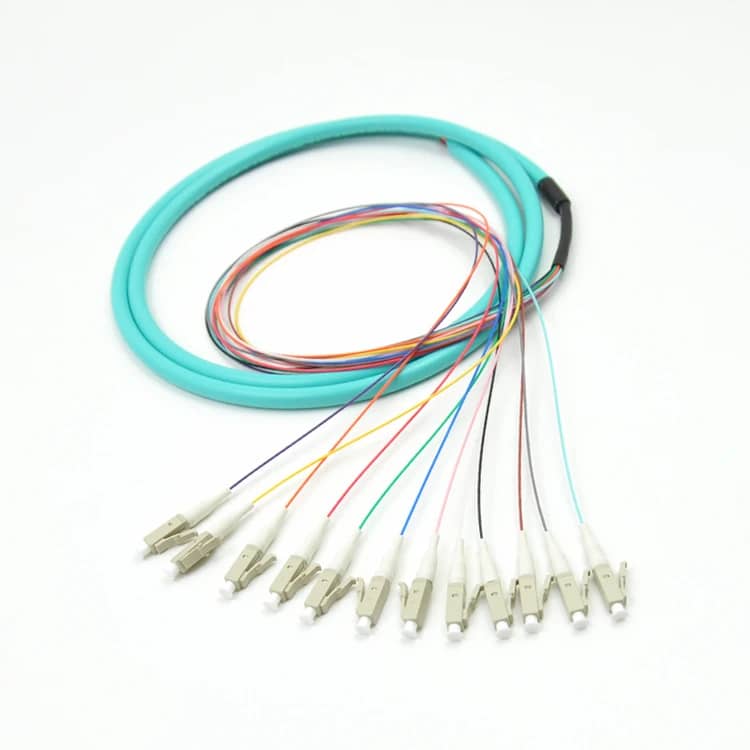 PLC Splitters have four common technical indicators: wavelength, insertion loss, extra loss, and splitting ratio. The major indication of the PLC Splitter is the difference in light attenuation generated by the PLC Splitter at different splitting ratios. Its light reduction will not alter under varied splitting ratio settings.
PLC splitter loss calculation is as follows:
PLC Splitter optical attenuation value = transmit optical power + added loss + insertion loss + bare fiber loss.
What's the difference between FBT and PLC splitters?
A PLC splitter or fiber splitter consists of three layers: a substrate, a waveguide, and a covering. The waveguide is important in the splitting process because it permits precise percentages of light to flow through.
As a result, the signal can be divided evenly. A fiber splitter is also available in a range of split ratios, such as 1:4, 1:8, 1:16, etc. They also come in a variety of types, as mentioned before.
An FBT splitter uses standard technology to join several fibers from the fiber's side. Heating aligns fibers in a given place and length. Its fused fibers are shielded by a glass tube constructed of epoxy and silica powder since they are extremely delicate.
The inner glass tube is then covered with a stainless steel tube sealed with silicon. As technology advances, the quality of FBT splitters has improved significantly, and they can now be used cost-effectively.
How does PLC work in Passive Optical Networks?
A PLC splitter is commonly put between the Optical Network Units (ONUs) served by the OLT in Passive Optical Networks (PON) and the PON Optical Line Terminal (OLT).
The single fiber connection from the (CO) OLT is linked to the splitter input and is divided into a predetermined count of fibers when it exits the splitter. Additionally, the number of splits is determined by how many outputs are in the PLC module.
PLC splitters may be employed in both centralized and distributed PON architectures. A 1×32 PLC splitter is commonly used in the Central Office in a centralized PON design.
A 1×4 PLC splitter is directly linked to the Central Office's OLT port in a distributed PON design. The four fibers are connected to an enclosure unit that contains the 1×8/1×4 PLC splitter.
Conclusion
A fiber optic PLC splitter is used to divide one (or two) optical signals into numerous optical signals equally. PLC splitters are passive optical devices that link to the Main Distribution Frame in Passive Optical Networks (PON) (MDF).
PLC Splitters are utilized in the design of FTTx and FTTH networks such as GPON, EPON, BPON, and xG EPON.