Fiber Optic Drop Cables
Melontel manufactures the highest quality Fibr Optic Drop Cables in China. We are a TUV certified manufacturer with over 27 years of experience in the communications field.
Cost-effective Fiber Optic Drop Cables
Can be customized to produce various types of communication industry products
Expert Supplier of Fiber Optic Drop Cables
24/7 online support to boost your brand;
Why Melontel Expert in Fiber Optic Drop Cable Manufacturing
Melontel is a trusted company, one of the leading manufacturers of communication equipment with over 100 trained professionals utilizing advanced techniques to help you with anything your need for communications.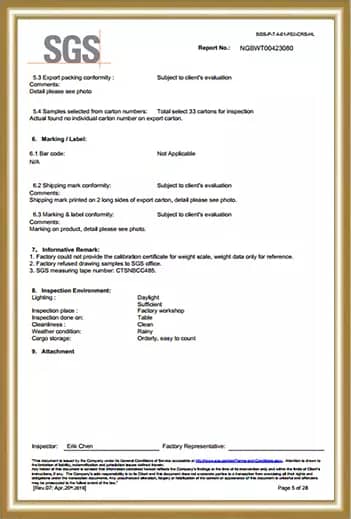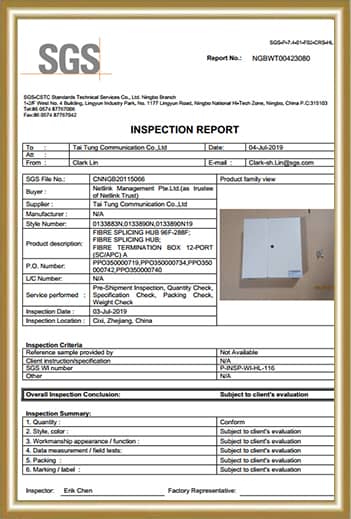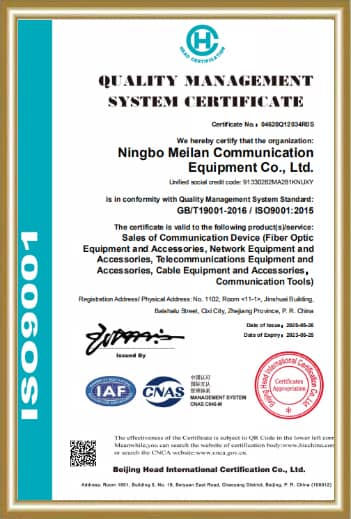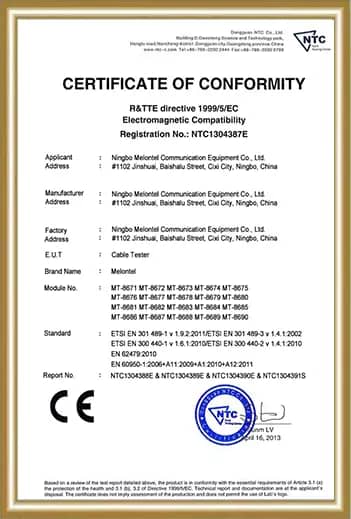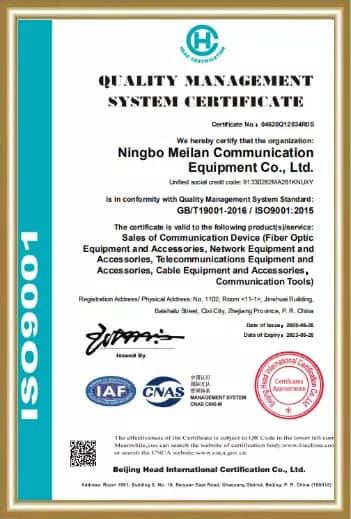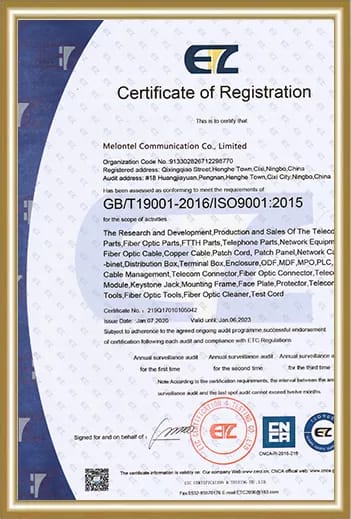 Melontel Industry
Your Professional Fiber optic patch cord Manufacturer
Fiber optic patch cord Data Sheet
Fiber Optic Drop Cables, Everything You Need to Know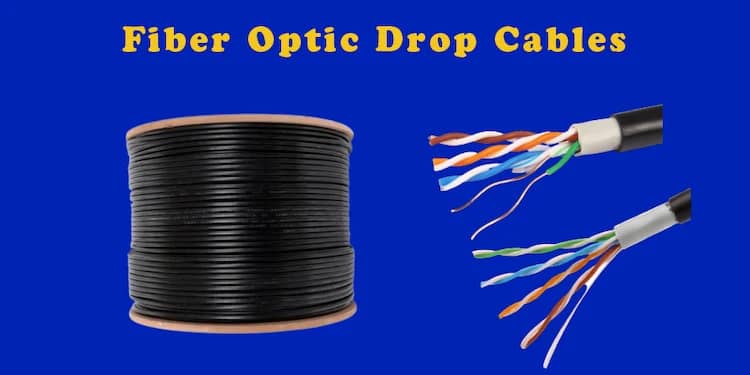 Fiber Optic Drop Cable is positioned on the subscriber end of a distribution cable to connect the terminal to the subscriber's premises. In this article, you'll be learning about everything there is to know about the fiber optic drop cable. Continue reading.
Chapter1: What are Fiber Optic Drop Cables and When To Use Them?
The optical drop cable connects the service provider distribution system to the subscriber.
This cable generally has 12 optical fibers (or less) loosely held together in a buffer tube.
Low fiber count cables are often tiny in diameter with short unsupported span lengths installed aerially and underground.
According to industry standards, a drop cable must have a minimum tensile strength of 1335 Newtons since it is utilized outside, like a 2 core fiber drop cable. FTTH drop cable specifications vary and are available in various forms and sizes.
Three of the most often used drop cables are described, divided into three types based on cable structure.
Advantages
Both fiber and copper cable have applications, each with advantages and disadvantages. There is no "right" or "wrong" response based on the application when choosing btween the two.
They are, in fact, mutually beneficial in many ways. Before selecting whether copper or fiber cable is best for your application, consider the following benefits of fiber cable.
High Bandwidth
No modern technology outperforms fiber, especially single-mode fiber, when it comes to bandwidth.
Fiber optic connections have higher bandwidth than copper cables of the same diameter, transmitting more data.
Whether new fiber-optic technologies are introduced to the market in transceivers or other devices, the benefit is that the cable itself does not limit its performance. Instead, it is constrained by the electrical components that comprise the system.
Your fiber cabling will be ready to go if you upgrade the components.
Secure And Safe
Fiber cables do not produce signals, so it is extremely difficult to tap them to intercept data flow is extremely difficult.
The signal passing via a fiber cable is contained within each fiber strand.
You'll need to retrieve it from the cable's end by cutting through it.
Additionally, electrical power is not used to carry data.
One of the advantages of fiber is that it is safe to use.
Waterproof And Resistant
Temperature variations, severe weather, and moisture have little effect on fiber optic cable.
For example, communication continues as usual if it comes into contact with rainfall.
Because a fiber cable contains no metallic components, if lightning strikes it, you will not spread the surge of electricity.
Fiber Is Immune To EMI
Intermodulation between electronic cables, which transports electric current, can occur when several are placed in a crowded area, causing performance concerns and data transmission disruption.
Disadvantages
Low-voltage
Low-power light emitting sources are restricted.
High-power emitters are available to increase power delivery.
However, they come at an additional expense.
Fragility
Optical fiber is more brittle and susceptible to damage than copper lines. Fiber optic wires should not be twisted or bent too firmly.
Distance
If the signal needs to be boosted, the distance between the transmitter and receiver should be kept short.
Chapter2: Features of The FTTH Drop Fiber Cable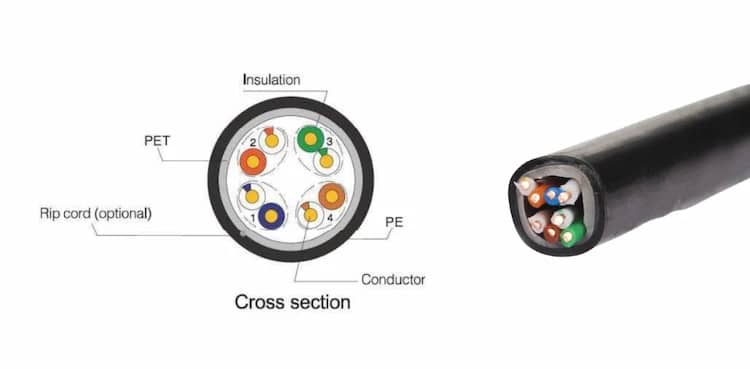 FTTH Drop Fiber Cables are also called butterfly optical cables since their cross-section resembles butterflies.
Generally, flat fiber optic cables are widely used in FTTH and FTTB applications and are crucial for increasing bandwidth to telecommunications clients.
Small outer diameter, lightweight, cheap cost, consistent performance, and ease of installation are all advantages. FTTH drop cable specifications include:
Unique groove design is easy to peel and attach, making installation and maintenance a breeze;
Environmental protection and safety using low-smoke, halogen-free, flame-retardant sheath material;
Resistant to lateral pressure due to the distinctive V-groove structural design on both sides;
Lightweight, low cost, high flexibility, and bending performance;
Optical cables are grease-free;
Tensile performance is improved by using two strengthening cores, making it more appropriate for integrated wiring;
Chapter3: What Are the Different Optic Drop Cable Designs?
Optic Drop Cable
Optical drop cables in Figure-8 are made up of two unique subcomponents: a center tube cable and a steel wire.
This cable design merges the messenger wire and optical cable installation into a single operation.
Aerial applications are the most common usage for this wire.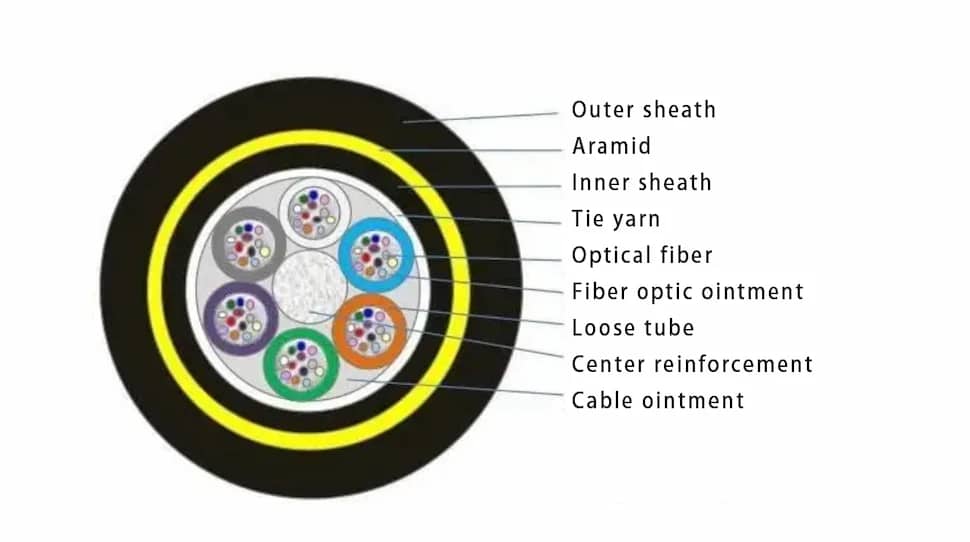 All Dielectric Optic Drop Cable
Optical fibers are inserted in a centrally situated buffer tube in all-dielectric optical drop cables.
Direct burial, conduit, and aerial self-support applications are all supported by this drop cable design.
The all-dielectric design is currently the most used optical drop type.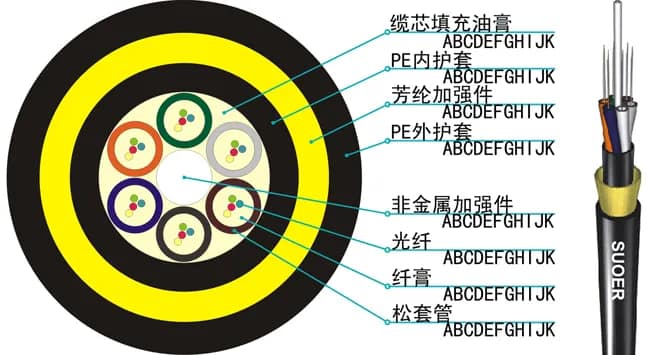 Armored Optic Drop Cable
Optical fibers are inserted in the centrally situated buffer tube in armored optical drop cables.
The buffer tube is surrounded by a protective copper foil that acts as an extra barrier for the optical fibers, like a 2 core fiber drop cable.
Toneable Optic Drop Cable
Toneable optical drop cables are two distinct subcomponents, as shown in Figure-8.
This cable design incorporates an all-dielectric cable with subsurface finding capability.
Figure 4 displays an example of a cable structure of this type.
Chapter4: What are the Connectivity Methods of Fiber Optic Drop Cables?
Placing a connector onto the ends of a fiber optic cable is the single most crucial step for good infrastructure performance.
One of the reasons for this is that appropriate cable termination ensures gear functions with low signal loss and optimal speeds.
Another reason is that when cable connections are installed to minimize contamination and breakage, diagnosing system difficulties become more efficient and faster.
In today's market, there are two termination choices.
Factory Terminated
Factory terminated cables are more cost-effective, perform better, and are more dependable than field-terminated cables when properly planned.
A fiber optic drop cable is shipped in pre-measured lengths from the manufacturer, with the fiber optic connections already placed with factory accuracy, fulfilling standards' requirements and needed loss measures.
This strategy is popular among financial institutions, healthcare organizations, and transportation companies where data speed and dependability are crucial.
Field-Terminated
This technique is widely used in networks such as campus settings, remote medical facilities, and K-12 educational institutions.
This technology allows the user to calculate fiber lengths on-site and cut them at the precise place required.
Connectors are installed on-site using specialized equipment and consumable kits.
They can be selected based on the brand or style of connector preferred by the installer or end-user. There are currently three ways for field termination:
Mechanical
Mechanical field termination includes the mechanical process of cleaving a fiber and connecting the connection.
Epoxy Polish
Epoxy polish field termination entails bonding the connector to the cable and polishing it to specification.
This approach is no longer widely used due to the installation time and consumable needs.
Pigtail Splicing
Pigtail splicing is the process of fusing a pigtail (half of a patch cord) to a cable.
This method is essential for angled connections and most single-mode applications.
Mechanical solutions for these types of applications are becoming more common.
Chapter5: How do you choose the right fiber optic drop cable?
Optical fiber cable has acquired significant traction in communication networks, and a dizzying number of suppliers are competing to produce and distribute fiber optic cables.
When it comes to optical fiber, it's best to start with a reputable seller and then think about the selection criteria.
To help you out, you can check out this website for an in-depth guide.
Chapter6: What are the guidelines for installing a fiber optic drop cable?
To properly install fiber optic cables, it's essential to follow a few rules.
You can go to this website to read 101 guidelines for fiber optic cable installation.
Chapter7: What's the difference between fiber and copper cable?
Copper has metal strands that carry electrical pulses. On the other hand, fiber optics uses flexible glass threads to convey light pulses.
This difference frequently translates to the fiber being the best choice for a new or updated network, making the higher up-front cost worthwhile.
Unlike traditional optical fibers, cylindrical waveguides, flat fiber optic cables are ribbon-like planar samples, allowing for extended, totally flexible substrates.
Chapter8: Takeaway
The desire for more bandwidth from customers will continue to fuel the development of FTTH and its major components, such as drop cable. In FTTH, selecting the appropriate drop cable and drop cable termination technology is as critical as selecting the appropriate network design.
Fiber optic cable offers both benefits and drawbacks. Optical fiber, on the other hand, will eventually replace copper. They're becoming increasingly common and widely utilized in today's network.
Although the fiber optic drop cable is newer than broadband Internet or copper connections, it quickly became the preferred investment for businesses needing dependable high-speed Internet.