Why Melontel Expert in Fiber Optic Adapters Manufacturing
As a major supplier and manufacturer to the communications industry, we at Melontel have over 27 years of design and generation experience. We provide high-quality products for many well-known communication companies around the world, and at the same time, we have more than 30 global agents. We can value you, keep you satisfied, and let you go first. We can provide you with samples of ideal Fiber optic adatpers for other great ideas.
Melontel Industry
Your Professional Fiber Optic Adapters Manufacturer
Fiber Optic Adapters Data Sheet
Is your fiber optic cable too short? If you're not using fiber optic Cable adapters, you could be experiencing a lot of signal loss. This article will serve as your primer to learn more about the tool.
Chapter1: What Is a Fiber Optic Adapter?
Also known as a fiber optic coupler, an Fiber Coupler is made to let two cable ends meet. This structure helps align both ends of the cables. A signal loss won't happen when these cables are properly connected.
But, how does the fiber optic adapter work, and how is it made?
The precision in the optic coupler is caused by ceramic or metal alignment sleeves. Most sleeves use copper as it best conducts electricity. For the body, it is made entirely of plastic.
There are a variety of fiber optic adapter types. Some couplers only fit a specific fiber optic cable, so best if you know those.
And in choosing the best optic adapter, you should know if your cable connects to single, double, or four fibers. By knowing these details, you can identify what type you should get.
Features
An adapter manages to connect cables using the internal open bushing.
It is a hollow insulator that safely lets conductors pass through the conducting barrier.
There are also optic connectors that have contrasting interfaces to suit the APC faceplates perfectly.
Functions
In simpler terms, an adapter's function is to connect two cables and let communication pass through.
You can insert it into both ends of the cable to attain the conversion among various interfaces. Optical Adapters help cables to reach their peak performance and capability.
Chapter2: Are the different types of fiber Adapters?
As constantly stated, adapters' performance depends on matching it with the cables or communication system.
Each type has unique pros that you can only utilize if inserted into an application that matches its features. So to give you more ideas on its types, keep reading.
SC Fiber Optic Connector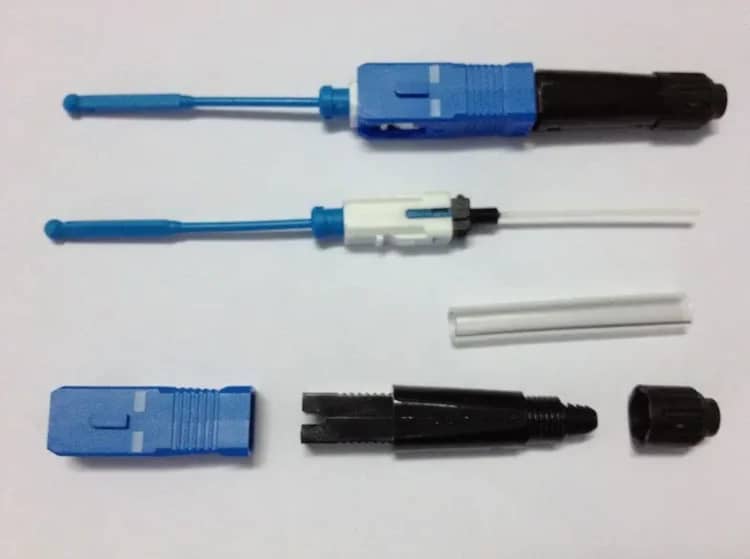 SC type is rectangular with pin and sleeve mirroring the fiber cable structure. It has a 2.5mm ferrule or cap known to be the first in the market.
The SC Fiber Optic Cable Adapter is popular in the industry for its superb performance at a lower price. This type is also easy to use with a simple push and pull action.
People from the telecoms and datacoms can attest to the high precision productivity of the SC connector.
This connector type can also serve various cables since it has subtypes.
The blue SC UPC and green SC APC are the best connectors for a single-mode cable. On the other hand, the beige-colored one is suited for multimode optic cables.
DIN47256 Adapter
This Fiber Optic Cable Adapter has wide compatibility, which you can apply to numerous cable types.
The DIN47256 is a high-precision screw connector manufactured using nickel-plated brass to ensure durability.
Though it is more complex, this type guarantees a strong metal structure to manage an excessive pressure brought by the insertion.
Meanwhile, like the previous type, the DIN47526's pins and sleeves are the same as fiber optic cables.
In addition to these details, this connector exudes fewer loss values because of the exemplary mechanical accuracy.
LC-type Coupler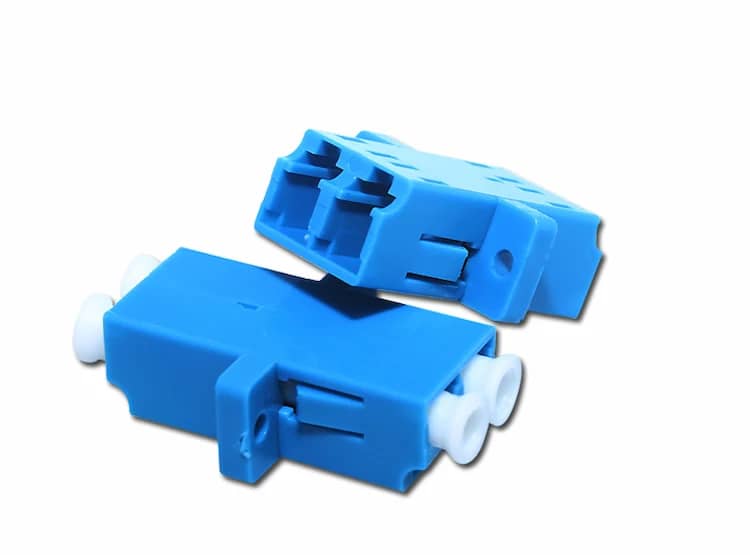 This connector is smaller compared to the other types. It only uses a 1.25mm ferrule, half the size of SC, ST, and the cable itself.
However, it can still perform a tremendous connecting job despite the size.
This type is one of the most used in telecommunication as its size is perfect for increasing density for better fiber frames distribution.
Some suggest that LC is a good SC replacement as it is stable and easy to use. Fun fact, LC stands for Lucent Connector, a term coined by the designer.
FC Adapter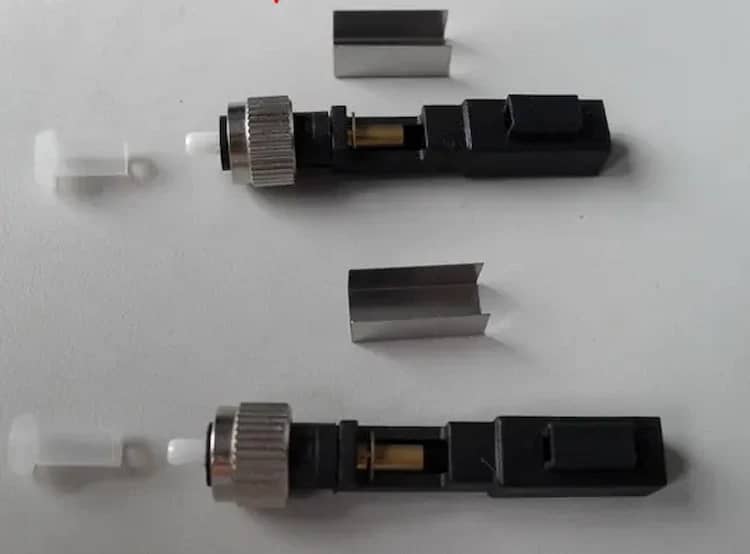 The next adapter type is one of the easiest to operate and manufacture in the market.
According to professionals, FC is an acronym for Ferrule Connector, which symbolizes using metal sleeves as its external reinforcement.
Its type design continuously improved to address the insertion and low-performance issues through the years.
Additionally, the FC connector is commonly used in single and multiple optical fibers.
It can withstand high vibration, which makes it perfect for datacom, measurement tools, and telecommunications.
The downside of this adapter is it's more prone to dust and sometimes hard to improve its performance.
MT-RJ Optic Adapter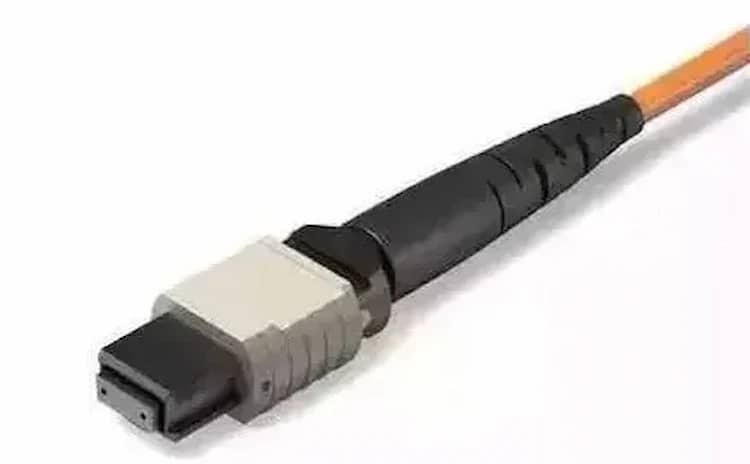 This adapter is slightly patterned to the RJ-45 LAN connector as it produces the same fastening mechanism.
The MT-RJ means Mechanical Transfer Registered Jack, a tiny Fiber Optic Cable Adapter suitable for handy devices.
Its small bushing feature makes it easier to communicate and optimize the transceiver.
The adapter is available in two designs: with mating pins and without. Also, its primary usage is data transmission.
MTP/MPO Connector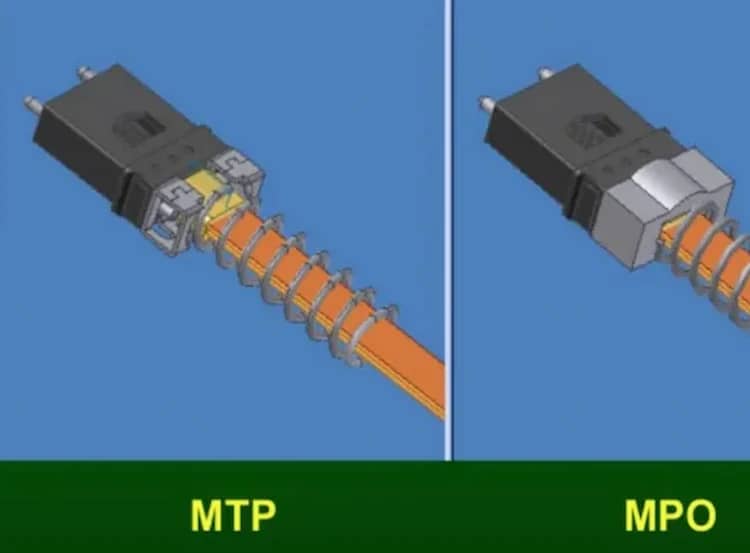 The MTP/MPO is a heavy-duty connector that can reliably and quickly connect up to 12 fiber cables. In addition, the mix of the two types helps in engineering enhancements to the connector and ensures that it is always high-performing.
Unlike other types, MTP/MPO uses precise connections in two compatible 0.77mm diameter holes. In addition, with its capability to perform huge tasks, this adapter is commonly used in data centers, communication stations, ODFs to build rooms and test instruments.
MU Coupler
This Miniature Unit coupler is dubbed the tiniest single-core connector, with a 1.25mm diameter sleeve and a unique holding mechanism.
One of the advantages of this connector is it will let you achieve installation in high-density.
The MU type connector also improves rapidly to address the previous issues.
It can handle more huge bandwidths and Dense wavelength-division multiplexing (DWDM) technologies.
Chapter3: What are the criteria for choosing an adapter?
There are two top things that you should consider in choosing a fiber optic adapter: cable type and sleeve materials.
If an adapter has to be installed between cable and connector, you must get a rectangular or spherical interface.
That way, you don't have to worry much about the installation.
Meanwhile, you need a hybrid coupler if you have to connect it to two different cables.
But be cautious since there are tons of hybrid types in the market. It's best to be sure of the cable types.
On the other hand, you should also consider the alignment sleeve since it's the most crucial part of an adapter.
Most manufacturers use metal material, but pro tip: ceramic-made adapters are proven to work more flawlessly than metal.
Why?
Because it does not deform easily, hence maintaining high precision performance.
Chapter4: What is a fiber optic adapter kit?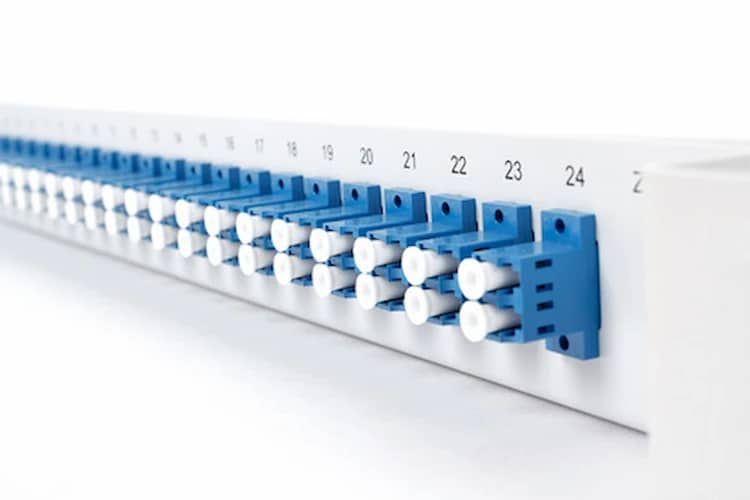 An adapter kit holds up to 24 types of couplers. You can find every adapter-related tool or type you need in this kit. A standard fiber optic adapter kit has two Optical Adapters for each type. It also provides free installers for all the most popular sleeves for testing or cable plugins.
Here is the list of connector types you can expect in the kit:
LC-LC
LC/APC-LC/APC
SC-SC
SC/APC-SC/APC
ST-ST
FC-FC
FC/APC-FC/APC
FC/APC-SC/APC
SC-FC, FC-ST
SC-ST
MU-MU
Chapter5: What's the difference between connectors and adapters?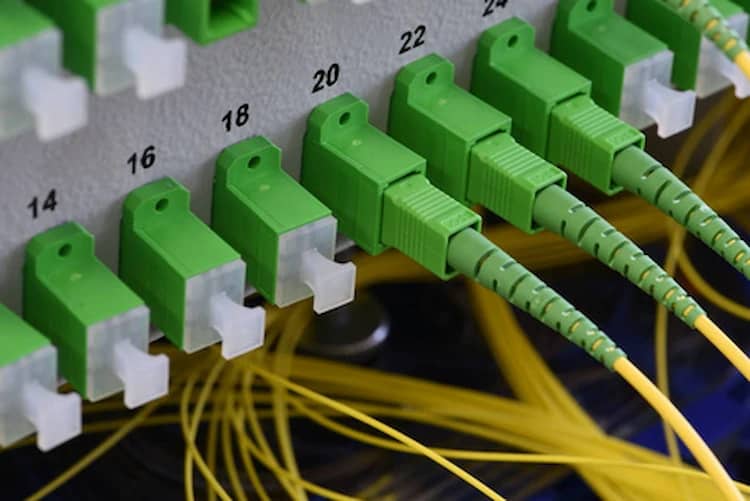 An adapter is a device used to connect two incompatible shapes or systems to produce the desired output. Aside from the fiber optic connectors, another good example is the power plug.
Meanwhile, a connector's role is to provide an entry point for devices like routers, data centers, and computers. It is used to bind conductors and other elements to create circuits.
Chapter6: Conclusion
After familiarizing yourself with fiber optic Cable adapters, you must already understand their type, functions, and features. You should be able to choose now on what connector is best applicable for the fiber cable you have. Hopefully, this primer resolves your issues on short cable and signal losses.