The Ultimate Guide of Fiber Distribution Box
MELONTEL Passed the TUV certification years ago. After more than 27 years in the field of communication, as manufacturer from China, MELONTEL has the ability to provide high-quality products to customers around the world.
Customized production
Professional R&D design team
Provide competitive solutions
24/7 online support for customers
MELONTEL: Manufacture Quality Products For Global Customers
By 2022, MELONTEL has been providing quality products(Fiber Distribution Box) and services to customers around the world for more than 27 years. During this period, the company's engineering team and R&D team played a vital role.
Only because MELONTEL is convinced that truly good products can be recognized by the market. At present, more than 30 agents all over the world have chosen to cooperate with MELONTEL, and have obtained great rewards from it.
MELONTEL
Your Professional Fiber Distribution Box Manufacturer
A fiber distribution box is an essential piece of equipment widely used in FTTH and FTTB. It is involved in several connection applications and has various types in the market. Let's talk about what exactly it is, its features, functions, benefits, and more in this blog.
Melontel, a reputable company, employs skilled individuals and experts in developing and creating communication equipment that uses cutting-edge methods to suit your requirements.
What Is a Fiber Distribution Box?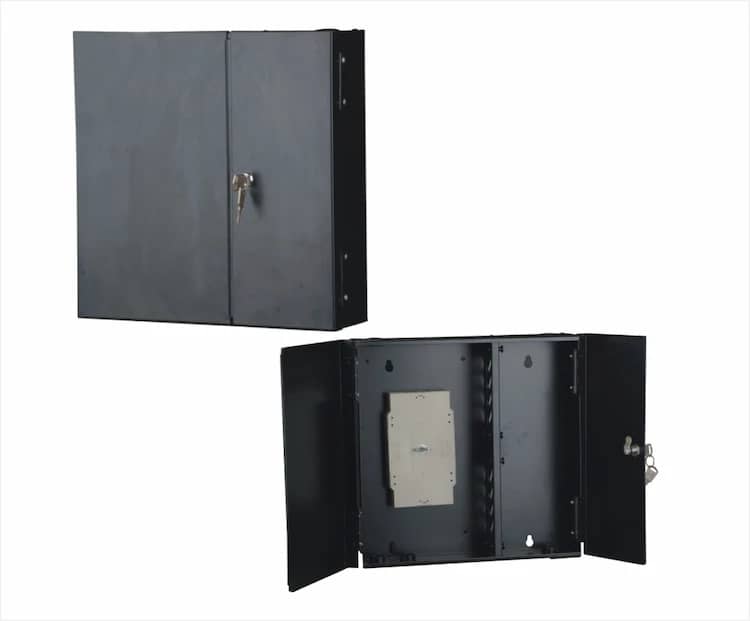 This device is otherwise known as a fiber distribution hub or outdoor fiber distribution box. Generally, it is a wall-mounted box mainly used to protect the optical cable's connection point. You can use this distribution box for both outdoor and indoor applications, and it is often used as a high-density fiber panel box.
This fiber panel box also guarantees the access point's stability, dust, and waterproofness in optical cables, while reducing interferences between the access signal as much as it allows.
Its current product development trend has evolved in two directions. The first direction stems from the goal to make construction simpler and faster, saving costs. Meanwhile, the second direction is more suitable in rural areas with a low population density.
Features of Fiber Distribution Box
The primary features of Fiber-Optic Boxes include the following:
Made of high-impact and durable plastic with a wall-mounted design
The ABS+PC material used guarantees that the OutdoorRated Fiber Box is strong yet lightweight
Waterproof and anti-UV to allow indoor and outdoor purposes
The material used to create this piece of equipment is suitable for all-weather
A fiber panel box' pole-mounted design with a single long feature makes it perfect for several indoor applications. It's also compatible with most splitter types with easy removal of doors and sidewalls. This fiber distribution hub also allows leveling with its adjustable feet.
Aside from the indoor application, the plastic case and fiber organizer make this piece of equipment a perfect outdoor fiber panel box. It can also provide distribution, storage, and easy splicing of the connected wires even while the panel box is mounted on the wall.
They should also pass quality inspection, reaching an IP level of 65 to ensure that they can withstand different outdoor environments such as snowy, dusty, and rainy seasons. Their dust should match level 6, while its waterproof feature can only reach level 5 because pole-type or wall-mounted distribution boxes can avoid heavy rain soaking conditions.
Material Used
Generally, four types of materials are used in fabricating the Outdoor Fiber Distribution Boxes
es: SMC, ABS, ABS+PC, and PP.
These materials differ mainly in heat resistance, material density, compression, impact, flame, and abrasion resistance.
Among the four, ABS+PC is the most cost-effective material, capable of meeting the standard requirements of a good fiber panel box at a reasonable price.
Functions of Fiber Box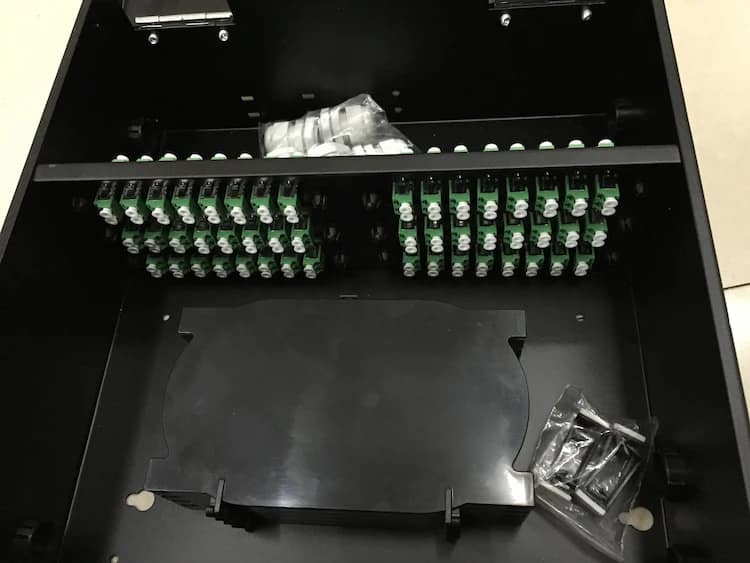 Fiber distribution hubs are widely used in the telecommunications industry, video transmission, testing instruments, local area networks, fiber optic sensing, and CATV.
Additionally, the Outdoor Fiber Box's installation method depends on three different scenarios: FTTH, FTTC, and FTTB.
A fiber panel box is installed on the floor for FTTH, mounted on a building's wall for FTTB, and mounted on a pole for FTTC. Other functions include fixing and protecting optical cables, fusing optical fibers, storing pigtails, storing and managing jumpers, and fixing connections of optical fibers for maximum efficiency.
Inside of the Fiber Distribution Box
One of the main functions of this piece of equipment is for the fiber's splitting and protection.
To be able to properly function, its structure should be assembled accurately and is divided into four parts:
Cable Inlet
The cable inlet of a fiber box is mainly for the accessibility of the external optical cable. It provides a better waterproof effect as it's placed underneath the distribution box.
Splice Tray
Manufacturers should weld external optical fibers together with the splitter or the pigtail's headless end inside fiber distribution hubs. A splice tray facilitates better welding and a higher success rate.
Fiber Splitter Disks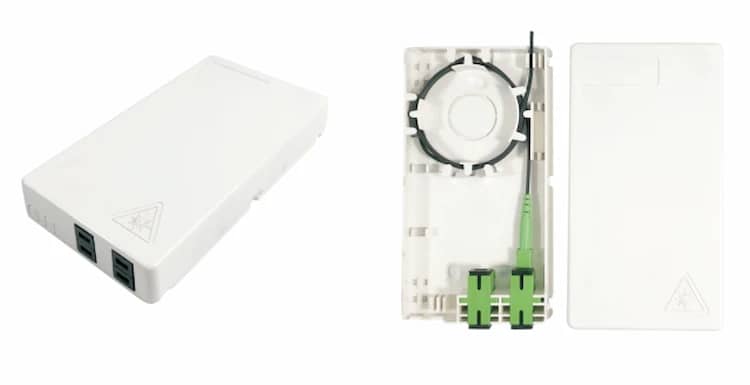 You will often see distribution boxes without fiber splitter disks because these only serve as fixtures to aid in installing pigtails and splitters, making them hassle-free, more convenient, and compact. Several shapes of fiber splitter disks are available, but all serve the same function.
Outlet
A fiber distribution hub's number of outlets determines its basic model. For instance, if there are eight outlets, it's an 8-core distribution box. Outlets are smaller than the inlet ports because the diameter of the cable wires from the fiber optic jumper's user side is smaller.
Application of Fiber-Optic Distribution Box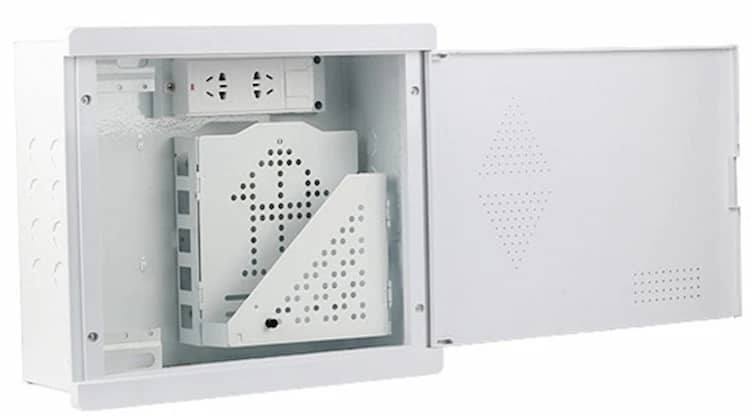 This piece of equipment can be used in outdoor and indoor applications for fiber optical communication projects' small capacity. Also, this can be used for the configuration of central apparatus rooms, and provide connection protection between the distributing fiber pigtails and the cables.
Benefits of Fiber Box
One of the major benefits of distribution boxes is their availability in various ports, from 2 to 96, making them a versatile piece of equipment in the network industry.
They also have outstanding insulation-resistant properties, giving operators enough flexibility during the assembly process.
A fiber panel box also provides ease of maintenance during monitoring, switching, testing, and routing. It also helps you save ample rack space because of its single high-density network connection.
What are the classification of optical fiber distribution box?
The fiber panel box is commonly classified according to capacity and installation, but it can also be classified according to application and function.
According to Capacity
According to a panel box's capacity, fiber distribution hubs can be 4-core or 6-core wall mount patch panels. Other types include 8-core and 16-core, which are two of the most commonly used distribution boxes.
Installation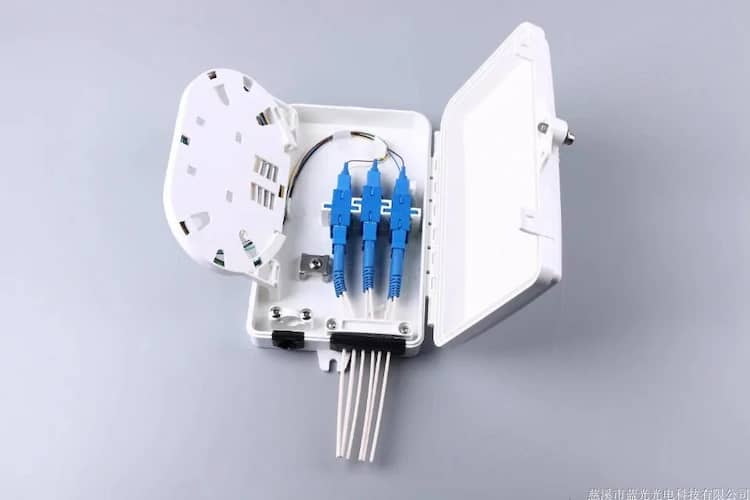 According to installation, a fiber panel box can either be a fiber distribution wall mount or a holding pole type.
Also, you can also classify these distribution boxes based on their application, choosing from indoor or outdoor fiber distribution boxes.
How to install a fiber optic distribution box?
Installing a fiber optic distribution box involves three major steps:
Install the fiber optical boxes on the rack using screws for security.
Connect the optical cable to the fiber optical distribution box via the cable hole.
Rout the optical cable inside the fiber panel box.
What is the difference between an optical distribution box and a distribution frame?
An optical fiber panel box serves as a node protecting device to shunt optical signals. On the other hand, distribution frames are hubs that enable cross-connection of two horizontal wiring and vertical trunk line subsystems. Generally, they are 19-inch ranks with at least 12 ports.
How does an outdoor fiber distribution box work?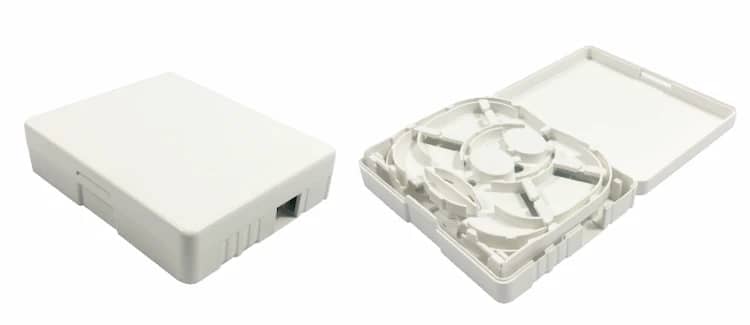 An outdoor fiber distribution box utilizes optical jumpers to lead the optical signal out of the adapter inside the distribution box to allow maximum functionality of the optical wiring.
When choosing the right outdoor fiber distribution box, you need to decide whether you need a loaded or an unloaded one.
Loaded distribution boxes have pigtails and fiber adapters, making it more convenient because they already have what you need.
A possible limitation is replacing the entire unit if a port is damaged.
Unloaded distribution boxes don't have this limitation but do not have the essential products for the distribution of bulk cables for the enclosure.
Takeaway
The fiber distribution box improves efficiency in the communication network industry, completing the introduction, stripping protection, and fixation of optical fusions, optical cables, jumper and pigtail storage, etc.
With the help of these distribution boxes as protective devices, the stability and safety of optical distribution nodes are protected and secure.