What is A FAST Connector Fiber Optic? The Ultimate Guide
Passing the TUV certification is a recognition of the strength of MELONTEL. After more than 27 years in the field of communication, MELONTEL, a manufacturer from China, has the ability to provide high-quality products to customers around the world.
Customized production
Professional R&D design team
Provide competitive solutions
24/7 online support for customers
MELONTEL: Let The Product Speak
In the past 27 years, the founding team of MELONTEL has always been committed to "letting the product speak". They believe that a good product can always make a sound in the market and be welcomed.
As an experienced supplier and manufacturer in the communication industry, Melontel has won the trust of customers with its excellent product quality and professional services. Because of this, more than 30 agents around the world choose to cooperate with MELONTEL.
Every year, MELONTEL's expert team is providing customers with high-quality FAST Connector Fiber Optic products, and we always welcome customers' inquiries and technical exchanges.
MELONTEL
Your Professional FAST Connector Fiber Optic Manufacturer
MELONTEL
As a professional communication equipment manufacturer, MELONTEL's FAST Connector Fiber Optic and related products can always help to better seize the market.
FTTX Optical Fiber Data Sheet
A fast connector fiber optic is commonly The FTTH service has continuously increased its popularity worldwide, and optical fibers constructed in residential properties are expected to increase in several areasutilized to make the installation process faster and fiber storage simpler. In this article, you will learn all about what it is, its different applications, advantages, and various types.
Melontel, a trusted company, consists of trained professionals and experts in producing and manufacturing communication equipment using innovative techniques to improve all your communication needs.
What Is a FAST Connector Fiber Optic?
Also known as fiber optic quick connector, it's a field-installable connector that's pre-polished and designed to allow fast and simple single fiber field termination. This fiber optic eliminates time-consuming adhesives or polishing with its pre-polished ferrule and a mechanical splice found inside the body of the connector.
Fiber optic quick connectors also offer instant low loss termination to multimode or single-mode fibers, and they are color-coded for easier fiber identification and laser optimization.
The pre-polished ferrule is responsible for enabling a positive connection inside the mechanical splice to achieve low insertion and termination loss.
Structure
When an optical fiber is connected to a field assembly connector, the fiber is built into the connector's ferrule, with its end face pre-polished in the factory. A pre-installed wedge clip opens the clamping mechanism as you insert the fiber. You can remove and discard the wedge clip after inserting the fiber in place.
The material responsible for the fiber's mechanical fixation is a mechanical splice commonly found at the ferrule's termination. Additionally, the splice consists of a plate A with a V groove, a flat plate B, and a clamp to allow it to insert into the two plates.
The optical fiber is accurately positioned between plate B and the V groove with this composition while kept securely in place by the clamp's spring power.
Applications
The following are the applications of a fiber optic quick connector:
Premise and Enterprise Networks:
Patch Panels
Applications in FTTx
LAN or WAN connections
Field Repair and Replacements
Equipment Termination
Equipment Testing Leads
Benefits
A fiber fast connector has several benefits, including the following:
Quick to install, as fast as two minutes, including your preparation time
It's a clean and simple solution to terminate connectors
Pre-polished by the factory saves installation time
Has a high success connection rate
Contains a simple and reliable assembly process
Achieved stable optical performance with the V-groove technology of the mechanical splice
What Are the Types of Fast Connector Fiber Optic?
Fiber fast connectors come in different types, and the three famous kinds are SC/PC, LC/PC, and SC/APC. Let's differentiate these three according to their specifications and applications.
SC/PC Fast Connector Fiber Optic
An SC Connector or Standard Connector is a fiber optic connector with a push and pull latch mechanism found in video and audio cables. It's a snap-in connector with a 2.5mm diameter and is mainly used in fiber optic extenders.
Generally, SC/PC connectors contain an outer blue shell for easier differentiation with SC/APC. PC connectors or physical contact connectors are pre-polished and designed with spherical or cone shapes to reduce the end-faces size. This design also reduces air gaps, resulting in a reduction in the optical return loss. With this, there is less light sent back to the power source.
LC/PC Fast Connector Fiber Optic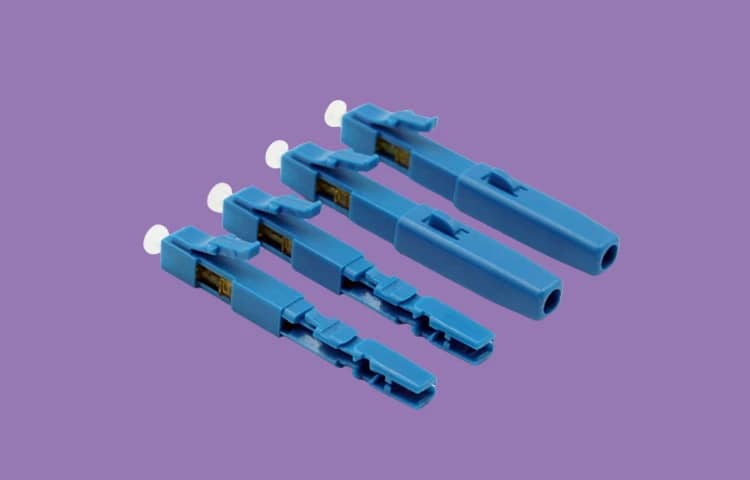 The LC/PC is another quick connector that allows small equipment to have a faster physical connection. It features an optical silicone grease to replace the matching paste.
Additionally, the LC/PC connector allows fast and simple field termination of single fibers without the hassle of polishing and placing adhesives. It's a pre-polished ferrule with a mechanical splice contained in the connector body.
The assembly of this physical connector requires minimal preparation tools: wipes, fiber cleaver, and fiber stripping tools. You don't need any electrical supply to assemble the LC/PC.
SC/APC Fast Connector Fiber Optic
An SC/APC connector consists of an APC connector that allows reduced back reflection because of its 5 to 15 degrees angulated polish on its end faces. The angle enables the reflected light to leak outside towards the cladding rather than inside the fiber core.
SC/APC connectors should be mated only to other connectors that are angle/polished because high insertion loss can result from mating to non-angle polished connectors.
What's the difference between FAST connector SC/APC and SC/UPC?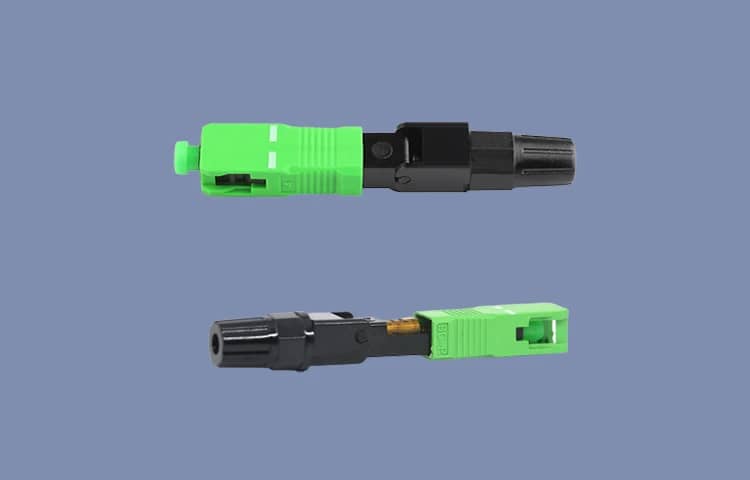 Aside from the manufacturing process that differs between a FAST connector SC/APC and SC/UPC, the following specifications should be noted when deciding which to choose between the two.
Return Loss Value
An SC/UPC connector reflects the reflected light to its light source because it is installed on a fiber's end. On the other hand, the SC/APC connector reflects the reflected light at an angle straight to the layer of cladding.
Due to the difference in the manner of light reflection, there is also a difference in each connector's return loss value. SC/APC connectors have a standardized return loss value of at least -60 decibels or higher, while SC/UPC connectors have at least -50 decibels.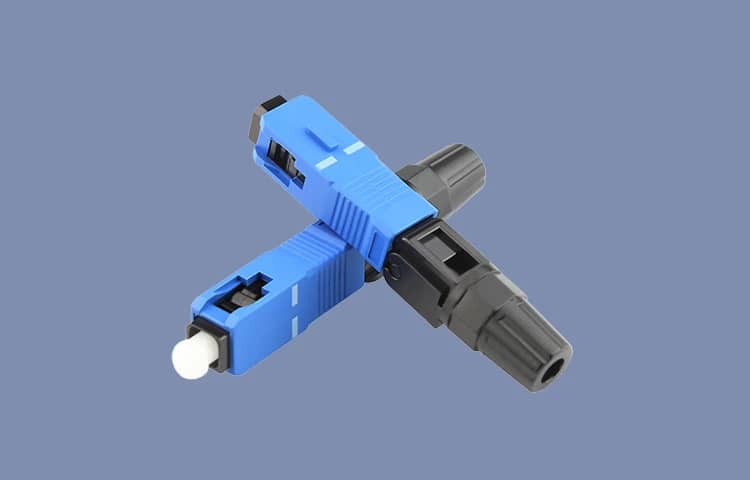 Insertion Loss Value
Another essential specification is the insertion loss value. Generally, the lower the value is, the better the connector's performance.
While several prefer SC/UPC connectors because of their fewer air gaps leading to lower insertion, innovative techniques have also lowered the insertion loss value of most SC/APC connectors.
Application
SC/APC connectors are mostly used in applications requiring more return loss sensitivity and higher precision signals.
Some examples of these applications include FTTX, WDM or wavelength division multiplexing, video delivery via an RF signal, and analog devices such as CCTV.
On the other hand, SC/UPC connectors are mainly used for applications that don't need high precision signals, return loss sensitivity or other specific demands.
Is there a FAST connector tool kit?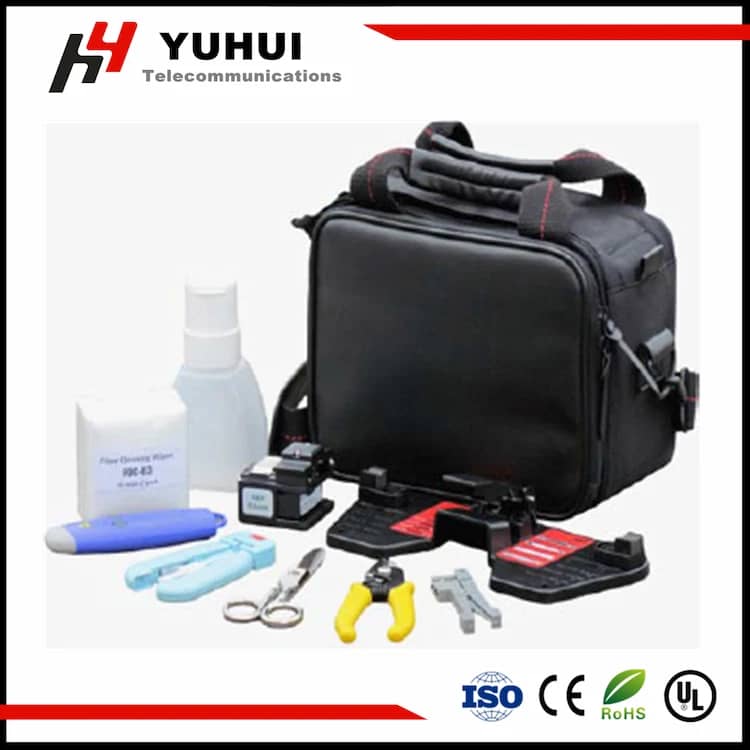 A FAST connector tool kit provides all the needed tools for fiber preparation and installation. Inside a common connector tool kit are universal multi-mode or single-mode cleavers, telecommunications premier cleaver, a blade, and a built-in fiber scrap collector.
With this tool kit, you are equipped with all the industry-standardized termination tools while giving you extra storage for your FAST connectors. The following are applications of a FAST connector tool kit:
Premise environments
Patch panel or wiring closets
Quick repair and replacement areas
FTTX applications
LAN fiber to desk environments
How to choose the correct FAST connector fiber optic?
With several different fiber optics available, you must carefully choose your options and factor in different considerations.
These connectors are mainly classified into mechanical splice and hot-melt types based on their structures, with the mechanical splice type, more widely used.
Mechanical splice types can further be classified into the straight-through and pre-polished ferrule, and you have to know their differences to choose what you need correctly.
Straight-through Type FAST connector fiber optic
You need to have excellent operating skills with straight-through type connectors because they need accurate cutting surfaces with fiber diameter and ceramic ferrule matching.
Aside from the cutting surfaces, straight-through type connectors are also strict in cutting length and clamp strength.
Some advantages include having a simple structure and being cost-efficient.
Pre-Polished Type  FAST connector fiber optic
Pre-polished type fiber connectors have the following advantages:
Better control of return loss because of the embedded ceramic ferrule above the fiber
Fully fluid internal docking
Takeaway
FAST connector fiber optics eliminate any polishing process, reducing the installation time and making it more convenient. These connectors also allow easy optical fiber preparation and termination.
Overall, they are more widely used nowadays because of good assembly, quality management, and time reduction.
These field assembly connectors have excellent accuracy and workability in installing and disconnecting fiber connectors. Their structure enables low return loss, thanks to its angle splice technology.