Melontel
Your Professional Cross Connection Cabinet Manufacturer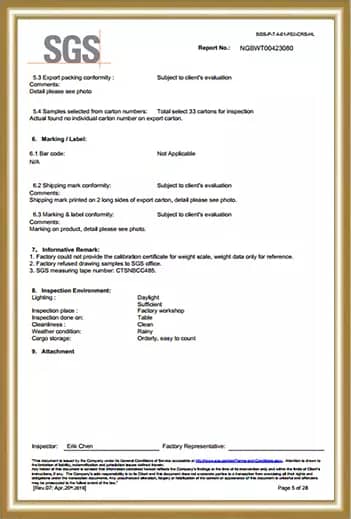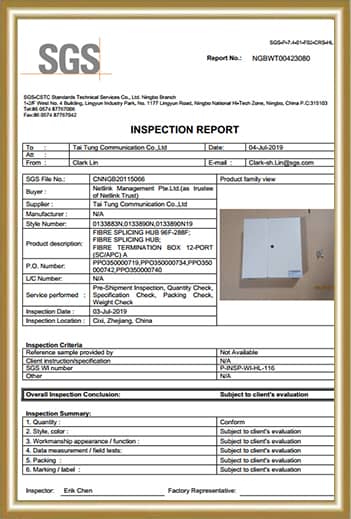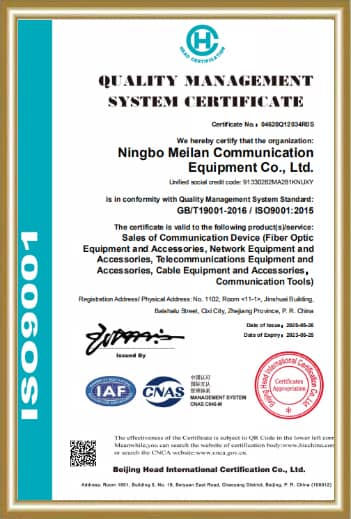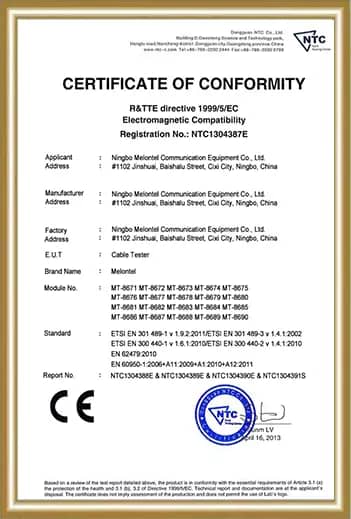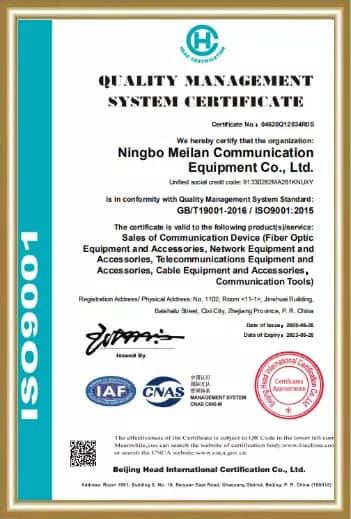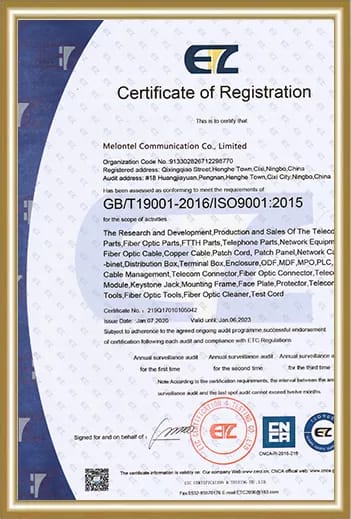 Cross Connection Cabinet Data Sheet
Using a cross-connect cabinet, cable elements can be terminated and cross-connected. These enclosures can be customized to meet the specific requirements of your business and your budget.
An interface between feeder and distribution cables in these integrated interface systems is established using terminal fields, housings, and cable connections.
Cross Connection Cabinet is one of the most sought-after things in the variety of products available for purchase. Cross Connection Cabinet factories & manufacturers may be of interest to design engineers and buyers, who can choose from various related options, such as Cabinet, distribution box, and fiber optic cabinet.
Cross-connect cabinets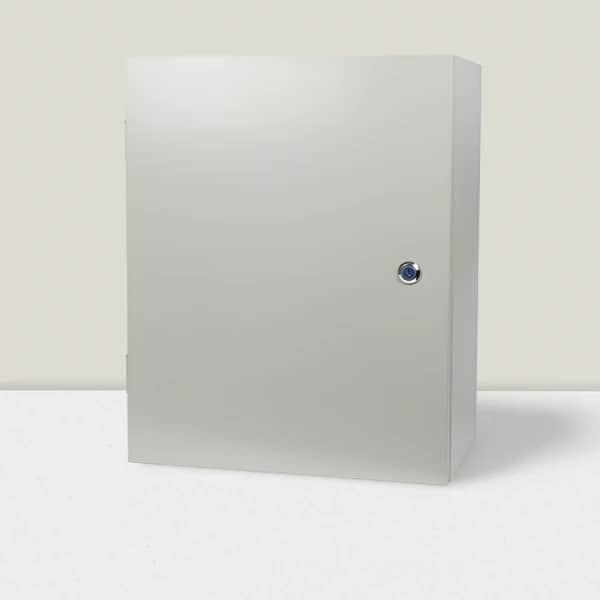 Cable elements can be terminated and cross-connected in cross-connect cabinets. These enclosures offer a wide range of options to satisfy your company and financial needs. Reduce costs and ease transition to digital services by integrating systems such as DSLAM and cross-connect boxes into one enclosure.
Terminal fields are built into the housings to allow cable interfacing between feeder and distribution lines.
It is not uncommon for enclosures to have both a ventilated compartment for weather-hardened DSLAM electronics and a weather-sealed compartment for cross-connect fields all in one unit. Two possible configurations are aerial enclosures with cross-connect capacities ranging from 200 to 900 pairs or pad-mount kinds with capacities ranging from 400 to 1200 pairs.
Some units can update an operational DSL network and enhance the germination capacity of an existing cross-connect cabinet without affecting service or circuit downtime, minimizing installation costs and labor expenditures.
What Is a Cross-Connect Cabinet?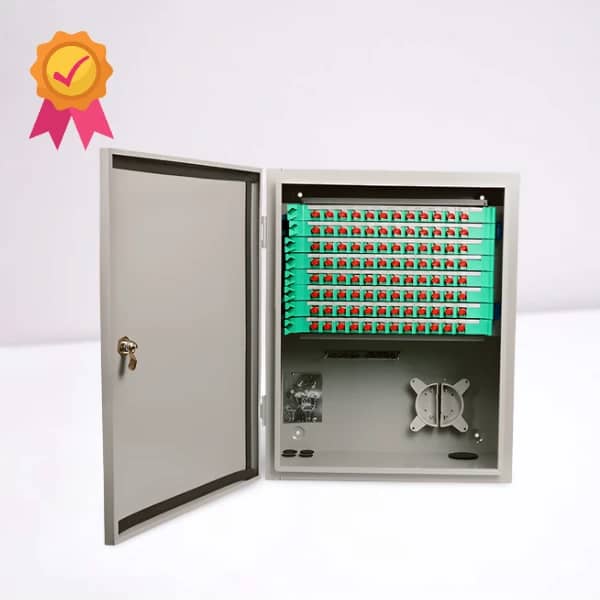 A fiber cross-connect cabinet's most important feature is its ability to withstand wide temperature swings and other challenging working conditions.
Pest control, rodent damage, and impact damage should all be prevented by this barrier. Additionally, it must withstand even the most extreme weather conditions.
Thus, the Cabinet's outer surface complies with demanding watertight and dust-tight criteria and insect and impact protection requirements.
Controlling the interior's temperature and humidity is equally critical.
For these projects, the highest possible level of protection is IP66 according to international standards.
A fiber cross-connect cabinet is commonly used as an outdoor optical device to install a wide range of communication system equipment such as routers and switches.
Trunk optical cables and cable distribution, storage, fusion, distribution, and dispatch can benefit from their active link utilization.
Capacity is adjustable, and a direct splice device is built-in, making it easy to connect to other devices. Additionally, it can survive extreme weather and climatic shifts.
These integrated interface systems use housings, terminal fields, and cables to connect feed and distribution cables.
In some of these enclosures, weather-resistant DSLAM electronics and cross-connect fields are incorporated into a single container.
Cross-connect capacities range from 200 to 900 pairs for aerial enclosures and 400 to 1200 pairs for pad-mount enclosures.
Upgrades to an existing DSL network are possible with some equipment. As a result, current cross-connect cabinets can be expanded without disrupting service or circuit downtime, reducing installation and labor costs.
What is a cross-connect cabinet used for?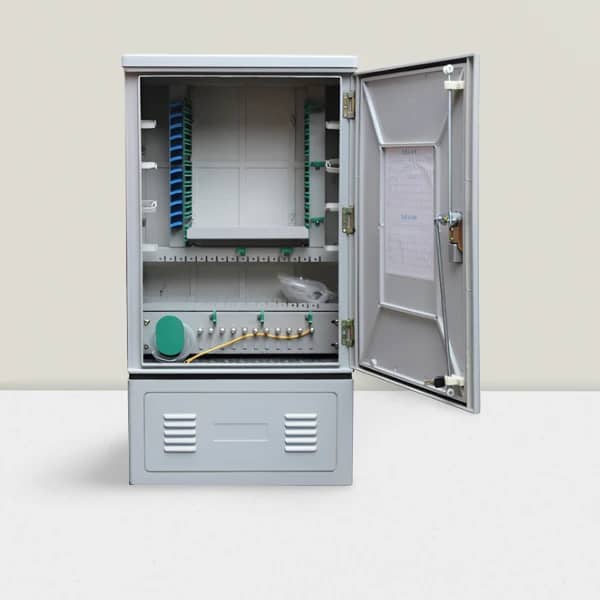 Access networks for fiber-to-the-home (FTTH) make extensive use of it.
Systems for telecommunication.
CATV Networks are a sort of cable television channel that broadcasts.
Data transmission networks.
Local area networks, or LANs, are the technical term for such a network.
Good candidates are Telekom and UniFi.
Copper Cross Connect Cabinet
In the local line network, a point of flexibility is provided by the copper cross connection cabinet and cable terminal blocks. Shell, door, internal frame, base plate, and base make up the Cabinet.
A copper cross-connect cabinet flexibly connects primary and secondary wires in a local line network. On a renovated, horizontal concrete foundation, four foundation bolts hold up the shell, base plate, door, internal frame, and base of the cross cabinet.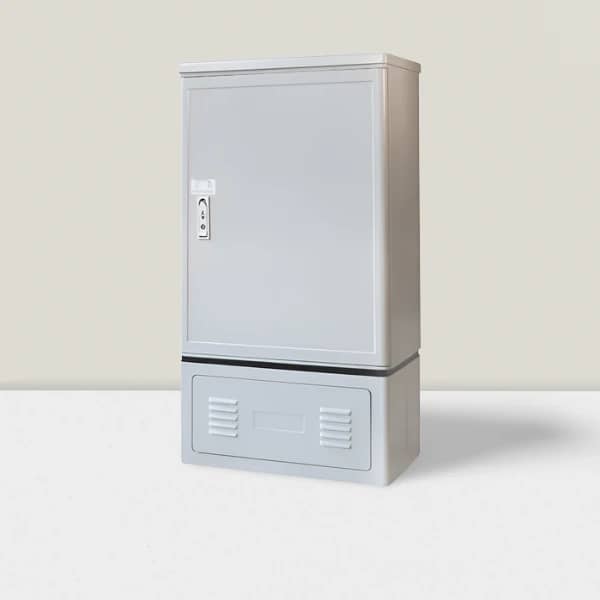 Features
The SMC (glass-fiber polyester) body provides high mechanical durability, anti-erosion, aging resistance, and lightness.
It is possible to add a layer of PE foam to the inside of the Cabinet to give additional thermal insulation.
Sturdy, dust-proof construction with an appealing, clean appearance is the hallmark of this design.
Every Cabinet has a lock to keep the contents safe.
Simple cabinet parts can ensure that replacements may be made without disrupting service.
Open the front door to the right or left, as you please. Fast and Affordable Cabinet Repair and Maintenance.
With Erico Utility Construction LLC, copper cross-connect cabinet repairs and maintenance may be done quickly and affordably. We can provide on-site cabinet services without affecting the service provided to your customers. In addition, we can reskin your copper cross-connect cabinet through our services.
Copper Cross Connect Cabinet Application
Trunk and distribution cables in a telephone network are connected using this device.
It aids in the management of cable pairs and expands the network's adaptability and diversity.
Features
The contact's good performance and superior physical properties are enabled by "U" type metal components.
To avoid corrosion, the metal component for inserting a cable is sealed with silicone grease; the connection is reliable and durable, allowing easy operation and maintenance. The terminals on the involving terminal block use a connection.
Fiber cross-connect cabinet
It is an outdoor interface device used to connect, wire, and dispatch outside cable and flexible connection cable and each optical core in the cable through optical fiber activity connection and wire jumper.
As long as the optical fiber core can be dispatched flexibly, the Fiber Optic Cross Connection Cabinet can be used for optical local area networks (LANs) as well as district area networks (WANs) and optical access networks (ONNs). SMC or stainless steel are two options for the Cabinet's construction material.
Installation methods include floor, wall, rod, and overhead modes and floor, wall, and floor-mounted modes. The Fiber Optic Cross Connection Cabinet is the end and distribution cable that connects to an outdoor optical fiber node in the network. As many as 144 cores, 288 cores, or 576 cores can be connected to it simultaneously. The Cabinet's dimensions can be altered.
Features
Anti-erosion and High-Intensity Performance
Climate change and severe environments are no match for this system's ability to adapt quickly and easily.
The installation process is fast and easy.
Direct connection is possible using the built-in direct splice equipment.
Fiber management and maintenance can be made easier with the proper routing design.
The optic fibers are protected by secure and reliable fasteners and grounding devices.
Fibers with and without a strap shape can benefit from this technique.
Technical information on Fiber Optic Cross-Connect Cabinets
It is possible to distribute up to 576 cores over four optical fiber connections. Single 120-core to 240-core to 480-core ribbon optical fiber cables typically have a direct welding capacity of 120 to 240 to 480 cores.
Waterproof, anti-condensing, and moisture-resistant materials are commonly used in the construction of fiber optic splitter cabinets. It can also tolerate adverse effects of the weather and the environment.
The majority of the time, they are designed with comfort in mind. Optical wire construction is simplified and neatened thanks to a horizontal wiring duct.
The terminal tray incorporates welding and distribution. As a result, the process is more efficient, and the ribbon tail fiber length is reduced.
As a result, they're easy to utilize. There are 12 cores in the terminal module's horizontal draw-out construction. Each core can be pulled out separately to reduce the number of bends generated by tail fiber dispersion.
There are no structural issues with the optical fiber splitter. A sleeve protects it. Fixing, grounding, and performing other maintenance on the optical fiber line is all possible without having to remove the fiber optical splitter.
What are the different types of fiber cross-connect cabinets?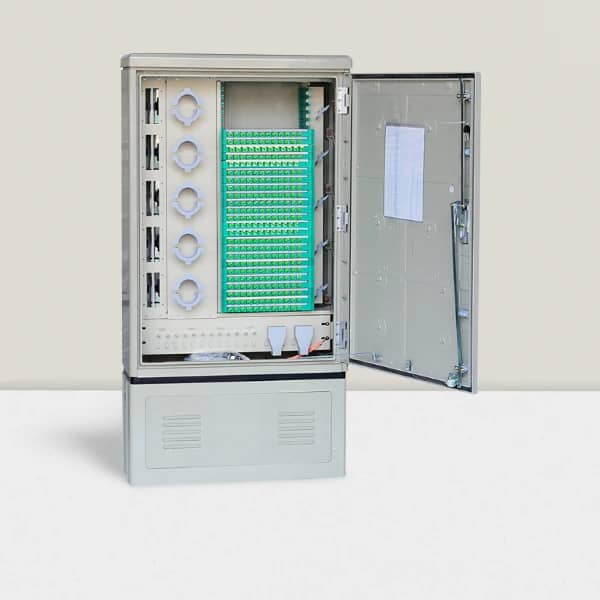 A fiber cross-connect cabinet can accommodate a wide range of requirements.
It's possible to categorize them, though.
High-intensity and anti-erosion performance is provided by fiber optic splitter cabinets positioned on the floor.
They can resist extreme weather conditions and quick climate change.
Direct splice units incorporated into floor-mounted fiber cross-connect cabinets are useful for handling and maintaining fibers since they provide a direct connection function.
Are the fiber optic splitter cabinet and cross-connect the same?
These things are used in the same industry despite their diverse natures. This Cabinet is designed to store passive optical splitters and feeder and distribution cables for FTTH Passive Optical Networks.
Telecommunications providers use optical cross-connects to send high-speed optical data via an optical network.
Telephone cross connection cabinet
Mainly used as a junction between the main cable and local cables, the XF5-113 rotating buckling cable distribution box with a connector can be used for aerial, ground, or hanging installation.
As the number of people using the phone grew, the number of aerial cables became conspicuous and crowded.
As a result, the overhead wires were replaced with an underground network of cables. Smaller cables were teed into these larger ones as they radiated away from the exchange.
They were fed from the exchange. As each split was a joint, these cables were unable to offer much flexibility.
Telephone Cross Connection Cabinet; The Basics
At the joints of the exchange Main Distribution Frame (MDF), a portion of the cable pairs from the MDF are teed together and therefore are connected to multiple Distribution Points (DPs) (DP). A "non-tapered cable" system does not have a smaller main cable at each spur junction.
As an alternative to connecting permanent pairs from the MDF to DP via a permanent junction, some pairs are connected via an auxiliary joint so that any changes in needs can be made afterward. Due to variations in the growth pattern, rather than the auxiliary joint, most alterations were performed in the permanent joint or the MDF-DP connection.
Cast iron cabinets, often square in design, were occasionally used. These are depicted in the following images.
New distribution methods were implemented in 1945 to accommodate the increasing growth of the telephone. Cabinets were typically the first point of cross-connection from the exchange. They may also have fed the Pillars, which fed the Distribution Points. Cabinets. Poles and customers' homes have DPs attached to the underground cable, serving as a final connection point.
Thanks to the Cabinets and Pillars, it was possible to link any incoming cable to any outgoing wire. A "jumper wire" is a piece of two-wire cable used to make a connection. Screws were used to clamp the jumper wire or two metal bridging pins through connections (e.g., wire 10 to wire 10) before the 1970s Cabinet terminations. The screws' heads would shear off if they were overtightened to avoid harm. A torque screwdriver was given to prevent over tightening of the screws.
Eventually, Pillars were phased out, and Cabinets were used to feed the Distribution Points directly as phone penetration increased.
Cast iron cabinets were given a dark green color. These days, they are constructed of steel.
There are two termination strips for incoming cables from the exchange and one for outbound distribution cables.
Plastic formers replaced screw-style terminal blocks in the early 1970s, and cable wires were put through numbered holes and left to dangle. Grease-filled crimps were used to make the connection (See picture below).
Eight hundred pairs can be taken in and out of the most significant Cabinet. Two hundred pairs can be taken out of the most significant Pillar.
A variety of "multiple teeing" and "auxiliary joints," as well as cable distribution heads, were employed before the Second World War to provide greater network flexibility. However, rerouting a cable was still a challenge. Working on the case may cause problems on other lines if the watertight iron casings were opened. To the right, you'll see a distribution head.
Features
This device uses a rotating buckled airtight connection to provide steady and solid core contact and prevent oxidation even after prolonged usage. Applying organic silicon grease for waterproofing and moisture sealing ensures that the contact is safe and secure.
There are four fundamental components of 25 pairs each, making up the 100-pairs module. The module's positive and reverse connection terminals are arranged following the YD322 chromatogram standard for ease of jumpering and maintenance.
Depending on the Y-axis, the module unit line bank can open at an angle of more than 90 degrees, making it simple to connect the primary and distribution cables.
Rainwater is efficiently kept out thanks to the rubber sealing strips placed to the seams of the doors and around the box. There are rubber seals on the cable entry holes at the bottom of this box to keep moisture.
Premium cold-rolled stainless steel or aluminum alloy and pure resin are used to make the box. It meets the GB4208 standard for protection.