Coaxial Cable Connector: Melontel's Product Promise
Melontel
Your Professional Coaxial Cable Connector Manufacturer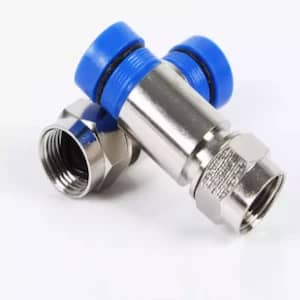 To fulfill our mission to "make the communication sweeter" worldwide, we at Melontel Communication are committed to offering only the highest quality products and services to our clientele. Customers benefit from working with Melontel in numerous ways, including purchase, shipment, use, and after-sales service.
Coaxial Cable Connector
Connectors are crucial to the use of Melontel's coaxial cables, which are required to establish stable connections between various pieces of equipment.
In the world of coaxial cables, male and female connections are by far the most prevalent. There is a smaller connector on the male end and a larger connector on the female end.
An inner conductor is used to transmit electricity signals in coaxial cable, and this is surrounded by an insulating layer and a shield. An outer insulating jacket safeguards the cable from damage. Typically, a signal-carrying voltage is provided to the central conductor while the shield's exterior is held at ground potential.
Application 
Coaxial cable from Melontel is used for a wide variety of purposes, from video and CATV distribution to RF and microwave transmission and data connectivity in computers and instruments.
Radio frequency signals are sent over coaxial wire. Radio transmission and reception, computer networking, digital audio (S/PDIF), and cable television are just a few of the many uses for feedlines.
Coaxial has an advantage over other forms of radio transmission lines because, in an ideal coaxial cable, the electromagnetic field carrying the signal only occurs in the area between the inner and outer conductors. Because of this, gutters and other metal items can be placed near coaxial cable runs without causing any power losses.
A further benefit of using coaxial cable is the shielding it provides against electromagnetic noise.
Melontel's Connectors
In most cases, connectors are attached to the ends of coaxial cables. It is the purpose of coaxial connectors to keep the cable's coaxial shape and electrical impedance throughout the connection. Typically, connectors are plated with silver or gold because of their high conductivity and resistance to corrosion.
Because of the skin effect, at higher frequencies the RF signal can only be transmitted via the plating and not the connection body. Silver, on the other hand, tarnishes quickly, and the silver sulfide that is formed is poorly conductive, reducing connector performance.
Coaxial Cable Tools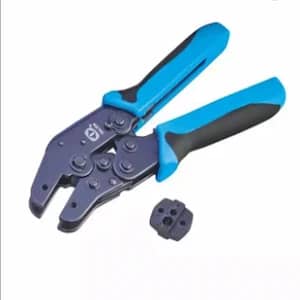 When we think of a typical cable, most of us picture coax. The cable will eventually require maintenance, as it is still put to heavy use in and around the house and workplace. It's important to have the right equipment on hand if you need to perform troubleshooting. The proper coaxial cable tools are available here at HNSTools.
The core conductor of coax cable is made of copper and is surrounded by an insulating layer and an overlying tubular conduction shield that is commonly made of plastic on the outside and copper weaving on the inside. This layout aids in the production of a precise, consistent conductor spacing, which in turn leads to better performance. The word "coaxial" comes from the fact that the inner conductor and the outer shield are both oriented along the same geometric axis.
Coax Cable Crimper Kit Adjustable RG6 and RG59
This coax crimp tool from Gaobige is sturdy, well-made, and adaptable, so you can use it to crimp RG11, RG59, or RG6 cables. As an added bonus, it has the ability to reduce the size of a wide range of F-screwheads in both metric and imperial standards.
KOTTO Coax Cable Crimper Kit
KOTTO Crimper Tool for Coaxial Cables Kotto's coax compression kit is the next recommendation we have for you. The tool set may be used to crimp RG6, RG59, and RG11, as well as compress 75-5-7 different types of metric and imperial F-Head.
One coaxial cable crimper, one coaxial cable stripper, F compression connectors, and a convenient carrying case are included in this set for working with coaxial cables.
Etekcity Multifunctional Coax Cable Compression Tool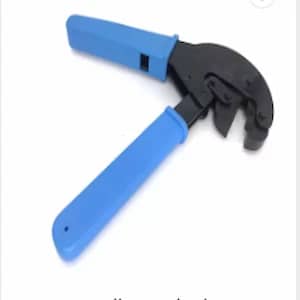 The Etekcity versatile coax compression connection is a top choice among RG6 and RG59 crimpers due to its versatility, it can be used to crimp RG58, RG59, RG6, and F BNC RCA cables.
Glarks Adjustable Coaxial Compression Tool
If you've been looking high and low for a coax compression tool set that includes everything you'll need but still doesn't break the bank, look no further than our recommendation. There are ten F connections, a crimper tool, a stripper tool, a Phillips screwdriver, a cable cutter, and a leather case included in this set of tools. This set contains high-quality, effective instruments that will make your job much simpler.
Klein Tools VDV002-818 Coax Cable Compression Tool
When it comes to making and verifying coax connections, this toolset offers everything you could possibly need. The interface is intuitive, and the features themselves are dependable.
Coax Cable Tool Kit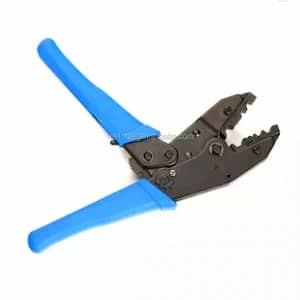 Hiija RG6 Compression Tool Coax Cable Crimper Kit
Hiija's compression tool kit is another fantastic alternative for shoppers looking for a low-priced set that doesn't skimp on features. If you require a variety of cable-related tools, this package has you covered. You get 20 RG-male type F connections and a coaxial cable stripper, round cable stripper, and flat cable stripper.
Shahe Coax Coax Cable Compression Tool Kit
Our last recommendation is the Shahe Coax Cable Crimping Kit, which is a high-quality and simple-to-operate option for crimping coax cables. Coaxial cable crimper, cable remover, 20 F compression connectors, cross screwdriver, and a carrying case are all included in this crimping set.
Jonard Tools TK-RG64 COAX Cable Kit 
The CAT-16 Cable Cutter is a convenient tool for severing twisted pair network cables.
Extensive F connectors on RG59 and RG6 COAX cables can be compacted with the help of the CTF-180M Compression Tool.
RG6-10 Universal F Connectors for Coaxial Cable Termination CST-92 Coaxial Cable Stripper for Stripping RG59, RG6, RG6 Tri & Quad Shield, N48, RG7, and RG11
Best buy Coaxial Cable
When installing a new home theater system or updating an older one, investing in high-quality coaxial cable is a no-brainer. Coaxial cables come in a wide variety of forms, each optimized for a particular function. The connections you require can be made with the help of these dependable cables.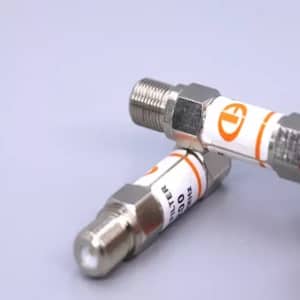 Tripp Lite – 25′ VGA Cable – Black
This Tripp Lite coaxial VGA monitor cable makes it simple to provide others access to your computer's display.
The 25 feet of length allows for flexible device placement, and the durable PVC jacket and strain relief guarantee years of use.
The coaxial VGA monitor cable from Tripp Lite can handle resolutions of up to 2048×1536, allowing for very sharp and detailed images.
Tripp Lite – 100′ VGA Cable – Black
This Tripp Lite VGA high-definition coaxial cable gives you a solid connection between your display and computer. Double shielding prevents EM interference, and the matched video and mini-coax wire structure supports video resolutions up to 2048×1536 without ghosting.
High-density DB15 male connections and inbuilt strain relief make this Tripp Lite VGA high-resolution coaxial cable exceptionally sturdy.
Best Buy essentials 6′ Coaxial A/V Cable – Black
To improve the sound quality of your home theater's transmission of digital audio, consider upgrading your current setup. Connect your TV and other devices with digital coaxial audio ports to your home theater system with the BE-HCL317 6′ Coaxial A/V Cable from Best Buy. The RCA plugs allow this cable to double as a composite video connection, expanding its usefulness.
Our copper braided shield enhances video and audio quality and protects against corrosion; it is backed by Best Buy and made with sturdy nickel-plated brass connections and flexible PVC. With a length of 6 feet, you'll have the freedom to arrange your gadgets wherever you like while still having the necessary reach to connect them. Send digital sound without any distortion using a cable made specifically for that purpose.
Tripp Lite 15′ VGA Cable – Black
Using this Tripp Lite coaxial VGA cable, you may project your computer's display onto an additional monitor. Both connectors are molded and equipped with strain relief to endure rigorous use, and the double shield prevents interference to maintain signal quality.
This Tripp Lite coaxial VGA cable allows for a high-definition viewing experience, with support for resolutions up to 2048×1536.
Tripp Lite – 6′ VGA Cable – Black
This 6-foot Tripp Lite VGA coaxial cable allows you to connect your computer to an external monitor. The foil and braid shielding reduces noise interference to retain signal clarity, while the durable PVC jacket and strain relief provide long-lasting quality.
Clear and detailed images up to 2048×1536 are possible with this Tripp Lite VGA coaxial cable's capability.
Best Buy essentials RF Modulator – Black
If your TV doesn't have the ports you need to connect your new gadgets, you should get them. What you need from Best Buy The BE-HCL312 RF Modulator converts line-level composite video or analog stereo audio signals to RF coaxial, making them usable with TVs that lack AV input connections.
This modulator enables you to hook up various audiovisual gadgets including Blu-ray players, video game consoles, and more. As soon as you disconnect your AV (composite) device, your TV will switch to the cable or antenna you have plugged into the supplementary RF (coaxial) connection.
Rocketfish 12′ In-Wall Coaxial Audio Cable – Black
Rocketfish RF-RG612BK2 12′ In-Wall Coaxial Audio Cable for installing or upgrading your home theater. This robust 18 AWG cable is 12 feet in length, providing plenty of room for connecting your television, radio, digital audio, and satellite systems.
This cable can be used both indoors and outdoors thanks to its heavy-duty, 2-layer shielding and weather-proof F connectors; it even includes the glue you'll need for simple installation. This cable, approved for use in drywall, is perfect for your home theater.
Tripp Lite – 50′ VGA Cable – Black
This Tripp Lite VGA cable allows you to hook up an additional monitor. The linked video cable supports resolutions up to 1080p for crisp, ghost-free images, while the flexible mini-coaxial design lessens stress and the likelihood of breaking. With its molded gold-plated connections and foil and braid shielding, this VGA cable from Tripp Lite ensures optimal data conductivity.
Tripp Lite – 10′ VGA Cable – Black
Use this Tripp Lite VGA cable to hook up to an external monitor. The linked video cable can handle resolutions as high as 1080p, and its mini-coaxial design ensures it won't break under duress. The Tripp Lite VGA cable's 10-foot length allows for versatile placement, while the foil and braid shielding ensures a consistently high-quality signal is transmitted without interruption.
Bluesound Hub Wireless Audio Source Adaptor – Black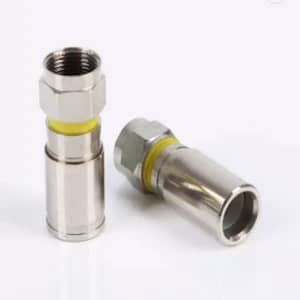 The HUB is a flexible network device that may be used with any Bluesound or NAD BluOS player to play audio from a wide range of sources. A Bluesound HUB allows you to listen to audio from any wired device, anywhere in the house.
The HUB acts as a wireless music transmitter, sending tunes to any number of Bluesound or BluOS speakers in the house. This paves the way for the portability of any and all audio content. Put your favorite connected audio source into your Bluesound system by connecting it to the HUB. Listen to your records and CDs from any room in the house thanks to wireless streaming. When listening to records in high quality, use the network turntable's built-in low-noise, wide-bandwidth moving-magnet (MM) phono stage as a preamplifier. To improve the audio quality of your TV, connect the HUB to a set of Bluesound PULSE speakers.
Use one of the five supported inputs, including HDMI eARC, Coaxial, Optical, Stereo Analog, and a (MM) phono input. Share an analog and digital source between two Bluesound or BluOS players in different rooms. The BluOS app makes it simple to set any HUB input as the audio source for your Bluesound player.
Use either dual-band Wi-Fi or a Gigabit Ethernet connection to hook up to the system. Easy to use, global USB-C power supply.
Coaxial Cable Connectors Types
BNC
Most varieties of coax cable can be outfitted with BNC (Bayonet Neill-Concelman) connectors. There are 50 ohm and 75 ohm models available. BNC connections are found on a wide variety of radios and security cameras; they were originally created in the 1980s for military purposes. They operate at relatively low frequencies, usually below 4 GHz.
TNC
Threads are used to increase security in TNC (Threaded Neil-Concelman), an improved form of BNC. These threads keep interference to a minimum and permit the use of frequencies up to 12 GHz in the connectors. TNC is often used for outdoor applications like antennas and cell towers because of this quality. There is also a variation with the polarity in the opposite direction.
F-TYPE
TVs typically include F-type connectors on their rear panels. Although other options exist, these connectors are most frequently used with RG59, RG6, and RG11 cable. They are compatible with cable, satellite, and antenna TV, as well as cable modems.
N-SERIES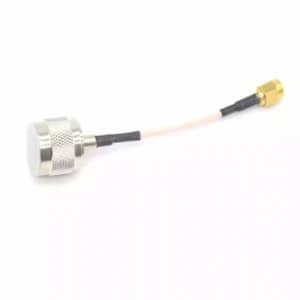 Named after their creator, Paul Neill, N-series connectors are a type of 50 ohm connector used extensively by the military. There are currently 75 ohm versions, however they are incompatible with the more popular 50 ohm version and are rarely seen in use. Connectors in the modern N-series can withstand frequencies up to 18 GHz and can be ordered with a polarity inversion.
UHF (PL-259/SO-239)
The PL-259 (male) and SO-239 (female) are two other names for UHF connectors (female). UHF connectors were developed for the military during World War II, but are now mostly utilized in amateur radios.
It is typically found on 50 ohm RG58, RG8, and LMR analogues. Miniature UHF radios are available for devices with restricted space, such as mobile phones.
SMA/SMB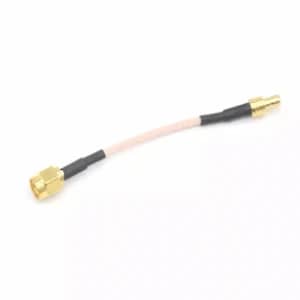 The SMA (Subminiature A) threaded connector is significantly smaller than the majority of the coax connector alternatives. It has a 50 ohm impedance and can operate at frequencies up to 24 GHz in enclosed environments, typically with RG58 or thinner cable.
Another option is to purchase them with the polarity backwards. High-frequency equipment with a maximum transmission of 4 GHz uses SMB (Subminiature B), a snap-on connection.
QMA
QMA is superior to SMA since it was designed to establish and break connections rapidly and effortlessly. This style of coax connector first appeared in 2003, although it has not yet achieved widespread adoption. There won't be a lot of coax lines that can use QMA until it becomes more commonplace.
FME
The FME small connector, also 50 ohm, is typically used with RG58. FME is a smaller coax connector that can be routed via smaller holes and conduit than other options.
PAL
Connections using PAL (Phase Alternating Line) are common in those regions, including Australia, the majority of Europe, and certain areas of Asia, Africa, and South America. The only time you'll encounter PAL in the United States is if you need an adaptor to hook up to a piece of gear made to international standards.
MC/MCX/MMCX
These miniature coaxial connectors, such as the MC (Microcoaxial), MCX (Micro Coaxial Connector), and MMCX (Micro-Miniature Coaxial), are used in places where full-sized coaxial connectors would be impractical. Automotive antennas and global positioning systems also utilize MC.
Antennas for the Apple Airport Extreme Base Station inspired the creation of Multipath Channel Expansion (MCX), which is also used in global positioning systems. In addition to its application in Wi-Fi adapters for personal computers, MMCX is finding its way onto GPS receivers.
DIN/MINI-DIN
There are a few different types of DIN/Mini-DIN cables for single line coax. In the 1990s, 1.0/2.3 was created for use in telecommunications networks. In the 50 ohm version, frequencies up to 10 GHz are supported, whereas in the 75 ohm version, frequencies up to 4 GHz are allowed.
For usage with thicker varieties of coax cable, the bigger 4.1/9.5 and 4.3/10 diameters are functionally equivalent but are better suited. Full-sized 50-ohm DIN, sometimes known as a 7/16, looks like an N-series plug. These connectors were created in Germany and are renowned for their great power handling capacity.
TS-9
The TS-9 connector is typically seen on smaller electronic devices like mobile phones due to its modest size. Due to its compact design, ultra-thin cables like LMR-100 and LMR-195 are required for use.
NMO
NMO connections are antenna mounts that may be removed and used with Motorola devices. They work with RG58 and LMR-195 cables.
Final Thoughts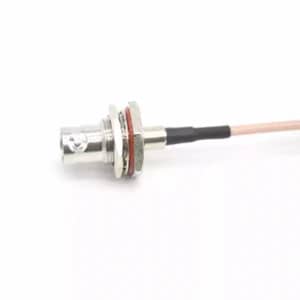 Coaxial cable is useful for differential signaling because it uses push-pull currents in which the electric and magnetic fields of the signal are contained within the dielectric rather than leaking out into the surrounding space. Furthermore, if uneven currents are filtered out at the receiving end of the line, electric and magnetic fields outside the cable are mainly kept from interfering with signals inside the wire.
As a result of this quality, coaxial cable is useful for transmitting not just weak signals that are easily disrupted by environmental noise, but also strong electrical signals that must not be permitted to radiate or couple into neighboring structures or circuits. Less leakage occurs in larger diameter cables and cables with numerous shields.