ADSL Splitter: What You Need to Know Before Purchasing
Melontel
Your Professional ADSL Splitter Manufacturer
What is ADSL Splitter?
Digital subscriber line (DSL) technology, of which asymmetric digital subscriber line (ADSL) is a subset, allowing data transmission over copper telephone lines at a higher rate than is possible with a standard voiceband modem.
For ADSL, the downstream or towards the consumer bit rate and downstream towards the provider bit rate are said to be asymmetric or upstream. Providers typically advertise ADSL as a means of accessing the Internet primarily for the purpose of obtaining content, rather than as a means of serving content to others.
Moreover, ADSL utilizes frequencies outside of the regular telephone voice band. A DSL filter, also known as a splitter, separates the frequencies so that voice calls and Internet access can share the same phone line. The normal range for an ADSL installation is less than 4 kilometers (2 miles) from the telephone exchange, but it has been found to extend further, even beyond 8 kilometers (5 miles), assuming the wire gauge was large enough to begin with.
Hence, a digital subscriber line access multiplexer (DSLAM) is typically used as the last point of connection at a telephone exchange, where the voice band signal is separated from the data band signal for the traditional phone network. The ADSL data is normally sent over the telephone company's data network and then to a standard Internet Protocol network.
Therefore, ADSL is the most popular option for home users for a number of reasons, including technological advantages and favorable market conditions. In terms of the underlying technology, crosstalk from other circuits is more likely to occur at the DSLAM end than at the client premises.
This means that the noisiest section of the local loop is where the download signal is highest, while the upload signal is weakest.
Thus, having the DSLAM send data at a higher rate than the modem on the consumer end makes technical sense. To meet the needs of their customers, phone companies developed ADSL because the ordinary residential user does prefer a faster download speed.
For starters, the majority of internet traffic consumers will need to send less data than they download, which is why an asymmetric connection is appealing from a marketing perspective. In typical web browsing, a user will visit multiple websites, each of which will require them to download data, but the user will only upload a small amount of data or data inputted by the user into forms, etc.
This justifies the higher cost of Internet access for businesses who host their own websites and want the ability to post at least as much data as is downloaded. Of course, there is the obvious exception of file-sharing programs. Second, ISPs have historically tried to restrict file-sharing and other uses that cause excessive upload activity in an effort to protect the stability of their core network infrastructure.
What is an ADSL Modem Router?
An ADSL modem router combines the capabilities of a modem and a router into a single device. In order to connect to an internet service provider and share that connection with other devices, a modem and router are typically used.
In this sense, they are combined into one convenient device in an ADSL modem router. DSL, on the other hand, is a technology that allows for rapid data transmission over standard twisted-pair phone lines.
The ADSL modem router immediately shares the wireless network and changes the DSL line to an Ethernet connection.
ADSL Modem Centurylink
CenturyLink Technicolor C2000T Wireless 802.11N ADSL2+ VDSL Modem Router Combo
Distributing high-quality data and video throughout the house over existing coax wires is made possible by the C2000built-in T's HPNA 3.1 compatible adapter. As a result, it is perfect for IPTV rollouts that cause little disruption to the lives of their users.
On the other hand, CenturyLink's C2000T ADSL/VDSL modem makes it simple to get online quickly. CenturyLink's Wireless-N modem provides superior signal clarity and range. Your data is safer behind a firewall and with WEP encryption.
Hence, Wi-Fi Protected Setup (WPS) allows users to quickly and easily join to the C2000T wireless network with the push of a button or the entry of a PIN number. It removes the hassle of entering a password every time a user logs onto their home network and makes it possible for them to connect to a secure network with ease
Phones and fax machines may both connect to the C2000T thanks to its POTS phone jacks. Once the gateway is set up with a VoIP provider, conventional phone calls can be made via the Internet using IP telephony.
The firewall takes advantage of all the Application Level Gateways (ALGs) available in the NAT environment to reduce any unintended effects on services. Wi-Fi Protected Access and other robust wireless security methods are supported by the C2000T as well (WPA2)
ZyXEL P660HN-51R Adsl/ Adsl2+ Wi-Fi Router with Built-in Modem
You should buy your own ADSL2+ modem+router. The p660hn-51 is compatible with a wide variety of ADSL internet connections. This includes services from AT&T, CenturyLink, Verizon, and many others that use your phone line to deliver internet service.
With the router, Wi-Fi, and 4-port switch all built in, you can easily distribute your Internet connection around your home without buying a separate box for each computer.
This includes an in-built setup Wizard and auto-detect function to streamline initial setting.
Therefore, ADSL, ADSL2, and ADSL2+ are the only internet connections this product is compatible with. Not compatible with providers which use bonded ADSL, VDSL, fiber, or cable. You should check with your Internet service provider (ISP) if you are unsure about the type of service you are receiving.
CenturyLink Technicolor C2000T Wireless 802.11N ADSL2+ VDSL Modem Router Combo
High-Speed Internet Access via Wireless-N Modem and CenturyLink's DSL Telephony, both of which are VoIP-compatible. It connect a wide variety of devices with its built-in VDSL2 modem, bonded ADSL2+, and four Gigabit Ethernet (GE) LAN ports. Simultaneously, it can be powered via Ethernet and a wall plug
CenturyLink Prism TV Technicolor C2100T 802.11AC Modem Router Gigabit DSL Fiber 2.4/5GHz
CenturyLink VDSL/ADSL2+ Service Compatibility but At&T and fiber optic connections are not supported.
CenturyLink Actiontec PK5001A ADSL2/2+ Modem & Wireless N Router
This supports CenturyLink's ADSL2+ and other similar services, offers protected Wi-Fi Access (WPA, WPA2) with an Integrated Firewall that Saves Power 4 x 10/100/1000 Ethernet Ports, 1 x DSL Port, and 1 x Phone Port, and there is no need for a separate modem and router; this one does it all.
NETGEAR Nighthawk AC1900 VDSL/ADSL Modem Router Certified with CenturyLink – Non-bonded, DSL Internet Only
ISPs CenturyLink (non-bonded VDSL) and Frontier (DSL) are the only ones with which it is compatible (non-bonded VDSL). Incompatible with CenturyLink DSLAMs featuring the newest vectoring upgrades.
Before setting up PPPoE, you should get the VPI/VCI and username/password from your Internet service provider. Neither Verizon FiOS nor AT&T U-verse, nor bonded VDSL, are supported.
Netgear Broadband ADSL2 Plus Modem
The NETGEAR has a small and compact design, and it is simple to set up and install. You'll need a computer running Windows 7, 8, Vista, XP, 2000, Mac OS, UNIX, or Linux. Version 5.0 or higher of Microsoft Internet Explorer, Firefox 2.0, Chrome 11.0, or Safari 1.4
Internet service providers such as Comcast, Time Warner, Cox, Charter, etc., and non-ADSL providers such as Verizon FIOS, AT&T U-verse, and CenturyLink VDSL will NOT be supported.
CenturyLink Prism TV Technicolor C2100T 802.11AC Modem Router Gigabit DSL Fiber 2.4/5GHz (Renewed)
Guaranteed to Work with CenturyLink DSL Service Only.
ADSL2+ and VDSL2 Modem, Factory Sealed, Brand New Assists CenturyLink Internet Bundle: Includes Supports Simultaneous Dual-Band WiFi Connections on All 4 Ports Up to 343 Mbps Download Speeds on a Hardwired Connection
Netis DL4323 300Mbps High-Speed Wireless N ADSL2 and Modem Router Combo | 4-Port NAT Router and Wireless N Access Point with High Gain Antenna
Brings together the features of a wireless N access point, a 4-port NAT router, and a high-speed ADSL2+ modem. This allows for the simultaneous connection of several gadgets. Standards like ADSL2/2+ make it possible to get fast Internet connections, up to 24 Mbps downstream, over a wired or wireless connection. Superb wireless N throughput of up to 300 Mbps.
Because it is compatible with modern ADSL standards, the DL4323 offers significantly faster transfer rates than dial-up connections. This supports a variety of useful features including Port Mapping for IPTV, Ethernet WAN, SNMP, IPv6, TR-069, and more. Lightning-fast data transfers for a supercharged online experience
Using this product, consumers have access to a wider variety of high-bandwidth services, such as wireless high-definition video streaming. As a result, you may take your wireless freedom anyplace in your house.
Ethernet Splitter vs Switch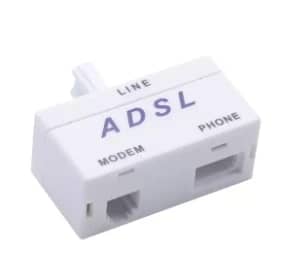 A basic device with three Ethernet ports is called an Ethernet splitter. The goal is to eliminate the need for a switch or extra cabling by connecting two Ethernet devices via a single wire. Although splitters are incredibly inexpensive, that is about all I can say in their favor.
You'll need two splitters to make use of them, one to join your two devices and another to "unsplit" the connection at the other end. It will still require two Ethernet ports on your router, but you can use only one cable. The use of a splitter to share a single Ethernet cable is equivalent to adding an extra port without the cost.
Consequently, the usage of a powered switch is recommended when connecting multiple Ethernet devices. To expand the number of available ports on your router, you can attach a switch to that port. Since the router treats the switch as a single device, reconnecting its wires is unnecessary.
Some considerations should be made whenever a switch is used. Any two devices you plug into a switch will have to share the port, therefore it makes sense to partition your network if possible. This will prevent one device from dragging down the performance of another. The network port and cable speeds on your router can also have a significant role.
ADSL Modem Splitter
Usually, a splitter will have three labels: ADSL, Phone, and Line. To use a splitter, plug your telephone equipment into the phone jack, your ADSL modem into the jack labeled ADSL, and the line into the wall socket. It is necessary to use filters between the phone and the wall socket if multiple phones are sharing the same telephone line in the home.
A telephone technician can install a central splitter in addition to the user-installable splitter shown above. Before the first phone point in the home, a central splitter is installed on the phone line. Therefore, the ADSL signal cannot reach the phone extensions because of the central splitter. For the ADSL modem, a new phone jack is installed and connected to the main ADSL splitter. There is no other location on the premises where the ADSL modem will function.
When user-installed splitters and filters fail to establish a stable ADSL connection, central splitters may be brought into play.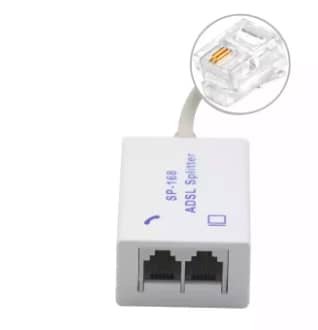 ADSL in-line filter
When using an ADSL modem, a filter is required to separate the voice-frequency analogue signals from the data-frequency ADSL signals.
Any device that is connected to a "regular" telephone line will experience ADSL data signals as "noise" if ADSL filters/splitters are not used. The extra ADSL signals could be irritating during a phone call, but they could also interfere with alarm-units that are linked across the line.
In order to prevent interference between ADSL data and analogue speech signals, filter/splitters and ADSL in-line filters are installed at the customer's property. If you are planning to wire your new building in a star or delta-star configuration, our innovative Central Filter/Splitter is just what you need. High frequency ADSL signals can be attenuated by components within a regular phone. When using a telephone, ADSL data transmissions will sound like background noise.
Asynchronous Digital Subscriber Line Modem Splitter
The twisted-pair copper phone lines that connect the vast majority of homes and businesses to their local telco's switching facilities can have their data-carrying capacity increased using a technology called Asynchronous Digital Subscriber Line (ADSL).
This is because ADSL's upstream and downstream transmission speeds are not identical. ADSL may attain downstream speeds of up to 9 Mbps and upstream speeds of up to 1.5 Mbps over standard copper phone lines, typically yielding a 10:1 ratio. Since download speeds are more important than upload speeds for most users, ADSL is a great option for delivering high-speed Internet access to homes and businesses.
Moreover, ADSL employs FDM to divide the baseband signal into a voice channel, an upstream data channel, and a downstream data channel. As can be seen in the diagram, the frequency ranges occupied by the individual channels are not contiguous.
To ensure continued phone service in the event of a data channel failure, the baseband voice channel is isolated from the data channels. Depending on the length of the local loop and the thickness of the wires in the phone line, the upstream data transmission rate can be anywhere from 9.6 to 640 Kbps, while the downstream rate can be anywhere from 1.544 to 8 Mbps.
To connect your computer to a traditional POTS, or Plain Old Telephone Sysetem, phone line, an ADSL modem is typically utilized. A POTS splitter chip is integrated into the ADSL modem and is responsible for separating the phone line's available bandwidth for voice and data transmission. Using a channel separator chip, the data channel is divided into an upstream and a downstream component, with the latter receiving more bandwidth.
The data channels employ higher frequencies than the voice band, which operates at up to 4 kHz. There are a number of factors, including wire thickness and line conditions, that affect carrying capacity.
An ADSL modem located in the telco's central office is the opposite end of the subscriber's local loop. Through a splitter, the telecommunications provider's modem sends voice calls over the POTS while sending data to an analog digital subscriber line (ADSL) modem or a digital subscriber line access multiplexer (DSLAM).
The DSLAM device aggregates numerous Asynchronous Digital Subscriber Line (ADSL) lines into a single Asynchronous Transfer Mode (ATM) backbone link.
Final Thoughts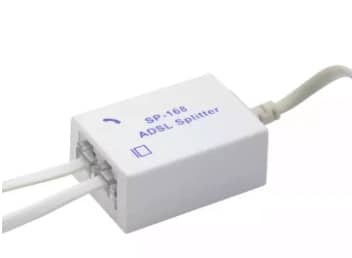 ADSL broadband is a cost-effective alternative for startups and small enterprises to access the internet. Maybe only one call at a time is needed, and the business owner is online off-peak.
ADSL is a great entry-level broadband that provides easy budgeting and won't affect budgets and projections. With 24Mbps download and 8Mbps upload, it may be enough. In this instance, it's smart to not pay for more than you need and reinvest the savings in your achievement.
If your organization still uses a dial-up modem, move to broadband for fast, always-on internet to boost productivity. ADSL requires an ethernet wire and router, which also supports WiFi.